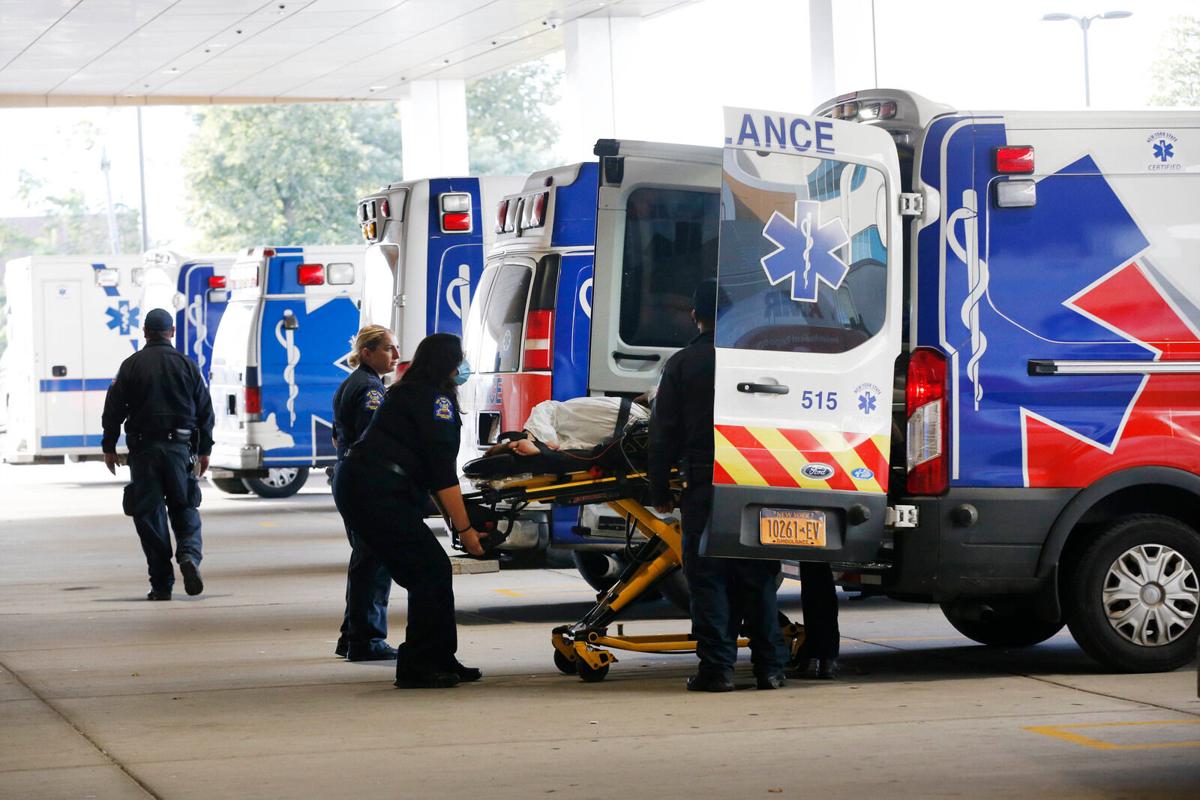 The surge of Covid-19 cases in Western New York is causing local hospitals to fill up and leaving officials concerned heading into the holiday season.
Just 10% of staffed hospital beds were available across the five-county region as of Monday, hovering around the lowest level for availability this year.
That's significantly less than the 19% availability at hospitals statewide, according to figures presented Tuesday by Gov. Kathy Hochul during a Covid-19 news briefing at the Delavan Grider Community Center.
Hospital beds for the sickest patients are in tight supply, too. Only 13% of Western New York's staffed intensive care unit beds were available Monday, compared with 23% statewide. The ICU occupancy rate in Western New York is close to its high for the year, according to state Health Department data.
The capacity squeeze has several causes, including: A spike in Covid-19 cases as the weather has turned colder, coupled with the loss of more than 300 hospital beds across the region, partly because of the Mercy Hospital strike and a staffing crunch that is hitting area hospitals.
Following the 35-day strike at Mercy, which idled many services at the South Buffalo facility and redistributed patients to the area's other facilities, the hospital is gradually ramping up services about one week after its union workers returned to the job.
But, for now, there remain fewer staffed beds across the region than there were before the dispute started. 
One month after the strike began, the Buffalo Niagara region's other hospitals are grappling with more patients, patients are facing longer wait times for emergency services as volumes increase and others are seeing their elective surgeries postponed due to a lack of available beds.
To alleviate some of the burden, hospitals are hiring more recruiters, offering hefty sign-on bonuses and paying more to secure traveling workers.
Complicating matters further is the fact that hospitals are reporting non-Covid-19 patients are sicker than ever, the result of many people opting to go without preventative care or avoiding hospitals during the pandemic. For that reason, health officials advise patients to consult with their primary physician to guide them to the right health facility with appropriate care.
Things were already difficult for the region's hospitals as they struggled to maintain staffing levels. Layer on a fourth wave of Covid-19 and "it's almost like a perfect storm right now" heading into a holiday season of indoor gatherings, said Martin Boryszak, Catholic Health's senior vice president of acute care services.
"To say I'm concerned would be an understatement," he said.
And since the average length of stay for a Covid-19 patient is five to seven days, a new wave of virus admissions is primed to outpace hospital discharges, he said. As a hospital's inpatient census grows and occupancy gets to 90% or beyond, Boryszak said that hinders a facility's maneuverability to place patients in beds.
"It creates bottlenecks in your (Emergency Department) and straight through your buildings," he said, noting ICU capacity at Catholic Health on Tuesday was 90%.
At Kaleida Health, Millard Fillmore Suburban Hospital is running at 93% of capacity, and Buffalo General Medical Center is at 109%, said Dr. Michael Mineo, chief medical officer for those two hospitals and DeGraff Medical Park.
That percentage is out of total licensed beds in each facility, not including the emergency room, he said. The high demand at Buffalo General, Mineo said, has forced Kaleida to board some patients in the emergency room.
"Hospitals are meant to be at 80% capacity," Mineo said. "You become less efficient when you're above 80%."
Kaleida Health has seen a larger number of Covid-19 patients recently, Mineo said, pointing to Millard Fillmore, where 10% of the hospital's patients are there with the virus.
With a "strained and tired" workforce, Mineo said Kaleida recently brought in about two dozen traveling nurses to help open up more beds and provide some relief for existing staff. 
There were 299 Covid-19 patients hospitalized in the five-county Western New York region as of Sunday, the highest figure recorded since 313 on April 25, according to state Health Department data.
In the nine-county Finger Lakes region, the number of hospitalizations for patients with Covid-19 was at its highest level since mid-February. But in New York City – a much larger area with significantly higher vaccination rates – hospitalizations have dropped to levels on par with their late July lows.
Health Department data shows occupancy rates in the region's acute care beds and intensive care beds continue to climb.
For example, 2,266 of Western New York's 2,482 staffed acute care beds were occupied Nov. 11, putting the occupancy rate at 91.3%. On Monday, 2,275 of 2,537 beds were occupied, or 89.7%. 
The number of beds in the region also is not yet back to where it was before the Mercy strike. For instance, on Sept. 23, 2,320 of the region's 2,861 beds were occupied.
Occupancy for ICU beds is only slightly lower.
The occupancy rate hit 89.4% on Nov. 9, with 277 of 310 ICU beds occupied. On Monday, with 400 staffed ICU beds in the region, 347 of them, or 86.8%, were occupied. 
Back on Sept. 23, the region had 507 ICU beds – 361, or 71%, of which were occupied. 
While Western New York is currently struggling with fewer staffed beds than normal amid the Mercy Hospital strike aftermath, Covid-19 is still playing a major role in the strain.
For instance, Catholic Health System had 104 Covid-19 patients in its hospitals as of Tuesday, including 14 in the ICU. That was up from 47 Covid-19 admissions on Nov. 3, Boryszak said.