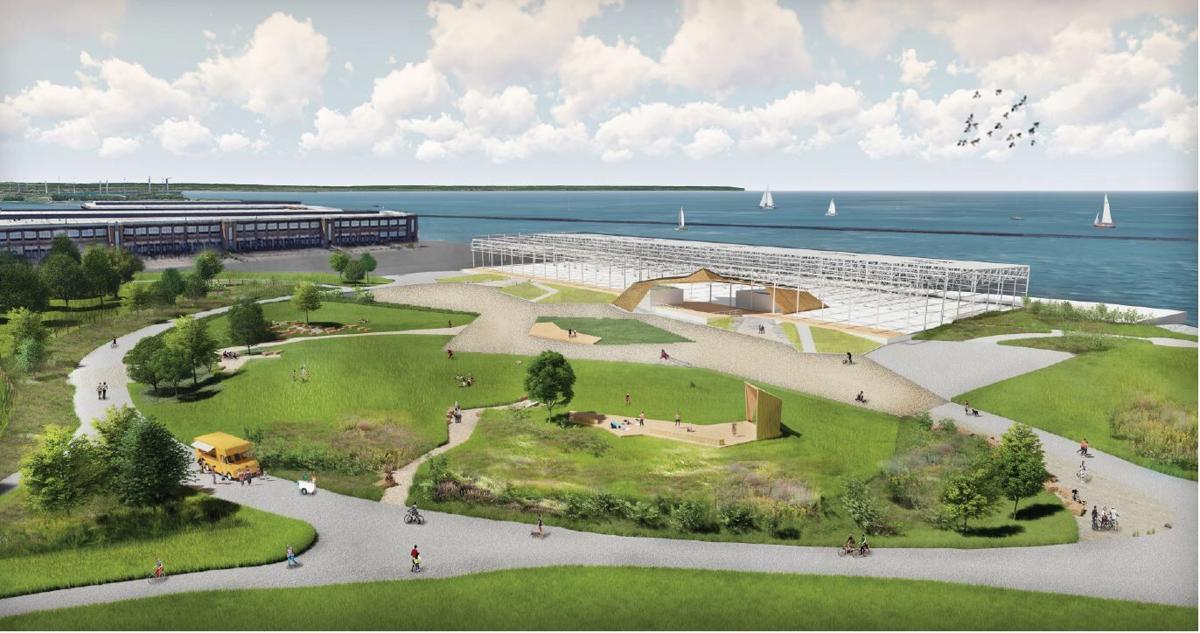 Plans for a new amphitheater and events center at the Outer Harbor took a step forward Monday night, as the city Planning Board backed the proposal.
The Erie Canal Harbor Development Corp. wants to convert the long-vacant Terminal B building at Buffalo's Outer Harbor into a new outdoor events center, along with new pedestrian and bicycle paths and open space alongside it, on nine acres of land.
The plan calls for the work to be done in phases over 20 years along a nearly 1.5-mile stretch.
That is the latest element of the state agency's multi-year effort to transform hundreds of acres of waterfront land and open it up to the public.
Officials have been working to develop ideas for the Outer Harbor since the summer of 2018, and ECHDC already completed an environmental review document for its entire Outer Harbor project plan, followed by adoption of a general project plan in November 2020 and again in February 2021. But this $10 million-plus adaptive-reuse project is the first phase of development submitted for city review under that document, after creation of a nearby bicycle park closer to the road in 2019.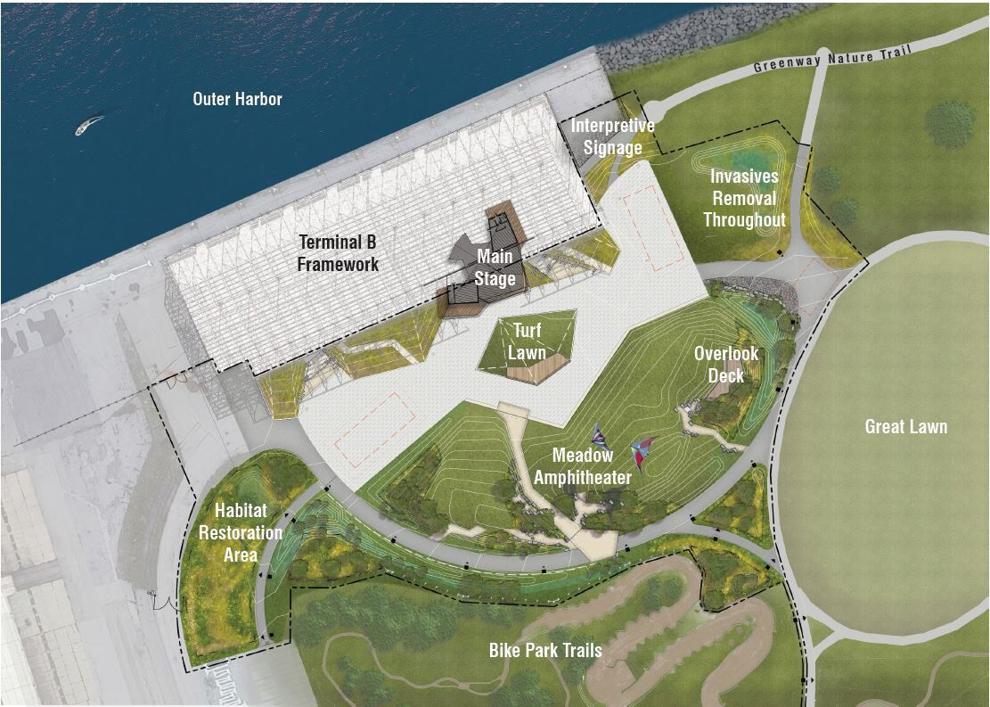 "This is the continuation of our renovation and restoration of the Outer Harbor," said Mark Wendel, senior director of design for ECHDC. "It's the next phase and extension of what we've developed."
Under the agency's plan, the vacant 100,000-square-foot industrial building on the northern end of 901 Fuhrmann Blvd. – formerly a Tops Markets warehouse – would be revamped, with its metal shell and roof removed. That would be replaced with construction of a small open-air canopy and metal truss, and creation of a main stage area underneath, with the lake behind it. A turf lawn and meadow amphitheater would provide additional gathering or seating areas. 
Once completed, the multi-use facility would host periodic public events, such as outdoor concerts and charity activities, with a maximum capacity of up to 8,000 people, according to a special-use permit application to the city. Plans also include a storage room and general purpose room.
Extension of Greenway Nature Trail, a butterfly meadow, mountain bike course, soil remediation for a Great Lawn festival/concert space are among plans intended to attract a wide array of
But the project would also open up both vistas and physical access to the waterfront and conserve naturalized areas, without increased demand on services, utilities or infrastructure, the application from ECHDC noted.
According to the application, raised embankments would provide scenic overlooks with views of the harbor, breakwall and Lake Erie – including through the partially-demolished warehouse frame. People will be able to walk up onto the deck for a closer look at the water.
Plans also include new asphalt paths through the site, as well as a new "Great Lawn" area, a habitat restoration area and interpretive signage. The Greenway Nature Trail along the water will also be extended, and new trees and shrubs will be planted.
"This is a natural extension of the bicycle park, which has been a great success," said Planning Board Vice Chair Cynthia Schwartz. "It's a lot of fun watching activity down there. It extends family-friendly activities further down the waterfront. I think it's a great project."