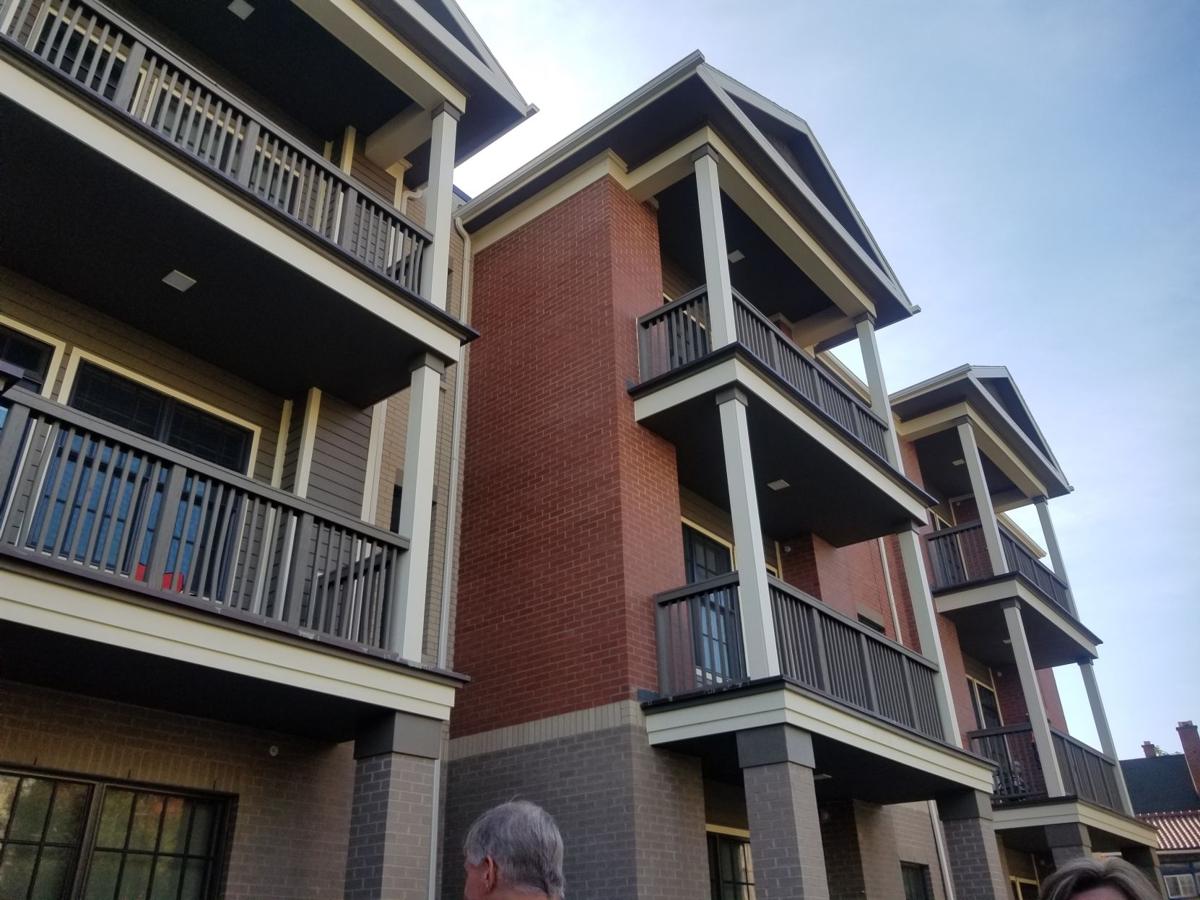 After six years of discussions, planning and finally construction, People Inc. on Monday formally opened its new $11.6 million senior housing project at Gates Circle, with 37 new affordable apartments on part of the former Millard Fillmore Hospital site.
Located on an unused former parking lot at 637 Linwood Ave., at the corner of Lafayette Avenue, the three-story red brick-and-gray stone building features a mix of 31 one-bedroom and six two-bedroom apartments.
"This project has a very, very long history," said People Inc. President and CEO Rhonda Frederick. "I think many of us weren't sure this day would ever come, and we are absolutely thrilled to be here."
The mixed-income building is aimed at people age 55 and older, with low- to moderate-incomes ranging from 30% to 100% of the area median.
All but one two-bedroom unit are rented, with a waiting list for the smaller apartments. "We knew there was a need, and obviously there is," Frederick said.
The Linwood Lafayette Senior Apartments project also includes supportive services for people with intellectual or developmental disabilities, to allow them to live independently, in seven designated units. Those services are provided through a partnership with the New York State Office for People With Developmental Disabilities, which provided the funding, along with $1 million in capital plus rental subsidies.
"Individuals, whether seniors or people with disabilities, deserve to live in these communities as well.," said Lt. Governor Kathy Hochul. "It's projects like this that make you think government is doing the right thing."
Other project funding included state and federal low-income housing tax credits from New York State Homes and Community Renewal, which yielded $7.6 million in equity, as well as another $2.5 million in equity from HCR. Brokerage firm Raymond James Financial was the tax credit investor, while JPMorgan Chase Bank provided financing for the project.
"The low-income housing tax program makes these projects possible," said U.S. Rep. Brian Higgins, D-Buffalo. "It's a good, wise use of those programs, and no community in this nation has benefited more than the Buffalo and Western New York area."
The New York State Energy Research and Development Authority provided another $37,000, while the City of Buffalo supplied $265,505 in HOME funds and a property tax break for the project.
The project is part of the state's $20 billion, five-year housing plan to build or preserve more than 100,000 units of affordable housing and 6,000 units of supportive housing. So far, the state has invested $763 million for 4,400 homes and apartments in Western New York, including nearly $197 million in Buffalo for 5,700 people.
Plans for the project originated in 2014, after TM Montante Development won the right to redevelop the entire Gates Circle site, which was vacated by Kaleida Health after the hospital closed. Designed by Long Associates Architects, the project was built by Montante Construction on land sold to People Inc.
"Initially, we just talked about just having a couple of apartments in one of the developments that Montante was going to do," Frederick said. "But when we really got together and looked at the site plan and saw this spot of land, we thought we could do a whole apartment building, and we did. Almost six years later, here we are in this gorgeous building."