A week after the release of renderings that showed what the new Buffalo Bills stadium will look like, the contractors that will build the $1.4 billion facility have been picked.
Pegula Sports and Entertainment picked a joint venture between Gilbane Building Co., a Rhode Island-based contractor, New York City-based Turner Construction and 34 Group, a Buffalo-based contractor started by former Buffalo Bills running back Thurman Thomas and his wife, to build the new stadium in Orchard Park.
Gilbane and Turner both have worked on high-profile projects in the region, from Gilbane's ongoing work at the Albright-Knox-Gundlach Buffalo Art Museum to Turner's involvement as the contractor on the John R. Oishei Children's Hospital project.
Gilbane and Turner have partnered on 16 stadium projects, including both new and renovated facilities. They also have been involved in other major projects, including construction of a new spring training facility in Florida for the Toronto Blue Jays and a $750 million public health laboratory project in Albany.
"We continue to partner with a first-class team of experts and professionals to bring our stadium to life, said Ron Raccuia, the Bills' executive vice president. "Gilbane-Turner has a tremendous wealth of experience in stadium construction, and we look forward to partnering with them."
The tall, strongly vertical structure is designed with a partial roof and a perforated metal exterior that allows fans approaching from the plaza to get a peek at the inside of the stadium, which is scheduled to open in 2026.
"We are tremendously excited to build the new home for the Buffalo Bills," John LaRow, Gilbane's senior vice president, said Thursday in a statement.
"This new NFL stadium will be a proud representation of the energy, passion and dedication of the Bills organization, the team, its fans, and the City of Buffalo," LaRow said. "Our joint-venture team is committed to driving opportunities for diverse and local businesses and working with our partners to deliver this transformational project for Western New York."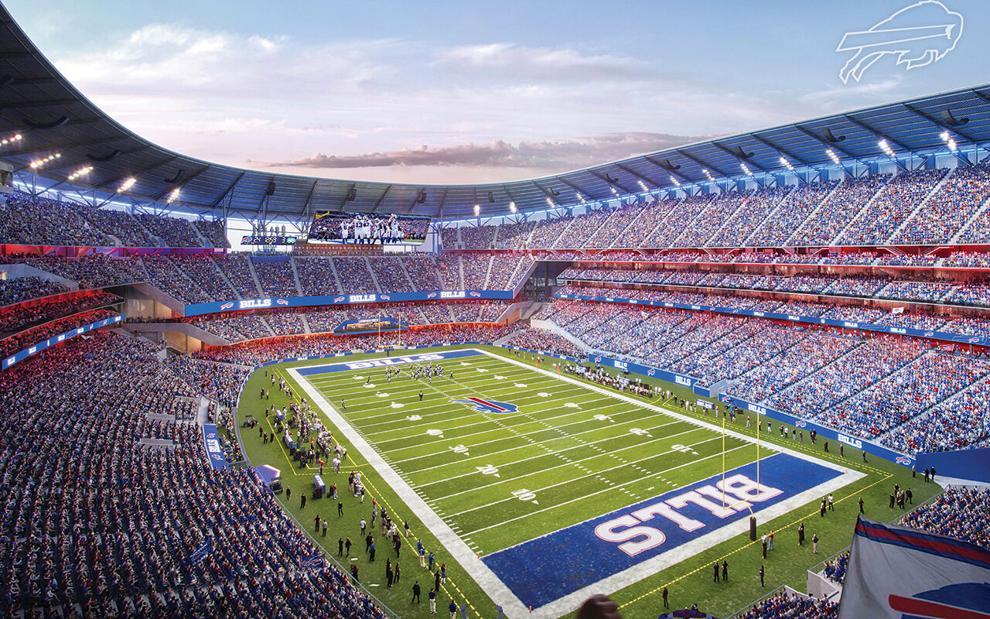 The Bills last week released the first two renderings of what the new stadium will look like. The $1.4 billion stadium, located on a section of parking lots next to the current facility, is scheduled to open in 2026.
The selection of the contractors is an important step because it will allow work to begin on the logistics of getting construction started and lining up the dozens – if not hundreds – of suppliers, subcontractors and vendors that will be involved in the project.
Erie County Executive Mark Poloncarz said at least 10,000 building trades workers will be employed on the project.
While the stadium project is being funded with both public and private money, it is being managed as a private construction project, so the selection of the contractors was not subject to the same type of competitive bidding that a public project would be.
"The stadium will elevate the fan experience for this incredible team, and we will create opportunities and engagement for members of our community during construction," said Carlton E. Stewart, Turner's vice president and general manager.
Turner – a subsidiary of Germany's Hochtief – is a global company with 46 offices in the United States and 18 countries. It first opened an office in Buffalo in 1908, closed it after the Great Depression, and reopened in 1994.
Its many regional projects have ranged from the construction of the Genesee Building in 1922 – now the Hyatt Regency Buffalo – and Carborundum Co.'s headquarters in Niagara Falls in 1947 to more recent work on the Buffalo Niagara International Airport terminal, the Erie County Family Courthouse and the Gates Vascular Institute.
Gilbane, which has more than 50 offices worldwide, has done business in Buffalo since 1979. It also now has an office here, and its local projects have included the expansion of the Erie County Medical Center, the Northland Corridor campus and Northland Central..
34 Group is a minority-owned telecommunications, engineering and construction firm that has worked with Gilbane on other projects.
The companies said they have launched a website, buffalobillsnewstadium.com, with information about the project and how vendors, suppliers, trade contractors and professional service firms can learn about opportunities for work on the new stadium. The companies also said they plan to hold information sessions in the coming weeks.
The state will put $600 million toward the stadium's upfront construction costs, while the county will contribute $250 million. The Bills and the NFL have agreed to pay the remaining construction costs, including any construction costs that exceed the $1.4 billion price tag.
Because the stadium agreement includes plans for a project labor agreement that requires contractors to pay prevailing wages – which are higher than those paid by many nonunion contractors – some construction firms contend they will be shut out of working on the new stadium.
Union officials, however, noted that the agreement doesn't preclude nonunion firms from seeking work on the project. And Poloncarz has said the agreement will ensure that more of the construction work goes to local workers.
Those workers are expected to come not only from Buffalo-area building trades, but also some from Rochester, Central New York and Northwest Pennsylvania, as well as New York City, which may be able to supply needed iron workers.
The new stadium is being designed by architecture firm Populous and will be overseen by project manager Legends Project Development.
These are the 15 other stadium construction and renovation projects that Gilbane and Turner have been involved with for NFL teams.
LA Rams/Chargers
San Francisco 49ers
Detroit Lions
Kansas City Chiefs
Baltimore Ravens
Philadelphia Eagles
Denver Broncos
Cincinnati Bengals
Seattle Seahawks
Carolina Panthers
Washington Commanders
Green Bay Packers
Cleveland Browns
Jacksonville Jaguars
Chicago Bears
BuffaloNext reporter Jonathan D. Epstein contributed to this story.