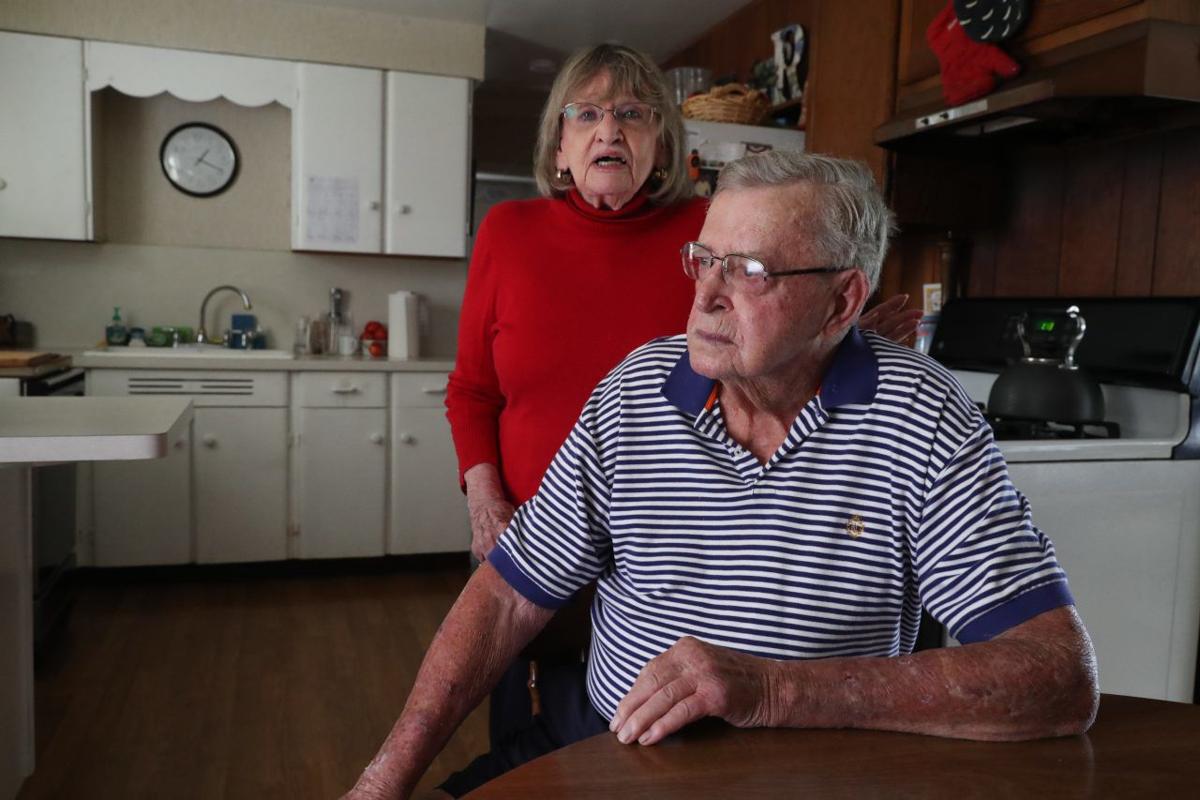 Chuck Ramsay was feeling great when he went to the Geriatric Center of Western New York for a routine six-month checkup in June.
But when the 92-year-old patient cracked jokes to physician assistant Nicole Converso, she noticed a subtle difference in his breathing. She sent him to get an X-ray two floors down in DeGraff Memorial Hospital. By the end of the day, doctors had found and drained fluid from his lungs – a liter and a half.
It's that proactive approach and the convenience of care under one roof that left Ramsay and his wife, Dianne, 88, devastated when they learned Kaleida Health would be closing the Geriatric Center in August.
"The center was more thorough than our other doctors," said Chuck Ramsay, a retired art teacher and football coach. "We benefited much more from the clinic. To close it – I don't understand why."
The clinic had operated at a loss for years, according to doctors who worked there. This year, though, that was exacerbated by a growing shortage of geriatricians, leaving the center without a doctor to care for its 1,700 patients.
For 23 years, the Geriatric Center in North Tonawanda provided patients over 70 with access to all of DeGraff's services without leaving the building. An X-ray, blood test or CT scan was just an elevator ride away. When the clinic closes Aug. 15, the Veterans Administration Hospital will have the only interdisciplinary geriatric clinic in the region where patients can access a wide range of services in one place.
It's a national problem. Geriatricians earn much less than many other doctors, making the specialty less appealing to recent med school graduates with staggering student loans. More than half of the geriatric fellowships in the country went unfilled last year, according to the National Resident Matching Program.
The Geriatric Center at DeGraff specialized in treating elderly patients, particularly those dealing with memory loss. At its peak, it employed four geriatricians, according to the doctor who ran it for many years. This year, unable to keep or recruit doctors, the clinic was left with only one full-time physician assistant and one part-time nurse practitioner on the front lines.
Mike Hughes, Kaleida's chief of staff, would not answer questions about the clinic's closing. Union leaders, though, say the hospital's administrators told them finances drove the decision.
"They came to us and said this clinic is losing money, over $1 million a year," said Cori Gambini, president of CWA Local 1168, which represents nurses and other health care workers. "They told us, 'We can't keep sustaining it. We're going to close the clinic and refer patients to primary care.' "
The state Department of Health approved the closing at the end of June, according to a department spokesperson.
Some patients and their family members say the closing has left them scrambling.
Over the past several weeks, with a shrinking staff and no doctor on-site treating patients, the clinic had to cut back on sick visits. More than once, when 87-year-old Grace Stone was ill, her son was told to take her to urgent care or the emergency room. There simply were no appointments available at the Geriatric Center.
"My mom's co-pay for a primary visit is $10, but her co-pay for the emergency room is $150," said her son, Jeff. "Every time you need a sick visit, you can't go to the emergency room."
When patients received a letter from Kaleida in May, informing them that the clinic would be closing on Aug. 15, a list of options for primary care physicians was enclosed. Some patients and families say it wasn't adequate. Some patients still have not found a new doctor.
Michele Murray's 88-year-old father-in-law eventually was able to find a new doctor, but it wasn't easy, she said.
"He was without a doctor for a while. It took us a while to find somebody," she said. "What's frustrating to me is when they were closing down, one of the referrals that we got was to go back to the same place that referred him to the clinic. And some of the numbers that were listed for other doctors weren't even correct."
The Geriatric Clinic's roots date back to 1996, when Kenneth Garbarino helped start a geriatric assessment clinic at Millard Fillmore Hospital at Gates Circle. In addition to doctors and nurses, the clinic's team included a social worker, a pharmacist and a nurse who visited patients in their homes. The team would meet weekly to coordinate care for patients.
"We were kind of ahead of our time," he said. "We realized in elderly people, the issues were very complex."
Grant funding from the Oishei Foundation and other sources helped underwrite the cost of social workers and other staff positions, he said.
When Millard Fillmore closed seven years ago, the clinic moved to DeGraff. There, the holistic, interdisciplinary approach continued. Communication flowed easily among doctors, nurses and other health care providers at the clinic. And patients reaped the benefits of its location in the hospital.
Patients also enjoyed access to a nurse practitioner in the clinic whose primary responsibility was to field phone calls and try to find ways to keep sick elderly patients from having to trek to the clinic.
And then there was what many patients considered the best perk of all: time. The clinic allocated 30 minutes for every appointment.
"The other day I took my dad to a primary doctor, and he gave him 15 minutes. But geriatric patients need a lot more time because a lot of them don't communicate well," said Amy Ramsay, Chuck and Dianne's daughter. "Their physical problems are multiplied by their problems with dementia and other issues."
Word spread. Patients drove in to the clinic from as far as Clarence and Orchard Park. The clinic gradually added nurse practitioners, but lost physicians – and was unable to replace them. 
"We were looking for another geriatrician for years," Garbarino said. "But our volume of patients didn't change, because there's a need in the community. If this was a lucrative business, you would see lots of geriatric programs, but you can't find many."
Last fall, there were only two physicians left: Garbarino and Donna Desmone. In October, patients received a letter saying Desmone had accepted a job with the state. Her last day at the Geriatric Clinic was Nov. 28.
Soon after, Garbarino was approached by Family Choice of New York with a job offer. He accepted it, largely because of his desire to be able to spend more time with his two young children.
That left no doctor on staff seeing patients at the clinic.
As of February, the clinic was left with one full-time physician assistant and a part-time nurse practitioner, along with nurses and other staff. 
"We have a dire need for capable and qualified clinicians to take care of older adults," said Bruce R. Troen, chief of geriatrics and palliative medicine at the University at Buffalo, who helped oversee patients at the DeGraff clinic after Garbarino left.
For many patients, that means 15-minute appointments. It means having to make separate trips to other locations when they need bloodwork, X-rays, cardiac stress tests and other services. For aging patients who have to rely on family members for transportation, that means asking their children or other relatives to take more time off of work to accompany them to appointments.
And it means being treated by doctors, nurses and other health care workers who likely do not have specialized training to serve older patients.
"Going to a primary, you've got people there who are also kind and wonderful, but they're not necessarily trained in elder care," Amy Ramsay said. "General practitioners don't have the structure that DeGraff did."