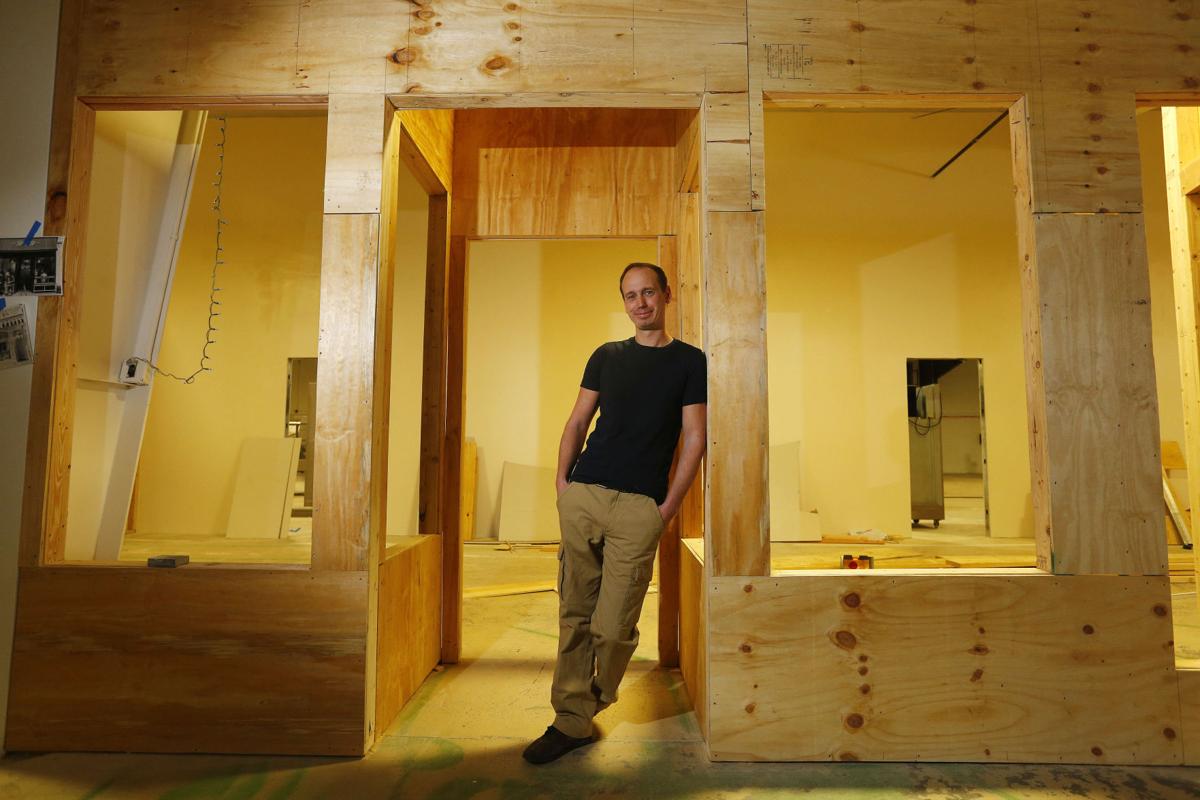 It's a meat pie factory. It's a fish and chips restaurant. It's an online retailer of British goods. It's a soccer and rugby bar with its own international-sized field.
Parker's is about to become even more.
The owners of the British pork pie company are replicating a quaint British High Street – the English version of a charming, American Main Street – inside its South Buffalo warehouse.
The indoor "village" will have a row of shops, a kebab and curry stand, a cobblestone road, an authentic British pub, fireplaces and – get this – a functioning rain cloud.
But will Western New Yorkers show up to see it?
Owners Damian and Vicky Parker don't expect so. And that's OK, they say.
Their business, aimed primarily at British expatriates living across the United States, has come a long way from the days the couple made and sold pies out of Vicky Parker's father's garage. The success of the multi-million-dollar company's online retailing has been enough to support the couple's quixotic ideas, and draw fans from across the country to their South Park Avenue location.
With 42,000 square feet of space, and their pork pie operation taking up just a small fraction of their building, the Parkers have let their imaginations run wild.
"We have tons of space we're paying taxes on. We thought: Why not do something completely bonkers?" said Damian Parker.
The replica High Street is under construction in an unused portion of the company's warehouse next to its Proper Fish & Chips restaurant.
Each storefront has been designed after a real, picturesque shop in England. There will be a sweet shop, a tea room, a wine shop, a clothing store, a cake shop and a textiles shop with toys handmade in the United Kingdom. They have also planned to replicate an authentic, 18th century British pub called Churchill, with an open stone fireplace, English leather chairs and an old-fashioned brandy-and-cigar lounge. The entire oak-paneled pub will be imported from England, piece by piece.
Work is expected to be fully completed by September. Parker is not sure when the shops will be open to customers. The indoor streetscape is first going to be used as a set for the company to film advertisements for its products.
Most of Parker's customers are from outside Western New York. Its No. 1 market is Los Angeles, followed by New York City, supported largely by some of the country's 64 million British expatriates missing the comforts of home.
Damian Parker doesn't expect the replica High Street to attract many local visitors, but he thought it would be a fun thing for far-flung fans to see when they come to visit. It will jazz up the place for Parker and his employees, too, he said.
"It will be a backdrop for our daily work," Parker said.
The Parker's campus is located on a desolate stretch of South Park Avenue across from the SolarCity factory. Situated among industrial properties where it sat empty for years, it seems a world away from downtown Buffalo. But while many Buffalonians haven't made the drive 3 miles outside the city's center, Parker's fans have come from all across the country to experience it.
The company's Facebook page has almost 50,000 likes from around the world and has a five-star rating with more than 400 reviews. To compare, Lloyd Taco, one of the region's most popular, talked-about eateries, has about 6,000 likes.
"If you come on a Saturday and look in the parking lot, it's license plates from all over," Parker said.
Parker's has won several "Best of British" awards from the Telegraph, a major U.K. newspaper. It has held the title of "Best British Shop in America" for the past six years and is the reigning "Best British Shop in the World," according to the news outlet. It has also been featured on "Food Factory USA" on the FYI channel and supplied pies to Universal Studios' Wizarding World of Harry Potter. The company employs 18 people and will add 12 to 15 more once the High Street is finished.
Inside the warehouse, the Parkers hope to recreate the experience of being on a British street. The ground will be covered in cobblestone. Hanging above the road will be a special-effects machine, covered by an artificial rain cloud, that will create drops of rain to simulate the weather in London. Shoppers will get umbrellas, while excess water will roll down the street's slight decline and disappear through a drain.
When the space is finished, the Parkers plan to hold special events in the leisure space, such as concerts and murder mysteries.
Parker's has some valued Western New York customers but, for the most part, it hasn't drawn many locals. That might be attributable to its off-the-beaten-path location, but even when SolarCity was under construction, only about a dozen construction workers visited the fish and chips restaurant for lunch, Parker said.
"Our customer base here is tiny," Parker said. "The majority of people don't know we exist."
Worse, the Parker's complex has dealt with vandalism and harassment. Parker recently found the glass windows smashed on the company's outdoor British telephone box. The company's union jack flags have been repeatedly ripped down.
"We've succeeded by sheer hard work and dedication," Parker said.
The Parker's expansion plans aren't limited to the replica shops. They also hope to add a brewery inside the South Park Avenue campus and plan to expand their Proper Fish & Chips restaurants elsewhere in the country.
"We'll keep working our arses off," Damian Parker said.
The business news you need
With a weekly newsletter looking back at local history.