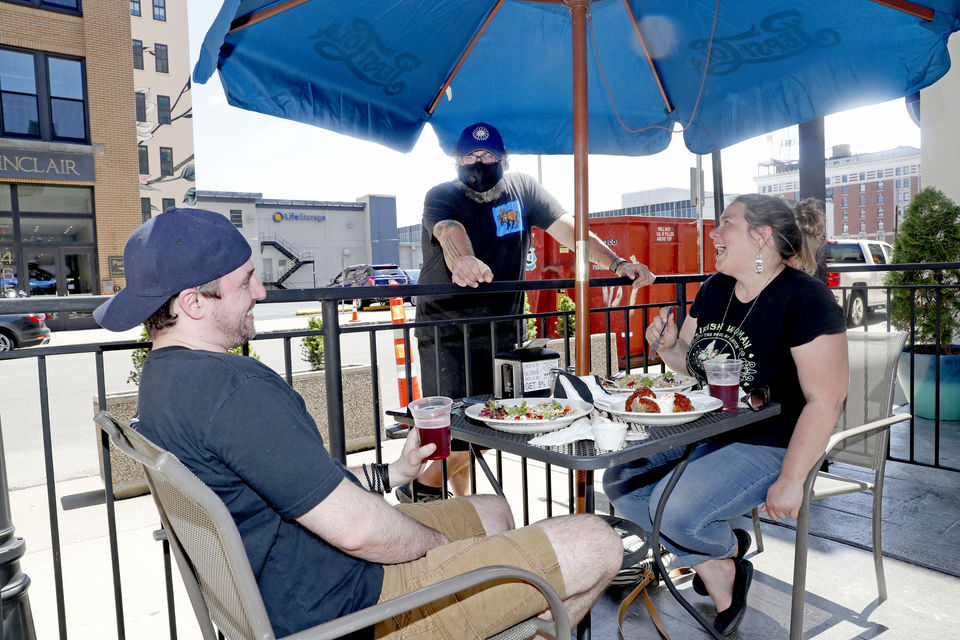 As restaurants reopen, they are doing everything in their power to meet the state's coronavirus guidelines. They are spacing tables 6 feet apart, putting up partitions, training employees.
But there's one big factor that will be harder for them to control: Making sure patrons wear face masks whenever they are away from their tables.
How will wait staff enforce the rule? How will they do it without making patrons feel uncomfortable? And what will happen if they encounter a confrontational customer?
"That's the hardest part," said Anthony J. Scioli IV, co-owner of My Tomato Pie in Amherst.
If customers get used to wearing a mask at every restaurant, they will be less likely to cause a fuss, he said.
"The problem is going to come in when other places are not following the rules," he said. "We all have to stick together as a community and follow the regulations as much as possible."
If a customer refuses to wear a face mask after being asked, a restaurant can lawfully ask them to leave, though that could be difficult when restaurants are fighting for all the business they can get. Staff can report the customer to local law enforcement as a violation of public health law, but it's unlikely things would go that far.
For Dan Garvey, innkeeper at the Roycroft Inn and past chairman of the New York State Restaurant Association, it's about more than just following the state's mandates. Restaurants' long-term health depends on it, he said.
"If there's a resurgence, a lot of restaurants won't survive a second shutdown," he said.
Garvey said he is "not one iota" worried about the Roycroft's staff following the rules, but has already seen some restaurant patios packed with people without masks. He hopes restaurateurs get more responsible about enforcing the rule and do it fast.
"It's scary because I don't want to shut down again," he said. "It would kill those smaller restaurants."
He knows there has been backlash against the mask law, and said he doesn't want to sound preachy, but the stakes are simply too high to flout the regulations, he said.
"I'm sick of it, too. It fogs up my glasses. It's a pain in the neck," he said. "We just have to do what we have to do to get to the other side."
Jay McCarthy, owner of The Place on Lexington Avenue, said some customers get dismissive or irritated when told to wear a mask. Servers have to deal with guests' "opinions" and "frustrations," he said.
"We're in this accommodating business where we never say no. It's 'Right away, sir.' Now, we have to police people doing the right thing," McCarthy said. "We're doing the right thing because we know safety counts."
Judging from experience, he expects about half of people to "do the right thing," and the other half not to. The restaurant's servers are "on top of telling the rules to people."
"We're doing the best we can. Do you know how hard we've worked to get to this point?" McCarthy said. "It's definitely not normal for us either. They do not know what painstaking headaches we've gone through."
Restaurateurs have been proactive, putting up signs to remind customers to wear their masks, and providing disposable ones for those who have forgotten to bring their own.
Some restaurants are charging for masks. Cabana Sam's at Sunset Bay charges $1. Liberty Hound at Canalside adds a $5 surcharge to the bill.
Most people "police themselves," said James Czora, general manager at Dina's in Ellicottville. Those who don't are respectful when reminded.
"We really haven't run into a whole lot of problems. I think it's just not second nature for everybody yet," he said.
My Tomato Pie is even going a step further. It will take temperatures of not only its workers but also its customers – which isn't required, but Scioli believes it's a good precaution that most people will accept.
"You can't require them to, but if they're willing to do it, we will," he said. "We haven't had anyone deny us. People are used to it. They want to be safe, too."
Garvey at the Roycroft Inn said he hates to be the bad guy, but if someone refuses to wear a mask, he has no choice but to refuse service.
"If they're without mask I can't, I'm sorry, I can't do it," he said. "We were given this opportunity to open under the condition that we follow the rules."
News business reporter Jonathan D. Epstein contributed to this story.
Concerned about COVID-19?
Sign up now to get the most recent coronavirus headlines and other important local and national news sent to your email inbox daily.