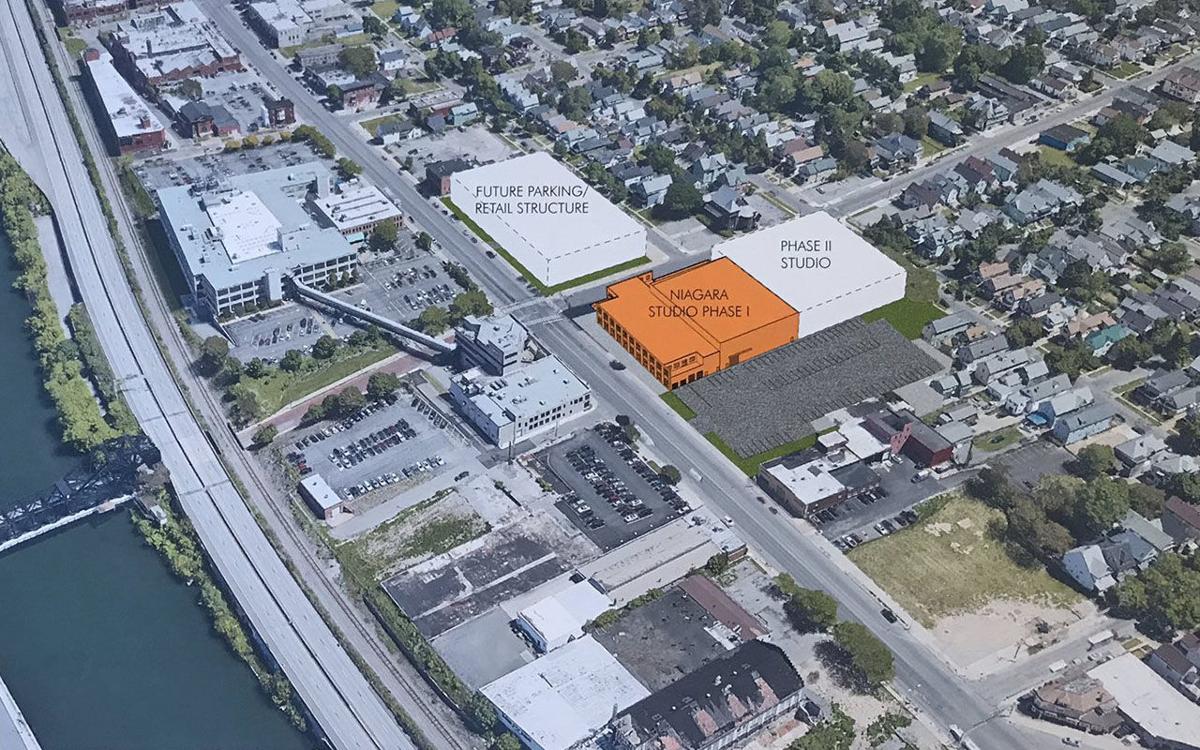 A new film production studio on the Niagara Street corridor hasn't even begun construction, but the British project sponsor is already preparing for an expansion – earlier than expected, though smaller.
Great Point Media already planned to add more capacity for movie and television production, anticipating the industry's growing need for more space and the desire for lower costs and alternative locales in places like Buffalo. That pressure has only grown, prompting it to move up its plan even as it has just finished lining up financing for the first phase.

Changes in technology and the Covid-19 pandemic also caused the London-based company to rethink its strategy. Instead of doubling its eventual studio space with a mirror image of the first, Great Point is cutting its second phase in half, and doing it in smaller pieces.
Great Point – through its Great Point Opportunity Fund arm – already received city approval to proceed with a 57,700-square-foot facility at 1155 Niagara St., at the corner of West Ferry Street, near Rich Products Corp.'s headquarters.
Plans by Kevin Murrett of Architectural Resources called for that building to include a 20,000-square-foot "black box" studio for film and television production, along with dressing rooms, shops, and office space along both Niagara and West Ferry.
The original plan envisioned a second 20,000-square-foot studio on the east side in the future, but Great Point and its local project manager, Larry Quinn, decided to move forward now instead of waiting. However, they are only proposing two additional 5,000-square-foot sound stages, for a total of 30,000 square feet of stage area, not 40,000. And it will all happen at once, not in two phases.
"There's been immense pressure for studio spaces around the United States," Murrett said. "Thus the owner's willingness to advance the entire buildout at this point in time, but in a slightly different configuration."

No changes are planned to the interior support space or the exterior elevations of the building, and the number of people in the building or on site is not expected to change, Murrett said. However, the overall building will now be 18% bigger – at 67,000 square feet in size, with the larger studio pushed to the east side while the smaller stages are "tucked in the core," he added.
"We have made modifications not only to satisfy our investors but also to react to the marketplace and post-Covid adjustments that have happened in the industry," Quinn told the Buffalo Planning Board Monday.
New technology in filmmaking, particularly the use of a video wall system that "basically replaces the green screen approach," is one reason for the change. And by using smaller stages, he added, Great Point's clients would be able to work on three scenes at once, while also isolating people more for social distancing and safety.
"This gives us a much more diverse operation," he said. "It's also oriented toward streaming rather than a big movie, although we could do a big movie."
New plans also include restored trees and landscaping, including buffers along both main streets, with the area behind it used for as a "back lot" for parking dressing-room trailers for actors and other support vehicles for film production. That effectively extends studio space to the outside for shooting, with a large acoustic door providing direct access from the production lot into the largest studio.
"What's so important is to do everything on site," Quinn said. "So with the video wall, sound stages and back lot space, we are a full-service video facility."
Quinn said the company is ready to proceed with construction, after securing the funds. But officials also learned that the project site has some contamination, so Great Point also applied and was accepted into the state Department of Environmental Conservation's Brownfield Cleanup Program, and will have to lay down a cap, or cover, on the entire property.
The revisions require changes to previous variances granted by the Zoning Board of Appeals, so the Planning Board could not yet act on the plan this week, although it did approve an updated environmental conclusion. A new public hearing will also be held in two weeks.
Quinn cautioned not to delay too long, noting that Great Point is also doing four studios in New Jersey under an agreement with Amazon, plus a double-stage in Yonkers. As a result, the financing for the Buffalo project is part of a larger deal.
"Buffalo's developed a tremendous reputation in the industry as a place you can do film," he said. But "I do worry about the risk we could get bounced from the larger package because we don't have all the approvals they need."