A project that has filled three historic buildings with tenants shows a market for living in downtown Niagara Falls, Mayor Robert M. Restaino said.
TM Montante announced Tuesday that its project at 616 Niagara St. has been completely rented, with the last of 17 apartments finding a tenant.
"It's fabulous news, and it shows that we are headed in a direction where there is a demand for downtown living," Restaino said. "The property at 616 Niagara is beautifully developed by TM Montante."
The Town of Tonawanda developer bought three vacant three-story buildings after responding to a city request for proposals in 2017.
Construction started in late 2018 on a makeover that cost between $5 million and $6 million, company president Chris Campos said. Work was completed about a year later.
Two of the buildings shared a wall and the third was connected to the others with a newly built one-story atrium.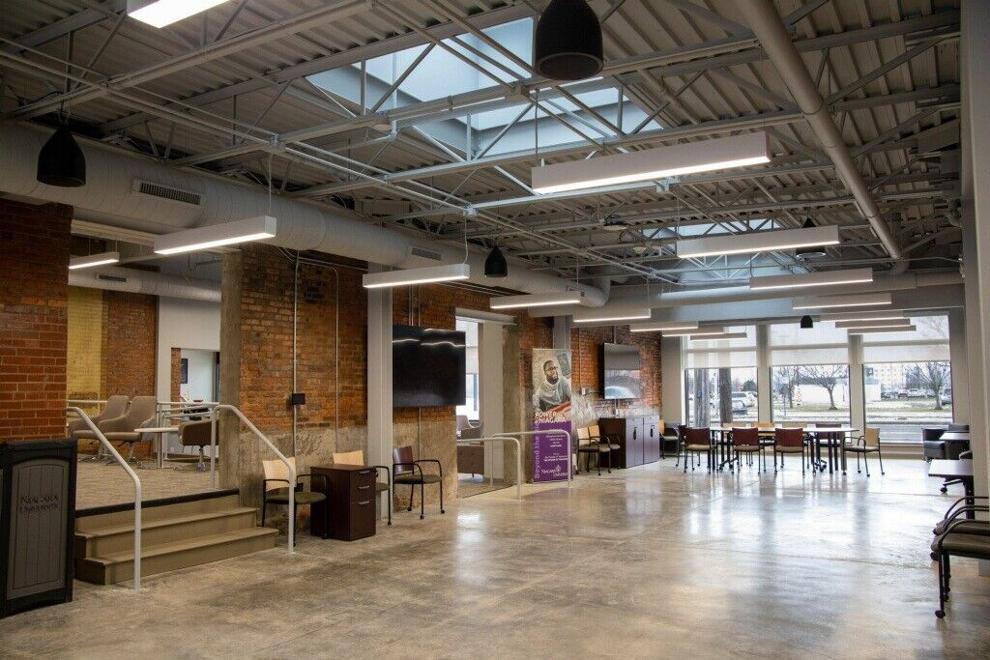 The ground floor was filled by the Niagara Global Tourism Institute and its TReC coworking site, along with F Bites, described by Campos as "a very nice, well-run and popular cafe."
On the upper floors, the developer built six one-bedroom apartments and 11 two-bedroom apartments. Rents range from $850 per month for the smaller apartments to $1,450 a month for the larger ones.
The apartments were offered for rent in March 2020, just as the Covid-19 pandemic hit.
"Not an ideal time," Campos acknowledged, but the apartments were rented steadily.
There were several funding sources for the project, but historic preservation tax credits proved the most important, Campos said. One of the buildings was Niagara Falls' first grocery store.
"We got it listed on the National Register (of Historic Places)," Campos said. "That's a critical source for a project like that."
Other incentives included a $750,000 grant from the state's Western New York Regional Economic Development Capital Fund, and a $100,000 grant from National Grid's Main Street Revitalization Program.
The tourism institute received a $176,000 grant from the Niagara Falls Tourism Target Zone Program, administered by the Niagara County Industrial Development Agency.
Last month, the state's USA Niagara Development Corp. transferred four more downtown properties to TM Montante for redevelopment.
TM Montante's success raises optimism for other plans in the downtown area, Restaino said.
"All of these things begin to multiply," he said.
One example would be a plan by Savarino Cos. to convert two pre-1910 buildings at 324 Niagara St., including the former Press Box bar, into 10 apartments with 4,000 square feet of commercial space.
Wednesday, the Niagara County Industrial Development Agency approved a $155,000 grant from its Cataract Fund for the project, targeted for completion in March 2022, according to NCIDA attorney Mark J. Gabriele.
The NCIDA approved incentives for the same company at the same site in October 2017, but Savarino's plan to act as landlord for a Niagara Falls location of Community Beer Works fell through, resulting in ongoing litigation between the developer and the brewer.
NFC Development Corp., the city economic development agency, pronounced last rites over the project last week by canceling two grants, totaling $200,000, that it had approved in 2017.
The project now is priced at $3.45 million. Further city, county and state incentives are being sought, an NCIDA memorandum said.
Gabriele said the Cataract Fund is not allowed to provide aid for apartments, so the amount of Wednesday's grant was based only on the commercial space.
The city's Urban Renewal Agency also wants to redevelop 91 vacant lots the city owns along Walnut Avenue between Third and 10th streets, called the South End Gateway project, Restaino said. Next month, the city may choose some developers.