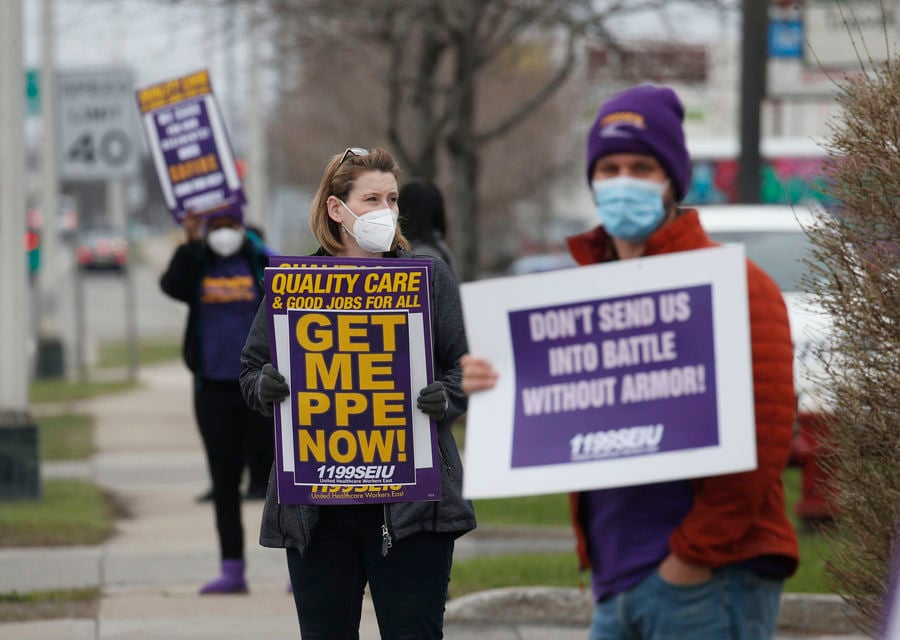 Nearly half the unionized workers at a Town of Tonawanda nursing home have tested positive for Covid-19, according to a employee who is sick with the virus and the union representing her.
Yet the state Department of Health does not keep track of novel coronavirus infections among nursing home workers who provide care to a population described as among the most vulnerable to the deadly virus.
For families with loved ones in nursing homes, the lack of information about infected workers is one more frightening issue as a state ban on visitors at long-term care facilities keeps them apart from their relatives.
But a more complete picture will soon emerge.
The federal government has started requiring that every nursing home and adult care facility in the country report Covid-19 deaths and infections among residents and workers.
The information will soon be available on a weekly basis to the public, according to the U.S. Centers for Medicare and Medicaid Services, though details on how the information will be released has not yet been explained.
For Liz Pujolas, the federal government's action is needed. She lives in New England and her father is a resident at an Amherst nursing home. Her 85-year-old father tested positive for the virus on April 30.
"I think this is a very important step. It is important that we get that data and that it is consistent. There should be some accountability," said Pujolas, who has experienced frustration in obtaining information on her father, William Pujolas, a resident at Rosa Coplon Living Center.
Todd Hobler, vice president of 1199SEIU, said the union knows of 131 nursing home workers, mostly in the Buffalo area, who are off from work "having tested positive or are symptomatic and awaiting results."
But he is quick to add the number is not necessarily accurate. He says many nursing homes are not making public the number of workers who have tested positive for the virus.
1199SEIU does not represent workers at every nursing home in the Buffalo region. The union represents workers at 33 nursing homes in Western New York, with most of its members in Erie and Niagara counties, where 45 nursing homes are situated.
"This is an ever-changing number with uneven reporting from employers," Hobler said. "We believe the actual number is probably greater."
Residents left unprotected  
What is not in dispute is how the virus has hit nursing homes here and across the state.
Through Sunday, there had been 121 confirmed Covid-19 deaths in nursing homes in Erie County and seven deaths presumed to be caused by the virus. In Niagara County, the nursing home fatalities include 15 confirmed Covid-19 patients and two suspected.
Jeffrey Hammond, spokesman for the state Health Department, said the state does not collect coronavirus data based on the "occupational status" of those who are tested for the virus.
"While we are prioritizing testing for health care workers, nursing home employees and first responders on the front lines, we do not have data of positive test results by occupation," Hammond said.
Advocates for nursing home residents are critical of the state's failure to track the number of workers in nursing homes who have contracted the virus or died from it.
"This is a complete failure to protect our most vulnerable members of society, and also the staff entrusted to care for them. By not collecting this data, the Department of Health lacked the ability to ensure nursing home operators were doing right by their residents and employees," said Lindsay Heckler, the supervising attorney at the Center for Elder Law and Justice in Buffalo.
The Health Department, Heckler said, focused on "expanding hospital capacity and staff to the detriment of those who live and work in nursing homes."
"How many residents and employees have died from Covid-19 because testing and other supports were not available earlier? The tracking of Covid-19 positive staff and residents should have been done at the very beginning of the pandemic, and tests should have been made available to nursing homes sooner," Heckler said.
Safire of Northtowns 
At Safire Rehabilitation of Northtowns on Sheridan Drive in the Town of Tonawanda, there are 41 certified nursing assistants, licensed practical nurses and clerks represented by 1199SEIU. Eighteen of them have contracted the virus, according to Hobler and a unionized worker who has contracted the virus and is at home recovering.
This employee, who spoke on the condition her name be withheld for fear of retribution from her employer, said about half of the 65 residents in the facility also have the virus.
The state Health Department says five Safire of Northtowns residents suspected of having the virus died at the nursing home.
The worker blames the spread of the virus on the facility's failure to act quickly and provide adequate personal protection equipment and to immediately segregate residents who had the virus. She also says management had the same workers caring for infected and noninfected residents.
"I think I caught the virus while I was taking care of residents who had the virus and I was not properly equipped with an N95 mask," she said.
"Hopefully when I return, things will be better. Hopefully they will have N95 masks and not just one mask that you have to use over and over," she said.
Michael Balboni, a spokesman for Safire of Northtowns, said coronavirus testing on Saturday by the state Health Department shows the facility is responding responsibly to the virus.
He said 81 staff members were tested and six had the virus. There are a total of 98 workers at the facility.
"These are the latest numbers. This low infection rate relative to Erie County's infection rate is supportive of the personal protective equipment utilization and contamination control," he said.
When Balboni was asked how many workers tested positive at the nursing home since March 1, he said that number was not available.
Balboni said a state Health Department inspection last week resulted in a "perfect survey" with no citations.
"This is a testament to the hard work of staff and management who collaborate weekly to ensure operations of the facility are done effectively and safely," he said.
Hobler said he was unimpressed with the latest coronavirus test results at the facility.
"The bottom line is that almost half of the front-line caregivers at the facility have contracted the virus," he said.
Safire of Northtowns failed to properly respond and suffered the consequences of high levels of infection among residents and workers, Hobler added.