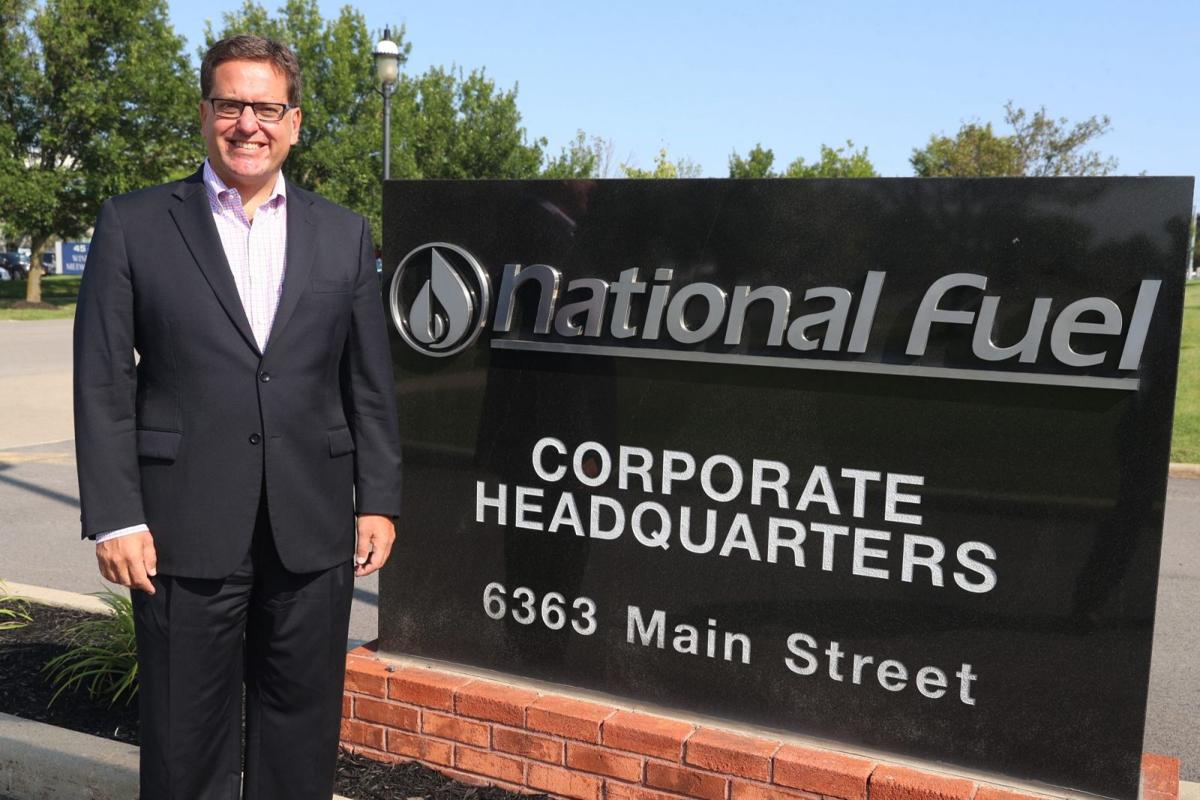 National Fuel Gas Co., the bastion of the Buffalo Niagara region's carbon-based economy, is making plans to carve out a role as renewable energy pushes to the forefront.
The company, whose holdings include natural gas drilling and pipeline businesses that are being challenged by the push to reduce greenhouse gas emissions, is studying ways its utility business can fit into the changing energy industry.
The plan would reduce emissions from National Fuel's utility operations to help it meet the state's mandate to reduce greenhouse gas emissions by expanding efforts to replace leaky, old pipes, encouraging increased energy efficiency and adopting new emission-reducing technologies as they are developed.
The initiative, outlined in a plan prepared by a consultant hired by National Fuel, is an attempt by the utility to position itself as a viable and more environmentally friendly business that can be an affordable and reliable bridge as renewable energy sources become more prevalent.
The final say, however, will lie with state regulators who are studying ways to reach New York's emission-reduction goals and must approve any big investments that National Fuel makes in its utility system.
The plan comes as traditional energy providers are coming under growing pressure from environmentalists and renewable energy advocates, who are resisting oil and natural gas pipeline expansions and new drilling projects. That push has spurred opposition to National Fuel's $500 million Northern Access pipeline that would run from Pennsylvania to Ontario and pass through Western New York.
The National Fuel plan centers only on its utility business, but it reflects the shifting tide in the overall energy business.
The idea is to ensure "that National Fuel remains an important part of the energy solution for decades to come," said David P. Bauer, the company's president and CEO.
The plan is aimed at reducing National Fuel's greenhouse gas emissions by 75% by 2030 and by 90% by 2050, compared with their levels in 1990, Bauer said.
At the same time, the company is stressing the importance and cost effectiveness of its network of natural gas pipelines that deliver fuel to more than a half million residential customers and businesses across Western New York.
"We really wanted to understand what role could we, the gas utility, could play in helping the state get to the goals of emissions reduction," said Donna DeCarolis, the president of National Fuel's utility business. "Why not leverage those systems that exist today?"
"We want to make sure that this transition is done in a way that still ensures the safe and reliable delivery of energy. And we need to consider consumer affordability," she said. "We think this pathway allows us to consider all those things."
National Fuel's plan is centered around four segments:
• Improve energy efficiency. National Fuel is recommending that it expand programs that help its customers reduce their natural gas consumption, including its Conservation Incentive Program that the utility said has reduced 1.3 million metric tons on carbon dioxide emissions by helping consumers switch to higher-efficiency furnaces and water heaters.
The company also is proposing expanded programs to improve the efficiency of buildings so that they use less natural gas for heating. The utility also will study new fuel-saving technologies, such as the use of hydrogen and hybrid heating systems that combine a high-efficiency gas furnace with an electric air-source heat pump.
"Energy efficiency is really what you need to lead with," DeCarolis said.
• Replace leaky natural gas pipes. The biggest source of greenhouse gas emissions by the utility comes from leaky pipes, which allow natural gas to be released directly into the atmosphere. Replacing older pipes that are prone to leaks will reduce those emissions.
Since 2015, National Fuel has spent $340 million to replace 650 miles of pipe used by its utility, but that's just a small fraction of the 15,000 miles of pipe that lie beneath the ground throughout its New York and Pennsylvania service territory.
National Fuel's plan calls for those pipe replacement programs to continue.
• Use the existing natural gas delivery system. "We have the infrastructure. Why not use it?" DeCarolis said.
More than 90% of homes in the Buffalo Niagara region are heated with natural gas, and switching to a new form of heat would be costly for many. Many industrial firms rely on processes that currently are fueled by natural gas and would be difficult to duplicate with electricity, DeCarolis said.
"What is the right approach for a transition like this? Is it a requirement or incentives?" she said. "We believe the solution is in incentives."
• Rely more on low-carbon fuel sources and renewable energy. Developing new ways of enhancing natural gas with hydrogen to reduce carbon emissions is one possibility. Another is expanding the use of renewable natural gas sources, such as capturing the natural gas that comes from landfills and dairy farms.