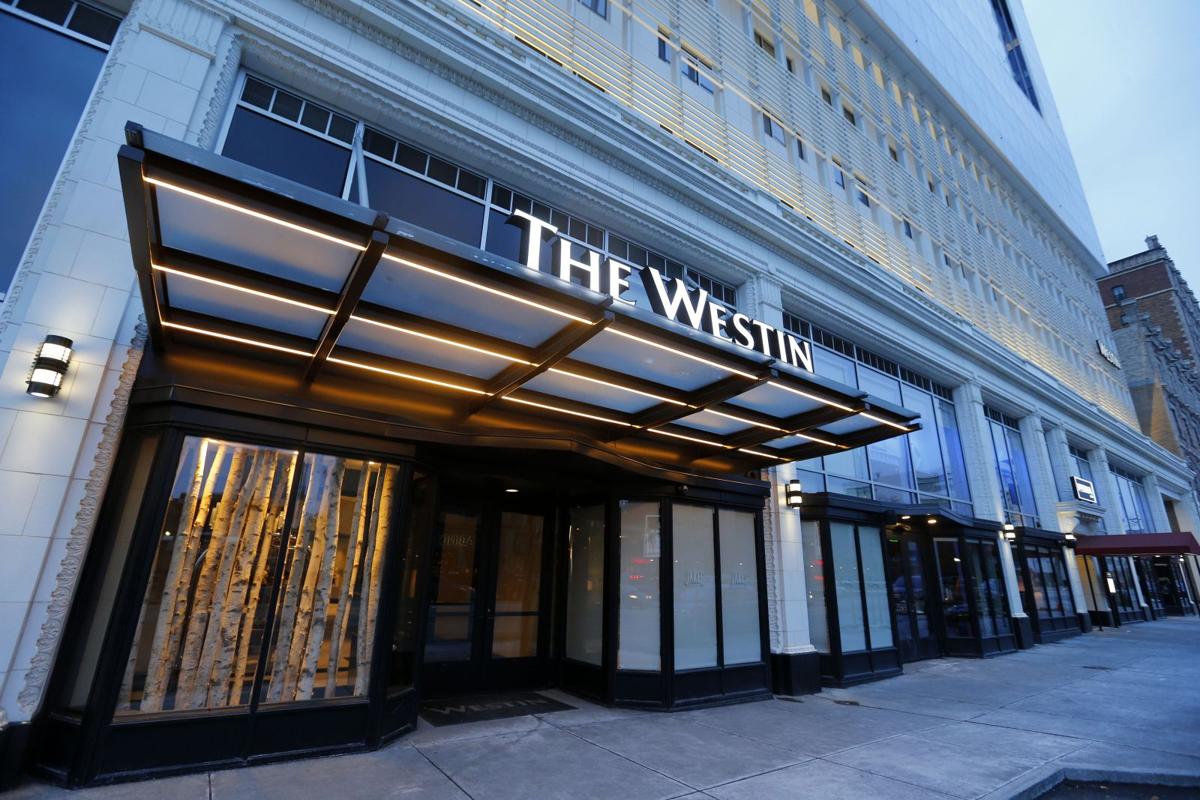 The Westin Buffalo, Courtyard by Marriott Canalside and three Hampton Inns in Buffalo, Williamsville and Cheektowaga have closed or suspended operations – the latest hotel victims of the coronavirus pandemic.
Glen A. White, spokesman for Delaware North Cos., confirmed that the 116-room Westin closed on Monday after checkout, although the company is still running its to-go service from Jake's Cafe. The Buffalo-based hospitality company owns and operates the city's only luxury-level hotel inside its corporate headquarters at 250 Delaware Ave.
"We're suspending services," Westin general manager Thomas M. Long said.
White said the hotel staff "worked to accommodate guests, including contacting those with reservations." He added that the company would "be in communication with the hotel's employees," but did not elaborate.
Buffalo Lodging Associates – the hotel division of Benderson Development Co. – confirmed that it closed the Courtyard by Marriott inside the One Canalside building on Washington Street. The hotel occupies the lower four floors of the eight-story building, which also houses a Pizza Plant restaurant that is doing takeout service and the headquarters of law firm Phillips Lytle on the top four floors.
The company also closed its Hampton Inn in Williamsville and the Hampton Inn on Walden Avenue, as well as the Hampton Inn and Suites in downtown Buffalo, which is undergoing renovations, said Ron Kendall, president of Buffalo Lodging.
"We're establishing where we're going to close in other parts of the country," he said. "We're taking it slowly, but trying to be as intelligent about it as we can."
Guests have been notified, and "if they're in the hotel, we've moved them to another hotel nearby," Kendall said. Courtyard guests have been sent to the Residence Inn on Delaware Avenue – the former Holiday Inn – while the Hampton guests on Walden have gone to the nearby Home2 Suites.
"If we have hotels adjacent to each other, one of the others can be selected and the guests moved to one that is adjacent," Kendall said. Benderson owns all of them, and Kendall noted that the Residence and Home2 will have more amenities for the guests, including kitchens.
Anyone with future reservations has been contacted and advised of other options in the market, he added.
Hotel owners have been hesitant to close, in part, because of the franchise agreements with chain companies that specifically forbid any closures. But those international companies have been more lenient with the current crisis, Kendall said.
"Primarily, they've asked us to notify them that we're closing," he said. "They've been cooperative along the way. They understand."
As for the hotel staff, "the employee factor is the thing we're trying to be most cognizant of," Kendall added.
"We have a lot of folks that work for us that we're trying to figure out how to help them," Kendall said. "I'm sure employees wish we were a lot faster about this, but we're just trying to do the right thing. We're trying to develop a plan that will assist our associates to the greatest extent possible. It's complicated and we're diligently working on it."
Additionally, the Fairfield Inn &  Suites on Rensch Road in Amherst, with 107 rooms, and the Country Inn & Suites South on Slade Avenue in West Seneca, with 108 rooms, are also both closed, according to staff. Both are owned by Ellicott Development Co., and both are sending guests next door to separate Staybridge Suites hotels.
Ellicott also closed its Wingate by Wyndham Hotel in Ellicottville, with 84 rooms, but there is no other hotel open in town right now.
The eight hotels join the independent Buffalo Grand Hotel, the city's largest with 486 rooms, which closed last week.
Other hotels have remained open, as their owners struggle to eke out an existence amid what David Hart of Hart Hotels described as "meager" business. He owns three hotels locally – Holiday Inn, DoubleTree Hotel and a Candlewood Suites – as well as an independent hotel in Ithaca and four Harbor Hotel resorts.
Terry and Kim Pegula have not closed their Buffalo Marriott at LECOM Harborcenter hotel in downtown Buffalo – across the street from One Canalside. Don Heins, spokesman for Pegula Sports & Entertainment, said the 205-room hotel remains open and its Panorama on Seven restaurant is still doing takeout orders, room service and even local delivery.
"We've left it to the owners," said Lance Shaner, CEO of Shaner Hotels in Pennsylvania, which manages the hotel for the Pegulas. "They're playing it day by day."
The Tim Hortons Cafe & Bake Shop on the ground level, at Main and Scott streets, is also still open for takeout, as is the Draft Room around the corner at 79 Perry St.
And the Hyatt Regency Buffalo, owned and operated by Snyder Corp., remains open, with the hours of its restaurant and Starbucks reduced, and their services limited to take-out.
"We're operating as usual from a guest perspective," said general manager John O'Connell. "We are still open."