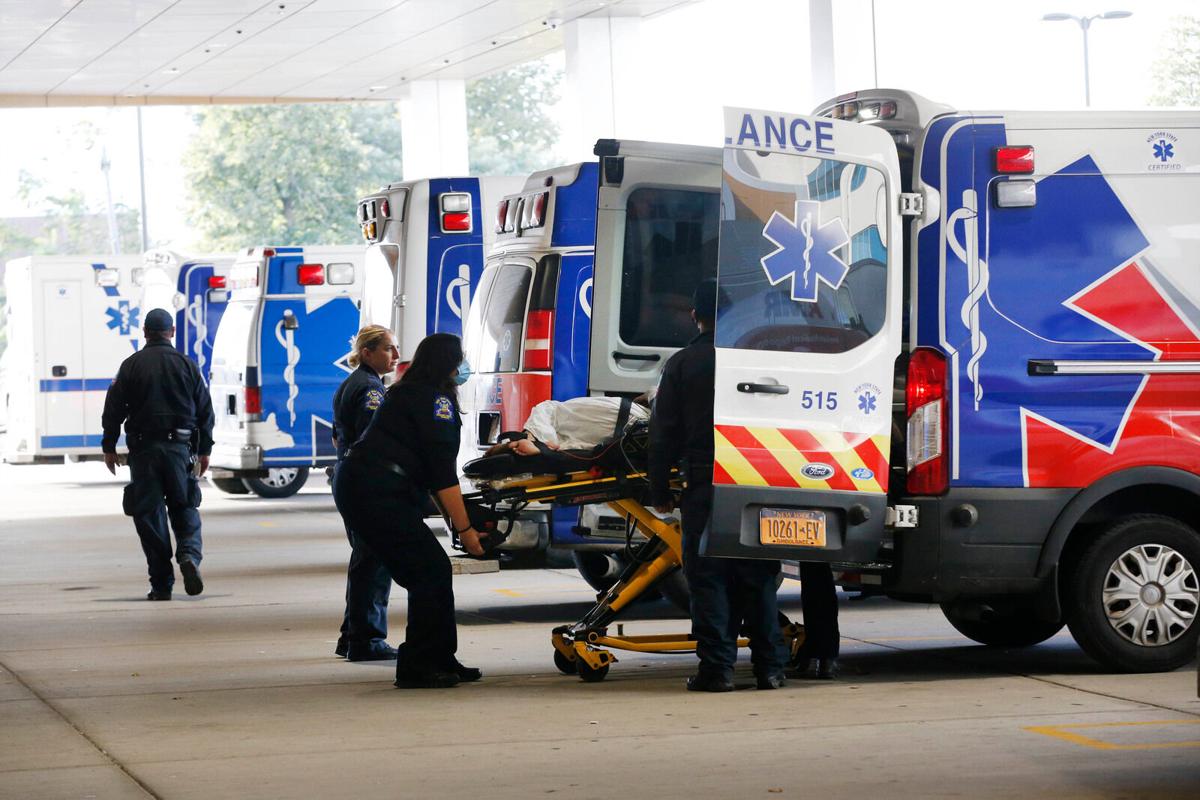 Help is on the way to Erie County Medical Center, one of the most capacity-strained hospitals in the state that will soon welcome a 23-member federal Department of Defense medical response team.
The team, which will go through orientation this weekend and be operational early next week, is composed of four physicians, including three critical care doctors, two respiratory technicians, three non-clinical administration officials and 14 nurses.
"The 14 nurses' skillsets primarily break down into two categories, which is the emergency room and medical-surgical areas, and those are two areas where we critically need the help," said Andrew Davis, ECMC's chief operating officer.
The team will be with ECMC for at least 30 days, providing a "very needed boost," Davis said.
Their arrival comes as an increasingly large number of health care workers, at ECMC and other facilities, are testing positive for Covid-19 as the highly contagious Omicron variant sweeps through the region. Once an employee tests positive, they are out for a minimum of five days, leaving staffing gaps this federal team can help fill at a time when Covid-19 hospitalizations, while often milder cases than previous waves, are increasing.
The fast-spreading Omicron variant also is hitting health care workers, with several hundred out sick with the virus as of Tuesday.
Deploying help from the federal government is among the latest measures the state has taken to try to alleviate pressure at some of its most overwhelmed hospitals.
Similar to the aid for ECMC, a 35-member federal Disaster Medical Assistant Team is being sent to SUNY Upstate in Syracuse, part of a Central New York region that had only 7% of its roughly 1,200 hospital beds available Tuesday – the lowest rate among New York's 10 regions. Fifty ambulance teams also are headed to New York City.
ECMC has received other rounds of help from the state in recent months.
For example, 12 National Guard members arrived at the ECMC-run Terrace View Long-Term Care Facility in early December, helping to open up more beds. Those medics, most of whom are from the Western New York area, will remain at Terrace View though mid-January and "hopefully, they will be there a little bit longer," Davis said.
The help arrives just as Erie County reported its highest-ever weekly count of new Covid-19 cases – 5,535 in the week that ended Saturday.
As part of the same announcement that sent National Guard members to Terrace View, four medics also were deployed to The Pines Healthcare & Rehabilitation Center in Cattaraugus County, New York Health Department spokesperson Jill Montag said.
The state, at this time, has no plans to demobilize the National Guard teams that were deployed to nursing homes, she added.
The Health Department also has positioned 30 Federal Emergency Management Agency ambulances and an additional 12 state-contracted ambulances around the state, including 11 in Batavia, to assist with transporting patients between health care facilities.
But to this point, United Memorial Medical Center in Batavia hasn't had to use the state-sent ambulances, which the hospital said are for "long transports for patients of more than an hour."
"United Memorial Medical Center has not needed to transfer any patients that far away and ambulance operations have proceeded without issue," UMMC President Dan Ireland said in a statement. "Should we need to begin transferring patients at a longer distance, we're grateful to know that support is on standby."
In Erie County, state data shows ECMC and Catholic Health System's Sisters of Charity Hospital are the two most capacity-strained hospitals.
For instance, all 338 of ECMC's staffed acute care beds were occupied Monday – the same day it hit its record for Covid-19 patients hospitalized, at 104, according to state data.
That day, six of the ECMC's 48 staffed intensive care unit beds were available.
"We have capacity in the ICU areas," Davis said. "This wave is very different than the last one."
In the current wave, more patients are going into ECMC's medical-surgical areas, while the hospital has fewer Covid-19 patients on ventilators than before, Davis said. Covid-19 patients also are being discharged at a slightly faster pace than before.
Given how tight hospital beds have been, ECMC is one of 21 hospitals across the state required to limit nonessential, elective procedures, in accordance with a state order meant to save capacity.
Even before that order went into effect early last month, ECMC in September had voluntarily suspended inpatient elective surgeries and reduced hours at its outpatient clinics, so staff could support inpatient care in the main hospital.
Whether the arrival of the 23-person medical team could help open up more services at ECMC remains to be seen.
"I think any time you're able to get over 20 people, and most of those being clinical positions, that's definitely a help," Davis said. "We'll have to see how it goes over the next 30 days, but having at least 20 more bodies that we can put in the ER or in the medical-surgical area is a tremendous help to our very tired workforce."