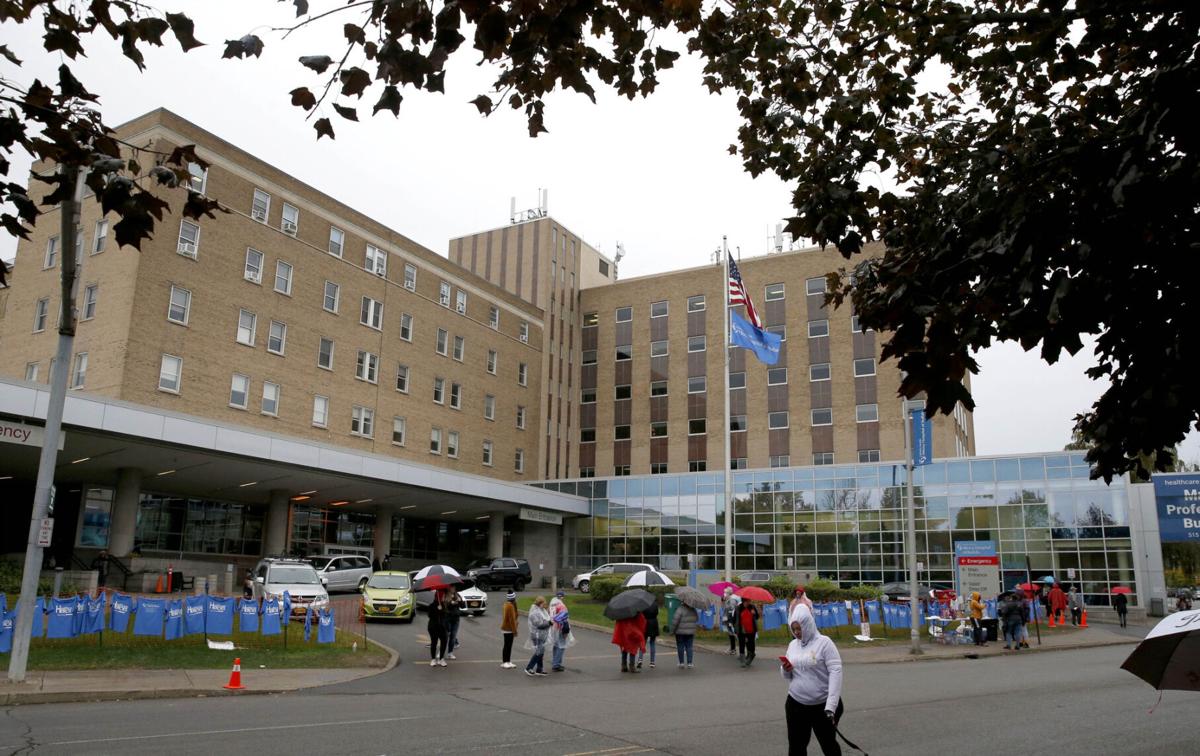 In the week since union workers returned to Mercy Hospital, the South Buffalo facility has gradually ramped up its services and seen patients return.
There were 239 patients staying in Mercy Hospital on Wednesday, compared with 172 inpatients at the facility on Oct. 1 when a 35-day strike began, Catholic Health System said. That hit 247 on Thursday.
But that's still down from the hospital's normal patient census of more than 300 people. Before the strike, Mercy typically had about 350 patients staying in the hospital daily, said Martin Boryszak, Catholic Health's senior vice president of acute care services.
"I think it's recovering as fast as we can handle it," he said.
Like other health care employers, Mercy is struggling with staffing levels and also had some employees leave during the strike, Boryszak noted. To concentrate its staff resources on resuming full emergency services at Mercy, Catholic Health on Thursday announced it will keep the Emergency Department at the Mercy Ambulatory Care Center in Orchard Park closed for the next several weeks. Emergency services at the MACC are expected to reopen by Jan. 3.
"As we continue to work through the staffing constraints that are affecting all area healthcare providers, as well as care for the alarming increase in COVID-19 patients, our first priority is to maintain full services at Mercy Hospital's main Emergency Department on Abbott Road," Mercy Hospital President Eddie Bratko said in a news release Thursday. "Staff from the MACC have been reassigned to Mercy Hospital as we concentrate our resources on supporting our caregivers at the hospital and meeting the needs of our most acutely ill patients."
With the MACC's emergency services closed, Mercy Hospital's Emergency Department saw 158 patients Tuesday and 168 on Wednesday. Pre-strike, the hospital's Emergency Department saw an average of 145 to 160 patients each day.
Cardiac rehabilitation services at the MACC also will be temporarily relocated to the Metabolic Center at St. Joseph Campus in Cheektowaga. All other outpatient services at the MACC, including pre-surgical testing, imaging services and the wound healing center, resumed Thursday.
Shut down for the day will be all testing, imaging and rehabilitation services, as well as the Wound Healing Center, the Covid-19 swabbing station and laboratory services.
Union workers began returning to Mercy Hospital early Nov. 10, a couple days after about 2,500 nurses, service, technical and clerical workers at Mercy Hospital, Kenmore Mercy Hospital and Sisters of Charity, St. Joseph Campus, ratified six four-year contract agreements by a wide margin: 94% voted "yes." 
To prepare for that moment, Catholic Health President and CEO Mark Sullivan said about 480 Catholic Health associates, physicians and managers went through a roughly two-hour training on how to listen and welcome people back. In addition, he said 348 of Catholic Health's managers last week went through training on how to identify resiliency within their teams.
Even though contract negotiations are over, Sullivan said the workers' union, Communications Workers of America and Catholic Health have a clinical committee, and leaders on both sides have met multiple times since the dispute was resolved. As the two sides move forward, Sullivan said Catholic Health is still tallying the economic toll of bringing in replacement workers from staffing firm Huffmaster during the strike. 
He noted Catholic Health made an $11 million advancement to Huffmaster a few days before the strike ended, so the health system will get a to-be-determined credit for some of that amount.
But the total cost of Huffmaster's services during the strike, Sullivan said, is "in the tens and tens of millions of dollars."
Looking ahead, Sullivan said Catholic Health and the union are working together to be "sensitive and aware" of the staffing ratios laid out on in the new four-year contract, even as patient volume increases.
"We've got to make sure that we don't end up in the same place we were before the strike," he said. "And that's just having a vision of what we're trying to get to."