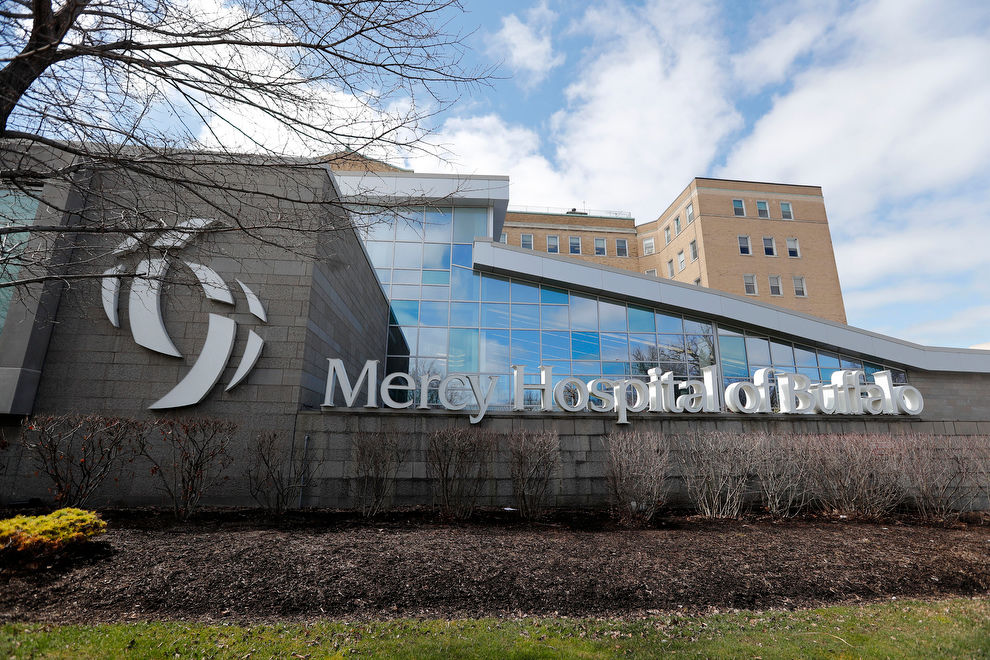 Catholic Health System is moving to line up replacement workers ahead of a potential strike by 2,000 unionized workers at Mercy Hospital starting Oct. 1.
The health system has vowed to keep the South Buffalo hospital running if a walkout happens. Catholic Health has contracted with Huffmaster, a Michigan-based professional staffing agency, to provide registered nurses and other personnel for the hospital in the event of a strike, said JoAnn Cavanaugh, a spokeswoman for the health system.
The CWA on Monday gave Mercy Hospital a 10-day notice of its intent to strike, starting Oct. 1, if a new deal isn't reached by then.
The Communications Workers of America, which represents nurses, technologists and service workers at Mercy,  served notice Monday of its intent to strike in just over a week. By federal law, a union has to provide at least 10 days' notice of a strike at a hospital.
The CWA and Catholic Health are negotiating six labor contracts, covering a total of 2,500 workers at three facilities, that expire Sept. 30. The other two facilities are Kenmore Mercy Hospital and Sisters Hospital/St. Joseph Campus. Under an agreement reached between the union and Catholic Health five years ago, a strike can happen only at Mercy.
Catholic Health must submit to the state Department of Health a contingency plan for keeping the hospital open and providing services during a strike. If a walkout happens, Health Department representatives would monitor the plan at the hospital.
Of the Communication Workers of America members at the hospital who cast ballots, 97% voted in favor of giving their union the power to call a strike.
Huffmaster on its website Tuesday was seeking to fill openings for 32 job classifications for "a possible labor dispute at an acute care facility in New York state expected to occur at the end of September or early October."
The job postings did not specify if the facility was Mercy Hospital, and Gregory Johnson, Huffmaster's president, did not return a call to comment.
The jobs offer pay ranging from $18 per hour (for food service and parking attendants) to $110 per hour (for some registered nurse roles) for qualified candidates, with a 60-hour deployment guarantee.
The listings say the company provides air travel or reimbursed mileage, daily per diem for meals and incidentals, and single hotel room accommodations. Applicants are told they must have the ability to travel and be away from home for at least two weeks if a strike is open ended, or eight days if a strike is a finite length.
Twenty-five area elected officials, including Rep. Brian Higgins, have signed a letter to Catholic Health System president and CEO Mark Sullivan, expressing concerns about a possible strike at Mercy Hospital and requesting to meet with him.
Debora Hayes, the CWA's area director, said it was "disappointing" that Catholic Health "would expend the time and money to invest in replacement workers for strikers, rather than invest in the workers in our community that go in those hospitals every day and provide the care."
Cavanaugh said hiring a firm to provide replacement workers is "a cost we would prefer not to incur." 
"Unlike other industries where a union-led strike may force an employer to close a manufacturing plant, Mercy Hospital will remain open and accessible for our community despite the union's work stoppage," she said. 
Talks continue between the two sides, and Catholic Health noted that the union could still withdraw its strike notice. But the strike notice raises the threat of a walkout in just over a week.
Tensions are rising between Catholic Health System and the Communications Workers of America…
The health system said it is facing the same hiring struggles as many employers across the country.
"We have pulled out all the stops to recruit needed staff in an extremely difficult labor market, hiring nearly 1,200 new associates, including 230 registered nurses, since the beginning of the year," Cavanaugh said.