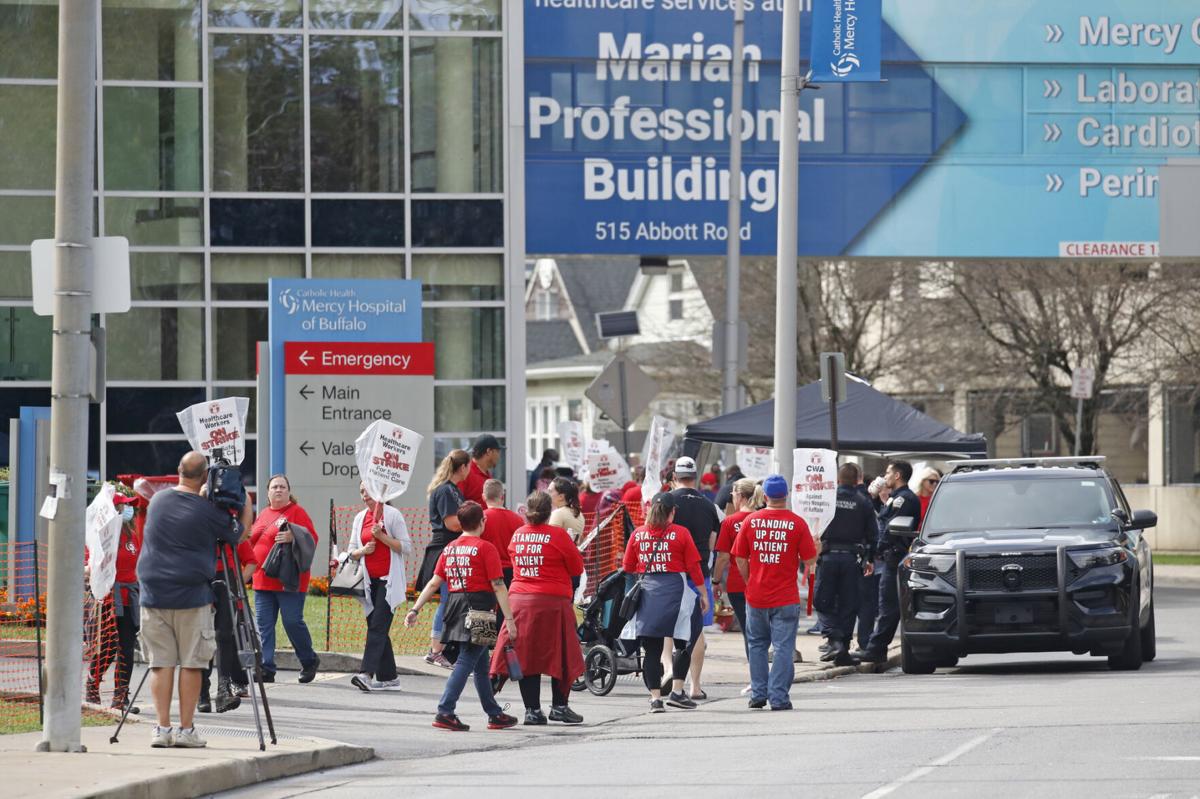 Mercy Hospital of Buffalo was caring for less than half as many patients on Wednesday than it was one week earlier, before about 2,000 nurses, technical, service and clerical workers went on strike after their union and Catholic Health System could not reach a deal on a new labor contract.
"We continue to service the community as best we can," Catholic Health CEO Mark Sullivan said during a Wednesday afternoon news conference as the strike reached its sixth day.
Sullivan said the hospital was caring for 132 patients Wednesday, down from 278 on Sept. 29, a 53% drop. 
The South Buffalo facility, operating with replacement workers, has seen 55 people a day in the emergency room and about 48 in the Mercy Ambulatory Care Center, he said. On Sept. 29, those numbers were 80 emergency room visits and 53 emergency visits at the Mercy Ambulatory Care Center.
In an empty room where the families of those having surgery usually wait, Sullivan said he was optimistic a deal could be reached "very soon" that would end the strike.
For Catholic Health, keeping Mercy Hospital open means paying vastly higher wages to replacement workers. For striking workers, each day means more lost wages.
"The good news is we resumed in person negotiations yesterday with a new spirit, both on the CWA side and the Catholic Health side, to focus on getting a deal done," he said.
Sullivan said Catholic Health has brought in more than 10 of its executives to try to reach an agreement with the union on the dispute's top issue: staffing.
He reiterated that Catholic Health has proposed hiring 258 more full-time employees, adding staffing 10% above the average daily census and spending $20 million. The proposal would also provide bonus pay to associates who pick up an additional shift when staffing targets aren't met.
Sullivan also cautioned that health care staffing shortages are a much bigger problem than just at Mercy Hospital.
"This is a national staffing crisis," he said. "Health care, overall, is broken."
CWA Area Director Debora Hayes provided an update Tuesday evening on negotiations with Catholic Health System, which resumed early Tuesday morning.
Responding to Sullivan's news conference, the CWA issued a statement at 7:20 p.m. Wednesday from Jennifer Williams, a charge nurse who has worked at Mercy Hospital for 14 years. Williams said the staffing crisis at Mercy Hospital was exacerbated by Catholic Health not taking "negotiations seriously until the 11th hour."
"Catholic Health got us into this crisis and they have the power to get us out of it, and we will be on strike until we have a fair contract that addresses the deteriorating staffing conditions and ensures we don't get to this point again," Williams said.