Fred LoFaso's $20 million plan to introduce apartments, self-storage space and a beer museum to an old Black Rock malting facility came to a head Tuesday as the developer easily gained the final clearance needed to bring his project on tap.
The owner of Sienna Realty won approval from the Buffalo Planning Board to convert the former John Kam Malt and Kiln House on Hertel Avenue into the city's newest mixed-use project, featuring 80 residential units, 500 storage units, and a mix of retail tenants that could include a brewery and restaurant, a bakery and a coffee roaster.
It's been 21 years in the making but a historic former Black Rock malt house is ready for new life – as apartments.
With an adaptive reuse permit in hand from the Common Council to allow a residential rehab in an industrial zone, LoFaso is ready to start on the venture, which is expected to take two years to complete.
"This is a really cool project," Planning Board Vice Chair Cynthia Schwartz said.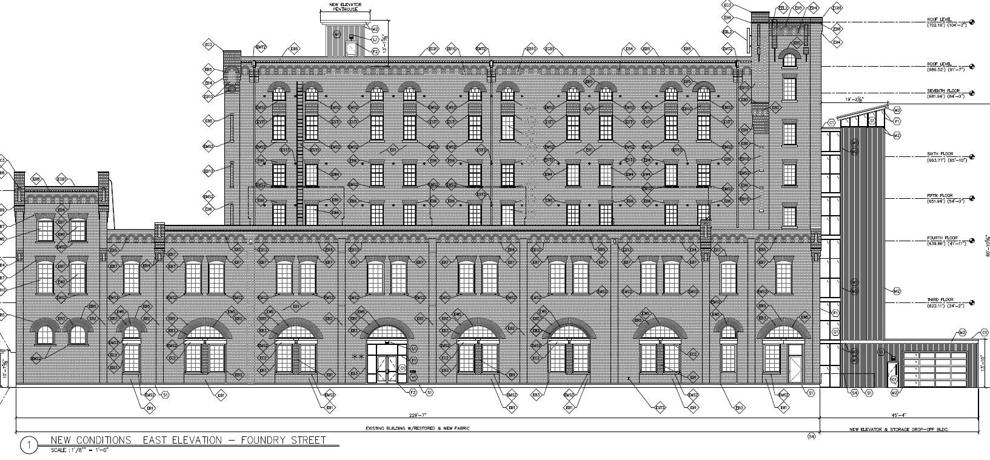 Located at 356 Hertel and 42 Foundry St., the vacant 124,839-square-foot complex sits on 2.97 acres west of Military Road, bordered by Hertel and Foundry, as well as the north spur of the Beltline and CSX railroad line. The seven-story building was constructed from 1900 to 1901 for the John Kam Malting Co., which occupied the site until 1916.
It was later used for animal feed production until 1950, and then other industrial purposes until at least 1986, before it was acquired at the Erie County foreclosure auction for $10,000 in 1999. It housed an indoor skate park from late 2003 until 2014, and LoFaso took control in 2015.
Plans now call for 40 two-bedroom apartments, 34 one-bedroom units and six studios. The units will range in size from 500 to 1,200 square feet, including lofts or second floors in some cases. Rents will be market-rate, but LoFaso previously said he will try to keep them "as affordable as possible."
Douglas Jemal wants to put up a five-level parking ramp with four floors of apartments above it on a city-owned parking lot at 61 Terrace St.
Amenities will include a rooftop patio, an onsite dog park and dog wash, a "pedestrian gathering plaza," bicycle storage and repair areas, and a small business or co-working center with a conference room.
The building will include 40,000 square feet of self-storage space in the basement and in parts of the structure's core that don't have windows. And it will feature 14,000 square feet of retail space, including a new 1,800-square-foot Buffalo Brewer's Museum on the first floor to highlight both the building's own past and the local beer industry's history.
Also Tuesday, the board backed a $500,000 proposal by Mohammed Gazi and Anjuman Ara to more than double their Zubaidah Halal Market at 59 Walden Ave. by expanding the current 2,448-square-foot first-floor store to 3,959 square feet, while adding a second floor of 3,219 square feet. That will allow them to store and sell fruit, vegetables, meats, fish and specialty foods from various countries. A second floor apartment will remain in part of the upstairs space.