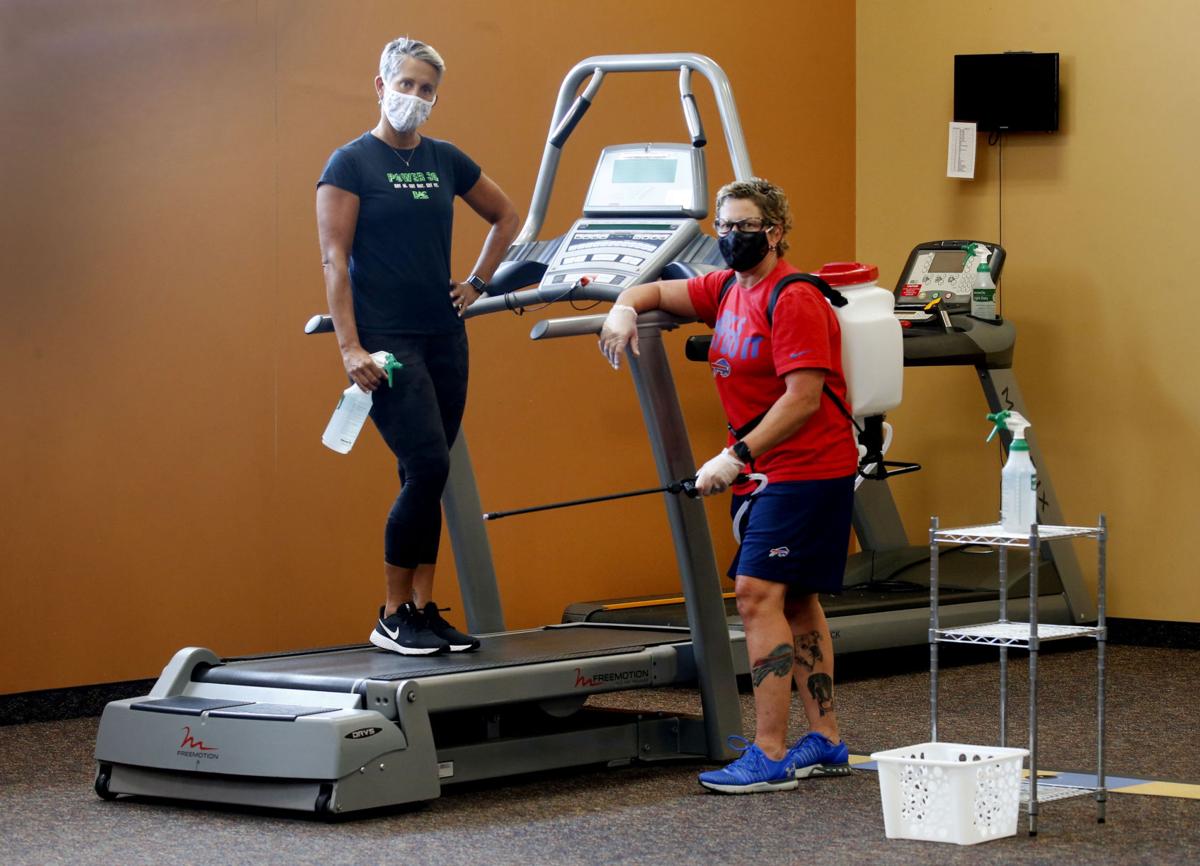 Gym owners and mall tenants waited eagerly this week for the state's phase four reopening guidelines so they could get back to business after being closed more than three months for the coronavirus.
Instead, they found out that they are excluded from phase four, and that there is no timeline set for them to reopen.
"We are very disappointed. We have worked so hard to get the club ready using what little information we have gotten from the government," said Debbie Hastings, fitness director at BAC for women. "And there's still no word. It's just that we're not going to be included in phase four."
After closing in March to stem the spread of the coronavirus, local businesses such as restaurants, stores and nail salons have slowly reopened, getting owners and employees back to work and giving customers face-to-face access.
With phase four on track to begin in Western New York on July 1, malls and gyms assumed they were next. After all, there is no phase five.
"There are some reports that malls, bars, certain social clubs with air conditioning, that air conditioning may not be cleansing the air of the virus and just recirculating the virus," Gov. Andrew M. Cuomo said in a news briefing Wednesday. "So we are studying that and as soon as we get some more information we will make an informed decision."
The governor has said he is watching other states where Covid-19 cases are climbing, and doesn't want to invite a second wave.
"There's new information that comes out on this virus every day and anyone who thinks this is a static situation is wrong," the governor said. "So we are continuing to study the most recent developments."
Gyms figured they would be among the last to reopen, but they didn't expect to be kept out of the final reopening phase altogether.
Tara Scaringi, a physician's assistant and the owner of Be Moved Fitness in Wheatfield, feels gyms are an important part of keeping Western New Yorkers healthy enough to fight off Covid-19.
"You're going to see some of the healthiest people at the gym. We can take care of our immune systems and burn off stress. We can keep our mental sanity," she said. "I think the benefits to our health are being vastly overlooked."
Scaringi described her gym as a boutique-style studio that is mostly devoted to classes, and believes it is unfair for businesses like hers to be lumped in with large fitness chains such as L.A. Fitness and Crunch. For example, Be Moved is able to make modifications that bigger clubs might not be able to, and could also have an easier time staying on top of cleaning and sanitizing the workout space. She also has air purifiers and an ozone machine.
"You can't just walk in for a class. People have to sign up. We know who's coming. We know everybody's situation," she said.
To her, being left out of the state's reopening simply doesn't make sense.
"You can be at Walmart with 500 people in the store but you can't be in my gym with five people working out?" she said.
But the financial consequences of the coronavirus closures are battering large and small fitness centers alike. Earlier this month, California gym chain 24 Hour Fitness declared bankruptcy, saying coronavirus has had a "devastating" effect on its bottom line. Gold's Gym filed bankruptcy in May.
Gym members are feeling the effects, too.
Ethan Mixon of North Tonawanda said working all week and having no outlet to burn off steam at the gym has made him depressed. He tries exercising outside but has trouble with his knees that makes it difficult.
"The whole time they've been saying that gyms will be opened at phase four," he said. "I've been so patient and trying to stay as calm as possible because there was a light at the end of the tunnel. And now they took it away."
In a press conference Wednesday, Erie County Executive Mark Poloncarz said gyms would have to go to extra lengths with their air handling systems to keep their facilities safer.
"They may not open on day one of phase four, but I don't think they're that far off," he said.
Shopping malls had expected to reopen in phase two earlier this month, along with most other non-essential retailers. Instead, they were ordered to remain closed, except for tenants that have exterior entrances.
Walden Galleria owner Pyramid management has been vocal about malls' exclusion since they were left out of phase two. It has urged customers to push the state for a reopening and said in news releases that malls and their tenants were being "penalized unfairly" by the state.
Boulevard Mall and its tenants also have been ready and waiting to open, said Amanda Baumler, the mall's general manager.
"We have a mix of both national as well as local tenants whose livelihoods depend on getting back to business as soon as possible," she said.
Russell Fulton, general manager at Eastern Hills Mall, notes that the Clarence mall has been converted to host several uses, including offices, non-profit organizations and business manufacturing, in addition to the usual food, retail and salons.
"Almost all of them would be able to open if they were outside, but they can't because they're in a mall," he said.
Concerned about COVID-19?
Sign up now to get the most recent coronavirus headlines and other important local and national news sent to your email inbox daily.