Shortly before midnight on a Sunday in mid-February, Medaille College security guards used their card keys to enter the rooms of several students without warning.
Students said the intrusions startled and scared them. Some were asleep. Others weren't fully dressed or were in the shower.
And students – who held a protest about the incursions on Friday – said it was wrong, violating Medaille's security and privacy policies.
The guards, employees of Vista Security Group of Amherst under contract by the college, wore hoodies rather than uniforms; they weren't wearing masks as required by Covid protocols in place at the time; and they appeared to be on a random hunt for alcohol or marijuana, students said.
Medaille officials said it never should have happened.
They had Vista remove the guards responsible and have held several meetings with the Student Government Association to reassure students that the incidents "should never have happened and will not happen again, said Medaille President Kenneth Macur.
Macur described the security guards involved as "a couple of people behaving badly and abusing their power."
But students who say they still fear for their safety and don't feel heard staged a walkout and protest Friday to publicize the incidents and call for Macur and Vice President for Business and Finance Lori Miterko to step down.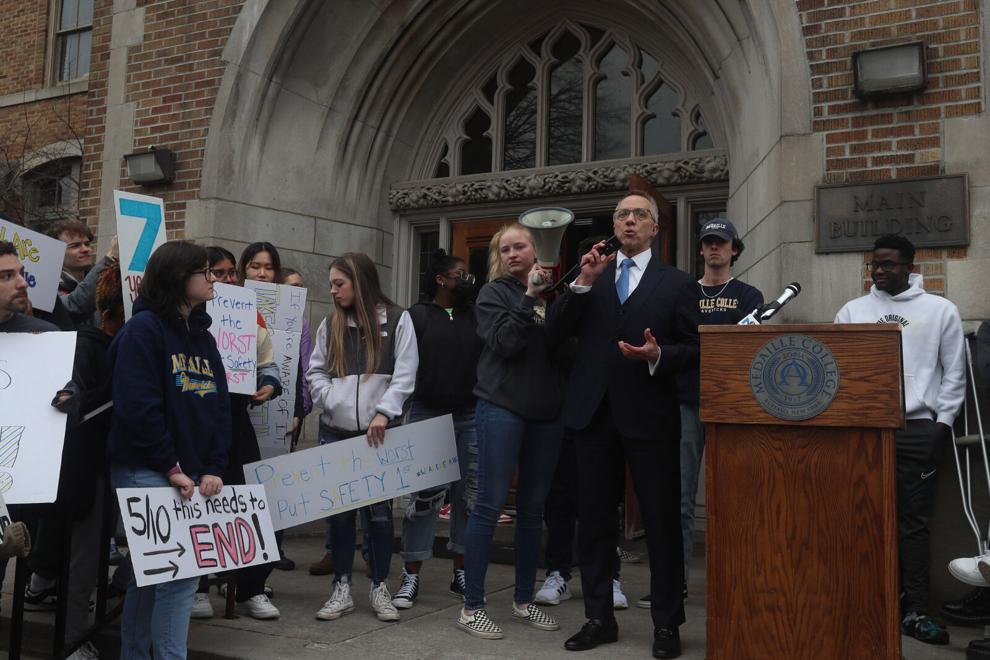 "The president and vice presidents have not taken accountability for this. They have just beat around the bush," said SGA Student Programming Coordinator Leya Slade. "I think today is the biggest step we could have taken, and it seems like they are finally listening."
About 50 students gathered on the steps of the Main Building for the protest, which quickly attracted another 100 or so students and faculty.
Macur, Vice President for Student Development Amy DeKay and Vice President for Diversity, Equity and Inclusion Kenya Hobbs stood a few yards away as the crowd chanted, "Hey hey, ho ho, Dr. Macur has got to go!"
The students said that while five Vista guards involved in the incidents were ultimately removed from security detail at Medaille, only two ringleaders were removed at first and it took five weeks to remove the other three. They said Macur, DeKay, Hobbs and Miterko had met with them three times since the incidents, but have not met all their demands or answered all their questions.
Students said they were angry that Medaille switched from its own security detail to a contract service with Vista early this year without notifying students.
After the Vista guards conducted random room raids on Feb. 12 and 13, Macur blamed the individuals involved, not Vista as a firm, and took no blame for Medaille having brought them in, students said.
SGA members who took turns at the megaphone said the security incidents were the catalyst for students to begin talking about a variety of concerns on campus, including accessibility for disabled students, diversity and inclusion and even potholes.
"What is Medaille going to do to promote restorative justice?" asked Medaille freshman Lee Garcia. "We want to be in the loop on decisions like bringing a third-party security system onto campus. We want to meet with the board of trustees so students can share their experience. And we want to be involved in hiring a new president of Medaille College."
The students invited Macur to speak but drowned him out when he said, "I promise to meet with you, as I did in March when first asked."
DeKay received a better reception when she stepped to the microphone and recounted what her investigation revealed about that weekend.
She said three Vista security guards entered three student rooms on Saturday, Feb. 12, and some of the same guards – plus others – entered 11 other rooms starting at 11:30 p.m. Sunday, Feb. 13.
The guards found some bottles of alcohol and took them, Macur said.
"All the officers have since been removed from our campus," DeKay said. "I have heard you from the beginning, I see you and I am committed to doing what I can to make sure you feel safe."
"I have never been more proud of students standing up to authority and leadership," she added.
Macur said Medaille contracted with Vista starting in mid-January because the firm, which also provides security for the Buffalo Bills and Buffalo Sabres, has performed well under contract with two other small private colleges, Trocaire and Daemen.
"I don't see this as an issue with them as a firm," he said.
Vista Security officials declined to comment.