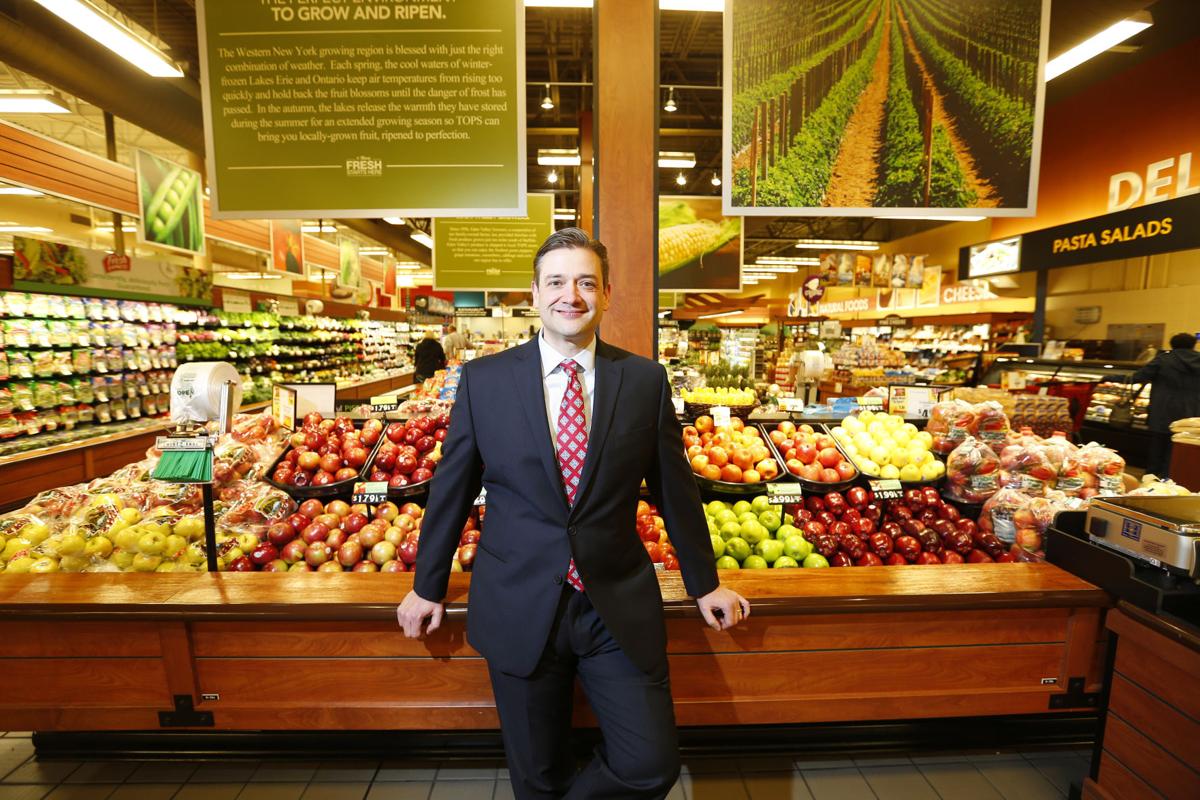 In January 1984, a teenage high school student named John Persons took a part-time job at Tops Markets, where he wrangled shopping carts before being promoted to cashier. For three decades, Persons rose through the ranks and, now, he's the company's president and chief operating officer.
As president, Persons oversees day-to-day operations at all 172 of Tops' stores in New York, Vermont, Pennsylvania and Massachusetts, as well as all sales, marketing and merchandising operations. Being president also makes him the company's No. 2 executive and heir apparent to CEO Frank Curci, who transitioned out of the role of president in October 2015 but stayed on as chief executive and chairman.
Persons holds a master of business administration degree from the University at Buffalo.
Q: Did you just keep applying for higher positions or did you have a mentor helping you advance?
A: I certainly had many mentors in my career at Tops, but one of the great things about this company is that we've always had programs to develop our associates. Early on I was lucky enough to be part of one of the development programs, which included education about the industry, a mentoring relationship and some formal education. I was sponsored through Tops to go back for an MBA and graduated in 2000. Certain people who were interested and showed a proficiency for the food retail industry were asked to be part of the program, and I was lucky enough to be selected.
Q: Do you think it's still possible at Tops for someone to start out pushing carts and end up an executive?
A: Absolutely, no question about it. One of the great things about our organization is we're able to develop people to fit our needs and we do it by allowing people to do different jobs. They may be in marketing one day, they may be in merchandising the next, they may be in store retail, so we love to have people take on different roles and responsibilities that help them grow and learn more about the business.
Q: Can you point to one or two turning points in your career that put you where you are today?
A: I think my turning point was deciding to leave the comfort of the store. It's very fast paced. You can engage with hundreds of people, thousands of customers. It's an exciting place to be. And when I made the decision to leave, I was a little nervous. I was going into an office environment, having to work collaboratively with people instead of being, what we like to call our store managers, the "CEOs" of their individual locations.
Q: What does the future have in store with you as president?
A: We're going to continue to grow. Back in 2008 when Frank came back, we started as a company independent from Ahold. We were 71 stores. We're 172 now. So, the focus is really not going to change. Now, some of the things we do internally might change; some of the ways we connect to the customer.
A: I like to tell people that there's a food revolution going on right now. Organics and healthy and natural options are much more important today. Organic sales have been up 25 percent year on year. The demand just isn't ceasing. People also want some element of convenience and they're engaging into more extreme or robust flavor profiles.We have to make sure that we're positioning ourselves and we're ready for it. On top of that, people want to be engaged on their phones, on the website, in different ways that they haven't interacted with retail in the past.
Q: The grocery industry is very competitive, especially in Western New York. What does that mean in Tops' day-to-day operations?
A: That's why we want to make sure as a company we're growing. We understand that consumers like to have some element of convenience, want to be able to shop where they live, and we've been designing smaller stores that fit into neighborhoods and smaller areas where otherwise you wouldn't be able to fit a 75,000 or 100,000-square-foot store. In Westen New York, the three biggest food retailers would be Tops, Walmart and Wegmans and those three, I think, will continue to have the lion's share of food retail in Western New York.
Q: How do you think Whole Foods is going to affect things?
A: Us and Walmart and Wegmans, as we become much better at organics and healthy, I think it becomes a little more difficult for Whole Foods to be able to come in on a mass scale. I think they'll come into Buffalo, and they'll do very well. They may have a couple locations in the market long-term but I think, generally speaking, it will still be the traditional food retailers that will be present in Western New York.
Q: Where do you see the local grocery industry heading?
A: All the dollar stores and all the other type of retailers are bringing in traditional grocery products – boxes of cereal, canned goods and those types of things. What's happening is good food retailers are adjusting by becoming competitive with pricing on those items but also playing on the things those retailers can't do, like fresh foods and convenience foods.
Q: What's going on with your online grocery shopping program?
A: While not strong in Western New York right now, online shopping, click-and-collect and potentially home delivery will be a fairly important element of food retailers in the next five years, so we continue to develop it. We have not revealed it yet because we still have some kinks we're working out. There's some technical and some process things we're working on. When we do roll it out we want it to be functioning perfectly, and we want it to be top-notch.
Q: What could Tops be doing better?
A: We already have some very strong partnerships with local organizations, but we need more. We need to do more in the community. So we have been beginning to really solidify and grow relationships with local suppliers and local growers and manufacturers.
We now have all of our ricotta cheese produced right down at the Lactalis plant in South Buffalo. All of our eggs are hatched six miles east at Kreher farms. We have very good relationships now with the manufacturers making our soap, our pasta sauce. There are so many items now.
Q: What other innovations are coming?
A: I'm not sure that most people would understand the depth that we are able to understand the behavior of our customers using data. And that's really just the beginning right now. I see that type of data becoming much more important on how we merchandise and how we position our company and how we react to our customers.
From a customer standpoint, I think there's going to be much more technology inside the store. They'll be able to order in the store, use their phones to check out and receive promotions or assistance. So in-store and consumer-facing technology will continue to grow.