Covid killed all-night shopping – and that means fewer nocturnal buying options for in-person shoppers during the holidays.
Not too long ago, consumers in Western New York could buy anything from shoes to sushi at any hour of the day or night. But that has not been the case for the past 19 months.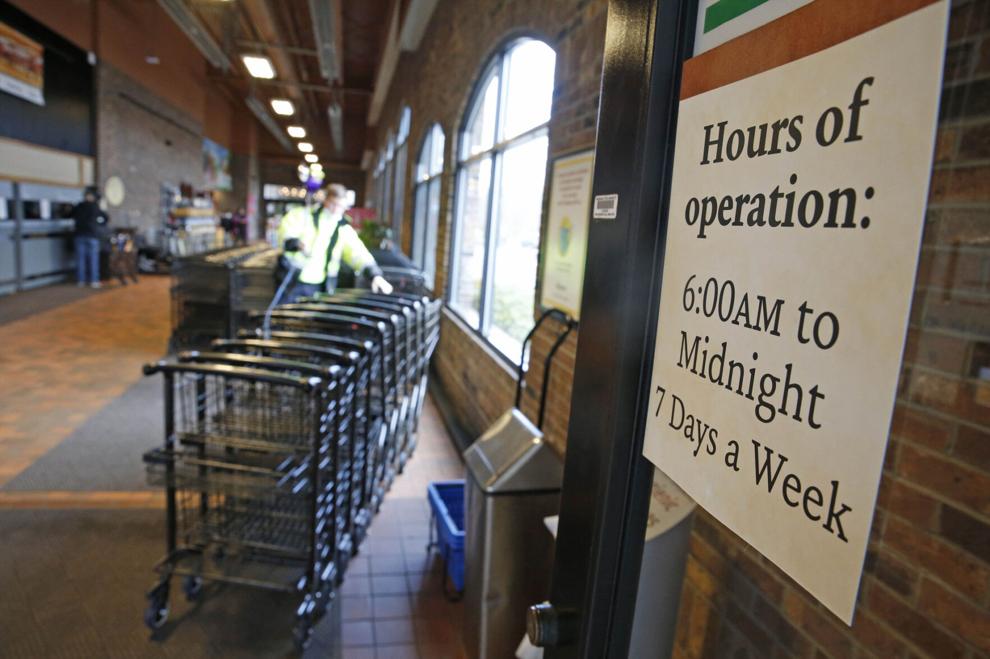 When the pandemic hit, retailers from Walmart to Walgreens to Wegmans halted 24-hour operations and began closing overnight. Some stores such as Dollar General, Target and Trader Joe's reduced their store hours.
But now, even though Covid restrictions have eased and other complications have gotten under control, overnight operations have still not returned and many retailers are still running limited schedules.
Abbreviated hours are most drastic at area malls. The McKinley and Boulevard Malls, which have struggled with occupancy levels, both close at 7 p.m. during the week, and Eastern Hills closes at 6 p.m. Fashion Outlets of Niagara Falls opens at 11 a.m. and closes at 7 p.m. Monday through Thursday.
Hours won't expand significantly during the busy holiday shopping season either.
Prior to Covid, most stores opened on Thanksgiving and some stayed open around the clock throughout Black Friday weekend. This year, stores will remain closed on Thanksgiving and malls will not open in the wee hours of the morning as they have done in years past.
For years, Fashion Outlets of Niagara Falls USA held a Midnight Madness party with a DJ and prizes, kicking off Black Friday at midnight Thanksgiving night. This year, the mall will not open until 8 a.m. on Black Friday.
Shorter hours have allowed stores to save money on operating costs while maintaining revenue. And, at least for now, stores have managed to close early without facing backlash from inconvenienced consumers. 
A snarled supply chain, along with short staffing, higher prices and other issues in retail, are combining to make for a difficult holiday shopping season this year.
The initial cutbacks may have been prompted by the need for crowd control and the more labor-intensive stocking and cleaning procedures because of Covid. But keeping the reduced hours in place has helped retailers cope with severe worker shortages, higher labor costs and slower in-store traffic.
The tight labor market has made hiring especially difficult for retailers. Workers have been hesitant to take customer-facing roles during the pandemic. Many former retail workers left jobs for other industries when stores closed during Covid, and others have migrated away as working conditions became more stressful under staffing shortages and abusive customers.
At the same time, competition for workers has caused hourly wages to climb in the retail sector. 
Together, those factors make it more difficult and more expensive for stores to stay open later. And with foot traffic down, there is no rush to ramp hours back up.
And shoppers don't seem to miss it, either.
After scrambling for workers the past 18 months, companies are growing more desperate heading into the frantic holiday shopping season.
So far, there has been little pressure from consumers to return to pre-Covid hours, which has allowed stores to sustain shorter schedules.
But there is more to it than that, said Charles Lindsey, a marketing professor at the State University at Buffalo's School of Management.
"I also think it has to do with expectations," he said.
It turns out consumers are more patient when they believe there is a reason for their inconvenience.
"It's similar to how firms will often raise prices during boom periods or during inflationary times – sometimes over and above inflation – because consumers expect or brace for this and are likely to push back less than during other times," he said.
Last year, when the pandemic hit with a vengeance and shoppers left shelves bare, both Tops Markets and Wegmans began closing overnight to clean and stock their stores.
While the supermarkets were closed, staff deep cleaned against the coronavirus and restocked depleted shelves. At the time, frenzied shoppers – frightened by the worsening Covid crisis and spooked by scarcity – lined up outside in advance of the store's early hour openings hoping to get first crack at inventory that had been delivered overnight.
In March, Wegmans chopped its hours and began opening at 7 a.m. and closing at 10 p.m. "until further notice." Wegmans has since expanded its hours but has not returned to 24-hour operations at any Western New York location. Its stores now open at 6 a.m. and close at midnight.
"We have no plans to change our hours at this time," said Michele Mehaffy, a Wegmans spokesperson.
Tops shortened its hours in March 2020, too, opening at 6 a.m. and closing at 10 p.m. daily. The chain still sticks to that schedule, except for a handful of stores that close an hour or two earlier or later.
It doesn't have any plans to change its operating hours, according to spokesperson Kathy Sautter.
"We will continue to review business trends as well as consumer feedback to determine the next steps, as consumer shopping trends are really what we react to and inform us how to respond," she said.
Once the domain of corner stores and gas stations, grocers began to adopt the 24-hour model in the 1970s as they competed on convenience. Since Covid, shoppers have come to rely on other consumer conveniences, such as curbside pickup and home delivery. And, of course, the internet never closes.
So will 24-hour operations ever come back?
If Lindsey at UB is right, 24-hour operations might not return unless customers demand it. And, so far, they haven't.
"Stores closing earlier and not featuring overnight hours was an accepted part of pandemic-related retail changes, and so far there has been stickiness or status quo bias when it comes to changing back," Lindsey said.