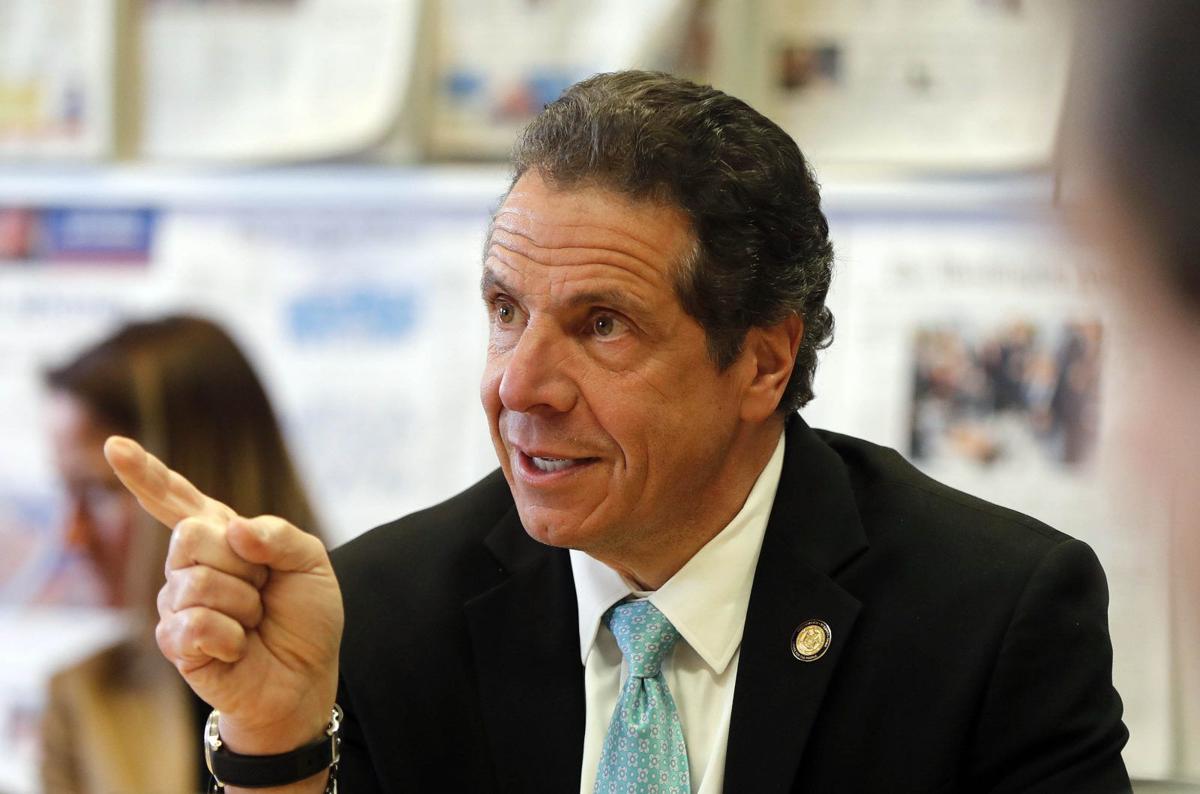 Gov. Andrew M. Cuomo's long focus on the state's economic development and job growth efforts now are taking a back seat to the environmental, social, educational and other progressive issues that are dominating the national political debate.
But that doesn't mean the spigot has been turned off, either.
Cuomo announced Tuesday that he wants to allocate more than $1.1 billion toward economic development efforts across the state as part of his new budget. He proposed a package of continued regional grant funding, capital spending, downtown investments, tourism promotions, minority contracting, innovation centers and a green jobs tax credit.
"This is a budget to be excited about," Cuomo said. "But it's not just about the money. It's about how you spend the money."
It includes $470 million in new economic development dollars for the 10th round of the Regional Economic Development Council awards and a fifth round of the Downtown Revitalization Initiative, as well as investments in technology, infrastructure, manufacturing and other ventures to encourage local private-sector investments.
It's still a significant investment by Albany, but it's mostly dedicated to statewide efforts that include Western New York along with every other part of the state. The budget included a handful of substantial and targeted investments – such as $147 million toward upgrades to the Olympic facilities in Lake Placid and $100 million for communities along the Erie Canal – but none are specific to the Buffalo Niagara region.
The lone exception: $10 million for the North Aud Block redevelopment at Canalside in downtown Buffalo.
That's a far cry from some past years, when the governor announced the Buffalo Billion and Buffalo Billion II initiatives, totaling $1.5 billion. And it may reflect the governor's efforts to keep spending under control in order to narrow the budget gap, while refocusing attention on other changes that are less costly and bolster his appeal to progressive voters.
"This is the most progressive government in the United States of America, and we are fiscally sound," Cuomo said. "You can be progressive and you can be fiscally sound."
The proposed 2021 budget, unveiled at the state Capitol on Tuesday, includes:
$225 million in new grants and tax credits to fund "high value regional priority projects" through the regional councils, while separately making $525 million available from various state agencies through the regular Consolidated Funding Application process
$100 million for the Downtown Revitalization Initiative that seeks to spur the transformation of urban neighborhoods into "vibrant communities"
$57.5 million to support the state's tourism campaign, including an eighth round of $15 million for the Market NY competitive initiative to encourage regional collaboration for tourism marketing that promotes regional attractions
$220 million for the New York Works Economic Development Fund, for capital grants to support projects that create or retain jobs, or that pay for infrastructure investments needed to attract or expand companies
$34 million to support the New York State Economic Development Fund, the Minority- and Women-Owned Business Development and Lending Program, the Urban and Community Development Program, and the Entrepreneurial Assistance Program
$5 million for the Innovation Hot Spots and Incubators Program, to encourage collaboration between schools and businesses, while offering support services to startup companies to turn academic research into business opportunities
Cuomo also wants to extend the Excelsior Jobs Tax Credit program, setting new credit caps through 2039 and allowing companies to benefit from their unused credits through 2049. Those credits are only awarded after a company achieves employment and investment goals.
The governor is also proposing a new Green Jobs Tax Credit as part of the Excelsior program, boosting the regular credit for eligible projects to encourage new employment in environmentally friendly jobs. The refundable green credit would total up to 7.5% of wages – up from 6.85% for the standard Excelsior credit – for each net new job that is created to support "green economy" businesses.
He also wants the state to create a refundable, discretionary Green Investment Tax Credit of up to 5% of qualifying new investments in green economy projects, and up to 8% for green economy research and development. The standard investment and research tax credits are 2% and 6%, respectively.
And his budget proposes extending the "Hire-A-Vet" credit for two more years, offering a refundable credit of 10% of wages paid to a qualified veteran and 15% of wages paid to a disabled veteran, up to $5,000 and $15,000, respectively.
The business news you need
With a weekly newsletter looking back at local history.