When Mercy Hospital workers went on strike in the fall, it reverberated far beyond Catholic Health System.
There also was a lot at stake for Kaleida Health, the main competitor of Catholic Health.
The contract settlement, following a nearly six-week strike in South Buffalo, set the stage for labor negotiations at Kaleida by hammering out benchmarks for staffing levels – sure to be among the hotly contested issues once Kaleida talks start this week.
Catholic Health's labor contract matters because not only are the two hospital systems engaged in an intense competition for patients, they also are competing for nurses and other health care workers during a severe staffing crunch.
The Catholic Health contract sets a bar that Kaleida officials will need to consider as they negotiate with their own workers.
The News' Buffalo Next team covers the changing Buffalo Niagara economy. Get the news in your inbox 5 days a week.
And there are a lot of them.
Kaleida said the two unions it will be bargaining with represent 6,293 of its workers, or about 63% of its payroll. That workforce is spread across all Kaleida facilities, including its hospitals, nursing homes, business office and medical clinics.
Unlike an agreement at Catholic Health that specified a strike last fall could only happen at Mercy Hospital, Kaleida has no such assurances if negotiations were to head south in the next couple months.
So the stakes are even higher in Kaleida's contract talks, said Larry Zielinski, a former Buffalo General Medical Center president and an executive in residence for health care administration at the University at Buffalo School of Management.
"If there's a walkout like we had at Mercy, it would be across the Kaleida system," Zielinski said. "It would be a significant situation."
Neither Kaleida nor the unions hope it gets to that point.
Kaleida, Communications Workers of America Local 1168 and 1199SEIU United Healthcare Workers East will sit down for their first joint bargaining session on Wednesday, less than three months before the current three-year deal expires May 31.
It's also possible the talks could go past the expiration date – as previous negotiations have.
And while the Kaleida negotiations aren't the only recent labor talks – negotiations are ongoing at Mount St. Mary's Hospital in Lewiston and the contract at Niagara Falls Memorial Medical Center expires June 1 – they are by far the largest. 
How it shakes out has the potential to affect tens of thousands of people, including workers, their families and their patients – not to mention the financial position of Kaleida.
Like other health systems, staffing has progressively gotten tighter at Kaleida over the course of the pandemic, stretching remaining employees thin as they scramble to take care of more patients, according to two longtime Kaleida employees who are 1199SEIU members and part of the bargaining committee.
Charles Williams, a patient care assistant in the neuro-intensive care unit at Buffalo General, said he sometimes has 15 patients to take care of during a shift, often more. For the nurses he works with, they're stretched to care for at least six patients.
"When you lack staff, and appropriate numbers for safe staffing, it directly impacts your bedside, your patient care and how much time you can give to each patient and the family," said Juliette Negron, a registered nurse at John R. Oishei Children's Hospital.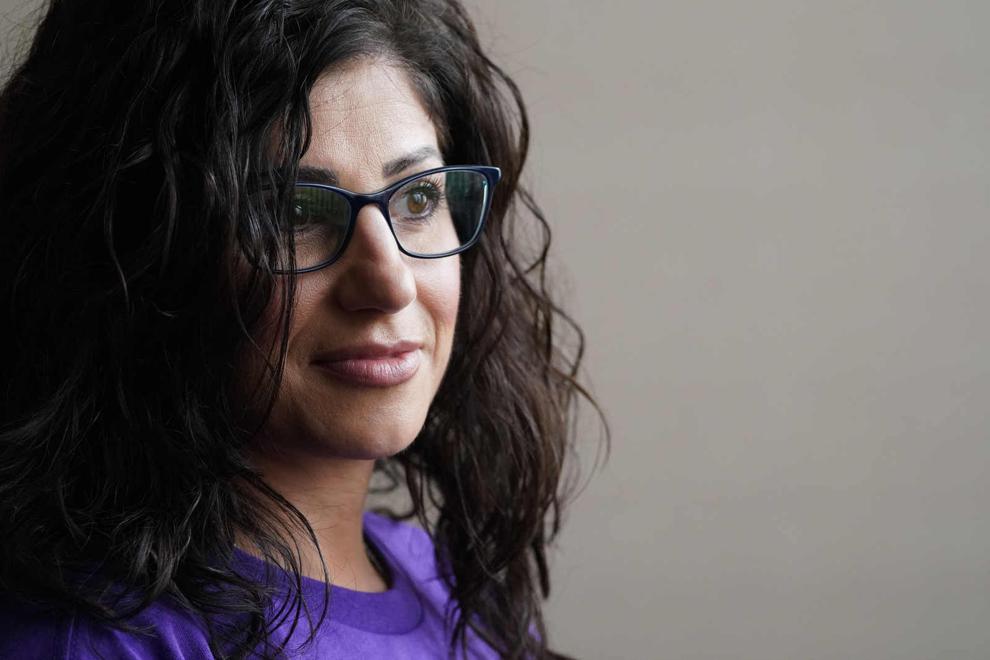 Their comments are similar to the ones echoed in the fall by the striking workers of Mercy Hospital.
The Mercy agreement secured specific staffing provisions, such as nurse-to-patient ratios in the medical-surgical area of 1:4 during the day and 1:5 at night. 
James Scordato, 1199SEIU's vice president of the Western New York hospital division, said the current Kaleida contract does not have staffing ratios in it. But the unions will be looking to secure ratios in the new deal similar to what was won at Catholic Health.
"We're going to look at that bar and, more than likely, we're going to try to achieve it, if not do better," he said.
Scordato said those talks could be aided by New York's safe staffing legislation, which mandates hospitals submit staffing plans to the Health Department by July 1 and then implement those plans by Jan. 1, 2023.
The agreement union members will vote on this weekend is one that many health care officials in Western New York see as a significant deal that will shape future labor talks at other hospitals.
He predicted union members could be voting on a new contract with Kaleida around the time those staffing plans are submitted in July.
In a statement, Kaleida Chief Administrative Officer Michael Hughes acknowledged the system's workforce "has been stretched and worked to the max," handling more and sicker patients while watching some of their colleagues leave for retirement, enter travel work or get fired over the state's vaccine mandate.
To provide relief, he said Kaleida over the past nine months has offered incentives and bonuses, introduced recruitment bonuses, hired more than 400 nurses as well as hundreds of agency staff.
"We know that maintaining and enhancing our workforce is critical to our sustainability and providing the highest-quality health care to Western New York," Hughes said. "We believe that our employees are more than deserving of an increase. Equally important, we are committed to work together to address the serious staffing challenge."
For both sides, a strike comes with big economic costs. 
While striking Mercy workers missed paychecks, Catholic Health shelled out as much as $7 million a week for replacement workers to keep the hospital operating.
The 41-day strike ended up costing Catholic Health about $89 million, which was about 55% of the organization's $160 million operating loss in 2021. 
Moody's Investors Service on Friday downgraded Catholic Health's credit rating by two notches – to B1, from Ba2.
Kaleida will no doubt want to avoid similar costs. 
The system hasn't disclosed its 2021 financial results, but it was well into the red in 2020 – like many Western New York hospitals during the pandemic's first year.
In 2020, Kaleida reported a nearly $61 million loss on revenue of $1.3 billion, even after receiving $87 million in federal relief.
Losses like that will make Kaleida officials especially mindful of the higher labor costs they would incur by beefing up staffing. That's why those union demands are likely to be one of the main sticking points in the negotiations.
Hughes, however, said Kaleida has "made a commitment to address staffing in the new contract in the most responsible way possible."
"We hope that all of us will work together to solve issues in a positive and creative manner," he said.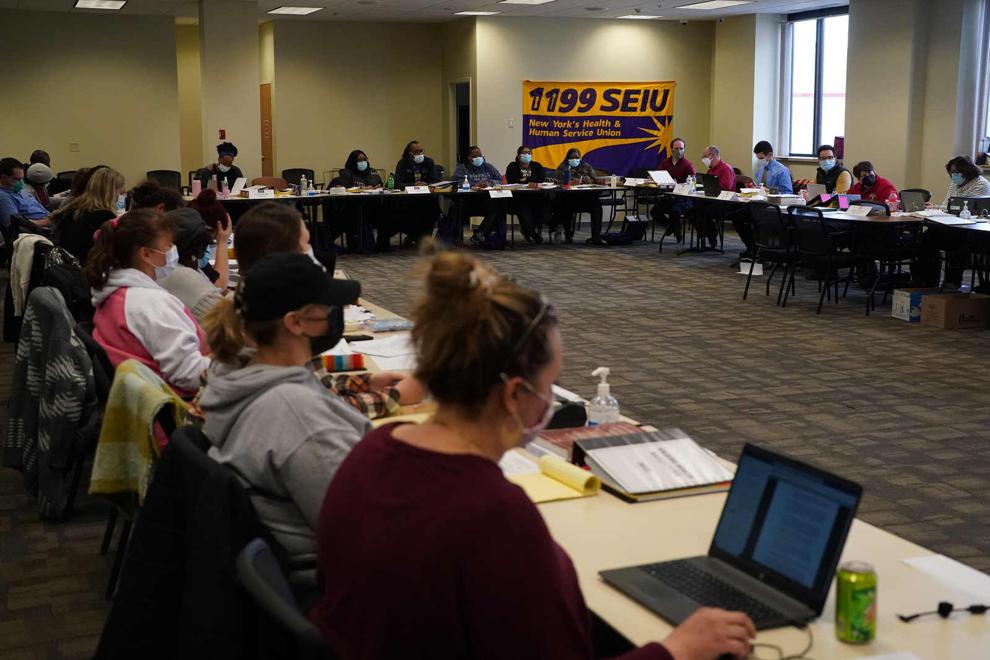 On Thursday, six days before the first joint bargaining session, the nearly 50-member union bargaining committee was busy going through contracts article by article inside 1199SEIU's office in Buffalo. Papers, binders and laptops were atop tables as members prepared proposals to present to Kaleida on Wednesday.
"Our commitment is to sit down and bargain the best agreement that we can on behalf of our members, and it's time to roll up our sleeves and get to work," CWA Area Director Debora Hayes said.
Hughes, too, said Kaleida is committed to reaching an agreement that "rewards our workforce, helps preserve jobs, improves our healthcare services and strengthens Kaleida Health for the long term."
The room where the unions were caucusing Thursday is the same room where bargaining will take place with Kaleida. The space also has room for at least 30 union spectators, meaning members will be able to be present and see the process firsthand. 
The two sides will start with a two-day-a-week schedule, bargaining every Wednesday and Thursday, Hayes said. How bargaining progresses will determine how that schedule needs to be expanded, she added.
Hayes and Cori Gambini, president of CWA Local 1168, said an overarching theme of the discussions will be "dignity and respect on the job."
"We have very similar priorities in that people, No. 1, want a fair contract with no concessions," Hayes said. "People want to make sure that they are fairly compensated for the work that they come in and do every day. And our members have made it clear to us that we have to deal with staffing."