Sept. 27 was the day, the deadline for health care workers without an exemption to get their first Covid-19 vaccination shot as a state mandate went into effect. 
Some hospitals, in Western New York and beyond, terminated unvaccinated workers that day. Those employees, after all, had been eligible for their shots for more than nine months and had known about the mandate since mid-August.
Other health care facilities placed unvaccinated employees on an unpaid 30-day leave, giving those workers one last chance to mull things over before losing their jobs and further aggravating a staffing crunch across the industry.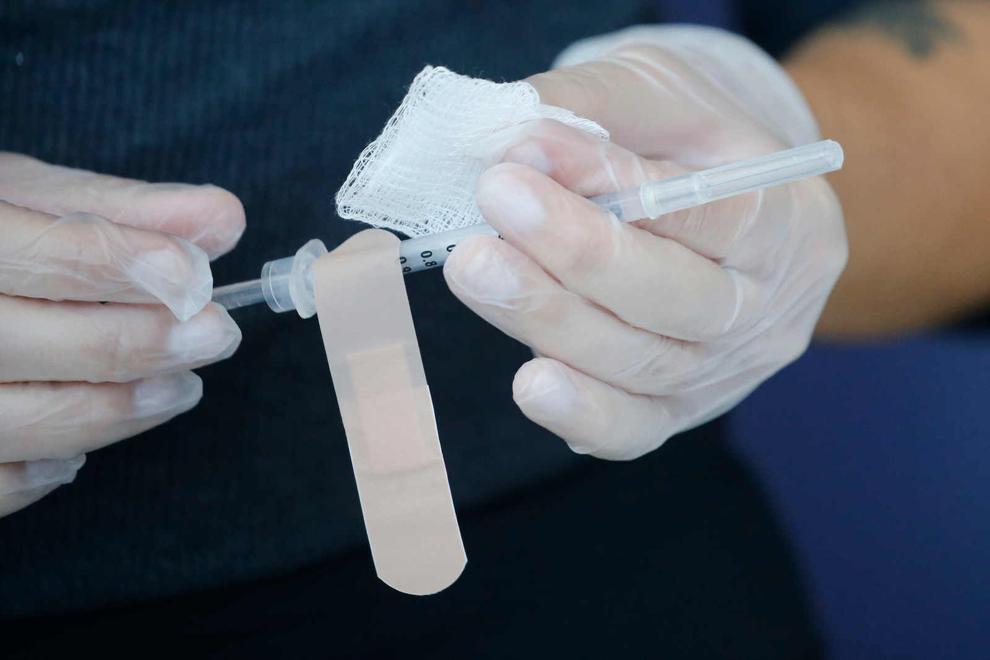 It appears many of those employees reversed course and opted to get a shot – or they were approved for an exemption.
Catholic Health System, for instance, has terminated the employment of 26 people, a mere 0.3% of its 9,000-person payroll, spokesperson JoAnn Cavanaugh said Thursday. More than 300 Catholic Health employees had received reminder letters in mid-October of the coming 30-day deadline, she said, and more than 90% ultimately complied with the mandate either by receiving the vaccine or filing for a medical or religious exemption. Overall, nearly 700 Catholic Health workers got their first or single-dose shots in September and October, Cavanaugh added. She said there also were some other factors, such as some employees who were already vaccinated but did so under different last names than were in Catholic Health's system. 
"We have seen more people getting vaccinated because of the deadline," Catholic Health President and CEO Mark Sullivan said recently. "So we're trying to keep them informed, educated. We've sent people out to the sites to work on formal education, and that's what we're doing related to the mandate."
Other Western New York health systems also echoed low termination totals to The Buffalo News. 
At Roswell Park Comprehensive Cancer Center, for one, about 25 unvaccinated employees were no longer working there and were facing termination through processes laid out in their collective bargaining agreements, spokesperson Annie Deck-Miller said in late October. That's just 0.6% of Roswell Park's 3,700-person employment total.
At Erie County Medical Center, spokesperson Peter Cutler said 25 employees were terminated Oct. 28, just 0.8% of the hospital's workforce. At ECMC's Terrace View Long-Term Care facility, he said 17 employees were terminated, 3.5% of that facility's workers. A month earlier, when the mandate went into effect, Cutler said 276 people across ECMC and Terrace View were on leave, roughly 7% of the total.
Of the 42 workers terminated at ECMC and Terrace View, Cutler said nine of them were per-diem employees, most of whom hadn't worked there in more than a year.
Those totals are in addition to the 100 Kaleida Health employees and the 60 Niagara Falls Memorial Medical Center and Schoellkopf Health Center workers who lost their jobs shortly after the mandate went into effect in late September.
In many ways, the state's mandate could set the tone for what to expect in the months ahead after President Biden's administration on Thursday announced that Americans who work at companies with at least 100 employees will have to be vaccinated by Jan. 4 or get tested weekly. The requirement applies to more than 84 million U.S. workers, though that rule has a test-out provision that isn't included in New York's health care worker mandate.
As more mandates pop up, so do the court filings.
In one, a federal appellate court in late October sided with Gov. Kathy Hochul's administration and stayed a lower court's ruling that temporarily allowed health care workers to claim a religious exemption to get around a requirement that they must have a Covid-19 vaccine.
As the case has wound its way up through the courts, several of Western New York's largest health care providers put workers claiming a religious exemption on leave pending a final ruling.
As those battles work their way through the courts, terminations could be possible for unvaccinated employees with a religious exemption.
While New York's mandate excluding religious exemptions was upheld by the Second Circuit Court of Appeals, a group of New York health care workers is challenging the state's mandate in the Supreme Court.
Cavanaugh said Catholic Health is continuing to monitor and evaluate various court rulings before taking any additional action. 
At ECMC, Cutler noted the Biden administration's directive Thursday included a policy that health care workers at facilities participating in Medicare and Medicaid must also be fully vaccinated by Jan. 4. That regulation, according to a news release from the Centers for Medicare & Medicaid Services, which Cutler said supersedes state guidance, provides exemptions based on recognized medical conditions or religious beliefs, observances or practices.
"Regarding religious exemptions, given the recent directive from CMS, we are further analyzing that issue, consulting with our industry advocacy partners to better determine next steps," Cutler wrote in an email Friday.
In a statement Friday, the New York Health Department said the state's mandate "leaves employee enforcement decisions up to the covered entities," while the Health Department "ensures compliance at the facility level and encourages health care facilities to get all workers vaccinated as soon as possible."
Over the last several weeks, the number of vaccinated hospital workers in New York has increased.
Specifically, among the five-county Western New York's roughly 23,700 hospital workers, the percentage of people partially or fully vaccinated increased from 94.6% on Oct. 12 to 95.7% on Tuesday, according to state Health Department data. The percentage of workers fully vaccinated jumped from 88% to 92% during that timeframe.
The state data does not include how many hospital employees claimed a medical or religious exemption, but it does provide numbers for total employees, fully vaccinated employees and partially vaccinated employees. Adding the fully and partially vaccinated numbers together and subtracting that from the total employment provides at least a hint of how many employees are unvaccinated with a religious or medical exemption.
Health Department spokesperson Jeffrey Hammond confirmed Friday that figure includes "those who are not yet vaccinated or have obtained a medical or other exemption."
In Western New York on Tuesday, that amounted to 1,012 workers, about 4% of the total hospital employment in the region of 23,746. On Oct. 12, that figure was 1,278, or 5% of the region's hospital workforce.
Among the 20 facilities in Western New York included in the state data, Cuba Memorial Hospital in Allegany County had the highest percentage of workers who weren't included in the partially or fully vaccinated categories as of Tuesday. But that only amounted to six workers, or 12% of the facility's 49 employees.
Not far behind, in terms of percentage, was Mercy Hospital of Buffalo, the site of a 35-day labor strike that was suspended late Thursday night after a tentative agreement was reached.
Of Mercy's 2,930 employees, 2,651, or 90%, were partially or fully vaccinated as of Tuesday, according to state data. That means 279 of the South Buffalo hospital's employees, or about 10%, were not in either category.
"The remainder of associates in Catholic Health who have not been terminated and are not partially or fully vaccinated have either filed a medical or religious exemption," said Cavanaugh, of Catholic Health.
While some of the region's hospitals put unvaccinated workers without an exemption on 30-day unpaid leave, others took quicker action when the mandate went into effect Sept. 27.
For example, Niagara Falls Memorial Medical Center said Sept. 27 that 60 workers were separated from their jobs at the hospital and its Schoellkopf Health Center, about 5% of employees. The total included 12 registered nurses – three full-timers, five part-timers and four were per diem. 
Hundreds of employees were put on leave or lost their jobs for not being in compliance with the vaccine mandate.
"These positions are spread out throughout the NFMMC hospital and Schoellkopf, so the lack of clustering of separations have allowed us to continue our same level of service," Niagara Falls Memorial spokesperson Andrea Gray said Oct. 27.
Kaleida Health spokesperson Michael Hughes on Sept. 27 said about 100 employees "have been or will be separated from the organization this week due to lack of vaccination." That represents just under 1% of Kaleida's total payroll of 10,765.
Even though it was a small percentage, losing people from the mandate and then the extra volume of patients stemming from the Mercy strike added more burden on overtaxed hospital workers, said Kaleida CEO Robert Nesselbush, noting, however, that the health system is supportive of the mandate. 
"It comes on the tail end of, or on 18 months of, everybody burning the candle at both ends," he said in an interview Oct. 29. "It's an incredible amount to ask of people each and every day."
Within Kaleida, Hughes said Sept. 27 that about 200 other employees requested religious exemptions.
On Friday, he said, "we continue to monitor, and those employees are still working."