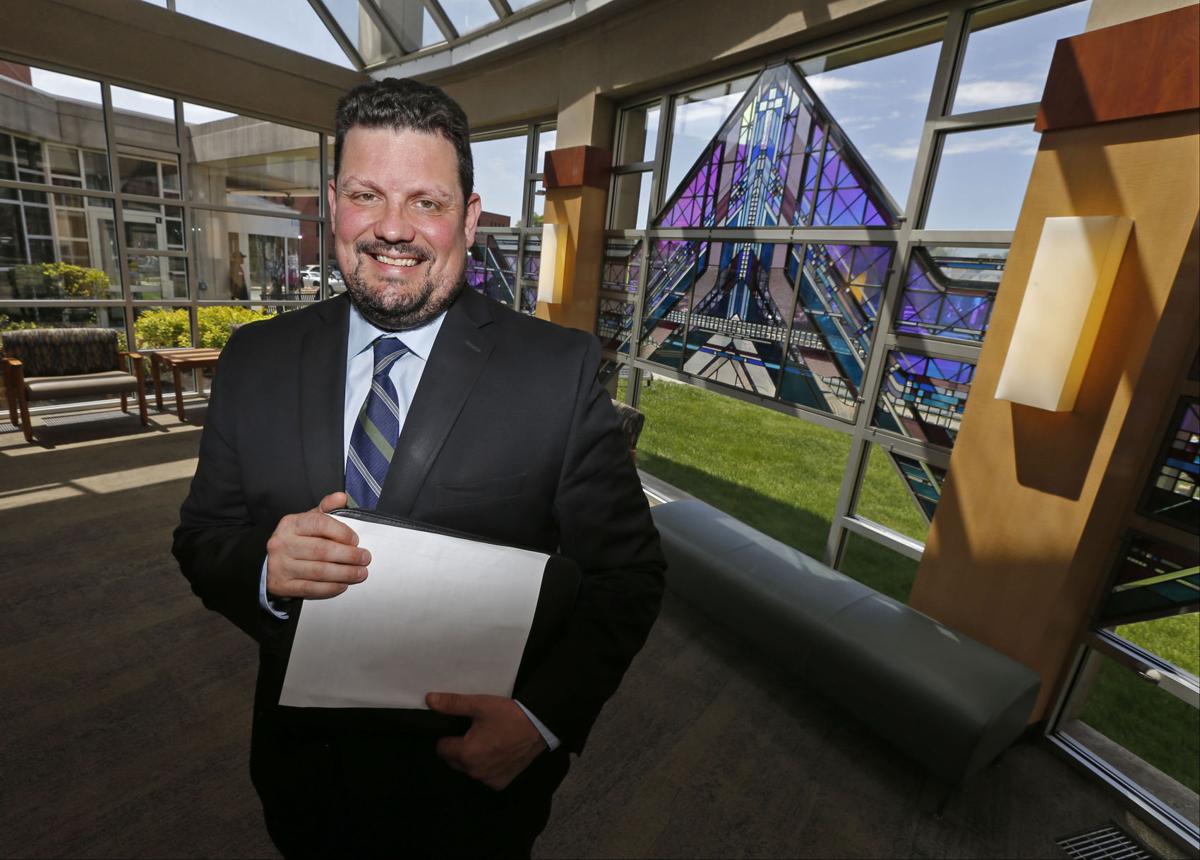 Martin Boryszak, the new president and chief executive officer of Sisters Hospital and its St. Joseph Campus in Cheektowaga, came to health care from what seems like an unusual route – UPS.
The differences in the businesses are not as great as you might think. As Boryszak sees it, they both adhere to basic business principles.
The Buffalo native was working for the package delivery company in Philadelphia in 2009 when Catholic Health recruited him after his mother, a nurse in the hospital system, slipped his resume to management unbeknownst to Boryszak.
He joined 290-bed Sisters that year as director of finance and was also named vice president of operations at 123-bed St. Joseph Campus in 2012. In 2014, he rose to chief operating officer at Sisters. Notable projects during his tenure include a realignment strategy across both campuses, including a revitalization plan at St. Joseph Campus and the opening of St. Vincent's Health Center in collaboration with Erie County to provide primary care in the city's Broadway-Bailey neighborhood.
Boryszak, who lives with his family in Lakeview and grew up in South Buffalo, takes on the CEO position at a time of uncertainty with Congress and the administration considering big changes to the health system, and the continued transition in reimbursement from fee-for-service to risk-based systems with rewards or penalties for how well organizations keep defined populations healthy.
Q: What attracted you to health care?
A: UPS is a well-oiled machine. Everything is so routinized. There is a laserlike focus on efficiency and earnings per share. I'm still fairly young in my career, and asked myself what difference did I really make. I liked what I did, but wanted a balance with some type of calling. I wanted to feel that I was making a difference. It wasn't a function of UPS because it has great people and is a great company. I enjoyed every minute there but felt as though there was something more. I was recruited and never really thought about health care, but what better industry to drive change. I understood enough to know that at the end of the day you can have that sense of personal fulfillment. In addition, from a business perspective, it is so complex, yet interesting.  I grew up in a Catholic family and went to Catholic schools. The mission piece of working for a Catholic organization – all of that made a difference as I looked at the next chapter in my career.
Q: Does it matter whether you have an academic background in health care?
A: It depends on the person. The most complicated piece of health care is the revenue. And, in that respect, it's not unlike any other service industry. The best way to maneuver through that is not that unique. When half your revenue comes from the government and the other half is influenced by what the government does, it's a difficult thing to navigate. Once you figure that piece out all other business principles are applicable.
Q: What are the main challenges facing Sisters?
A: We are still in a world of one foot in fee for service and the other foot in population health. How do we manage that? We have a strong surgical program. But at end of day it boils down to more people coming into your primary care network. It is the primary care network that drives the subspecialty work – vascular, neuro, orthopedic – across our two campuses.
Q: What are some trends in Sisters' key strength – maternity care?
A: Although the market has been flat, the number of young folks coming back to this area has been increasing. I don't believe a stagnant population is what's on the horizon moving forward. Our reputation will ensure we have a large part of that business. The competition between us and Women & Children's Hospital has gone back and forth over the years, but Sisters still delivers more babies than any other hospital in Western New York. It's not a growth model. But if you can manage and take good care of the mothers and babies in one place, that is an important piece. This has been our bread and butter, and I'm bullish about what it will look like in the future for this hospital and the Catholic Health system.
Q: What is your impression of the Western New York health care market?
A: It's an extremely competitive market that functions in a state that is very difficult. Collaboration between Kaleida Health and Catholic Health has been a little stronger than it has been in years past. A good example is the work we've done to secure subspecialty coverage from Kaleida for our NICU. That is important. When babies need to be transferred, it will be appropriate, and when babies need to be brought to Children's we will do so. That is one example. Specialization of services will be important. Hospitals will have to pick and choose. The days of hospitals being jacks of all trades, masters of none are over. All of the sites within Catholic Health need to pick and choose the services that will be important to us moving forward.
Q: How do you handle reimbursement based on managing patients' health rather than fees for services?
A: To survive, you need to grow your population base, which means you must increase your primary care and get more people into your network. That gives you an opportunity to capture more work upstream and downstream. The tricky part is that from an insurance perspective, there is no point of arrival. Every year that you show improvement from a cost perspective – let's say you decrease costs by 10 percent – what happens the following year is that they decrease your (reimbursement). We need a system where once you reach a desirable outcome as far as cost per member per month goes for whatever the total budget is, you stay there. If you improve fine. You should be able to enjoy the savings. What happens now, is you are penalized for good performance in the following years. You can't continue to cut. It's not sustainable.
Q: What keeps a hospital CEO up at night?
A: Where is your revenue coming from, how is health care reform going to impact my day-to-day operation, knowing full well that what I get paid for today is not what I'm going to get paid for tomorrow, and it's going to be less? How do I build the right infrastructure and what strategies do I need to emphasize that will withstand fee for service or population health – as we face a shrinking reimbursement base. That's what you have to do. If I see the writing on the wall that a certain type of procedure is going to outpatient in two years, for instance, I would not invest in a $2 million piece of equipment. I have to look ahead and see what will be in a hospital in two to three years. Goes back to the idea of picking a handful of services to focus on.
The Buffalo News: Good Morning, Buffalo
The smart way to start your day. We sift through all the news to give you a concise, informative look at the top headlines and must-read stories every weekday.