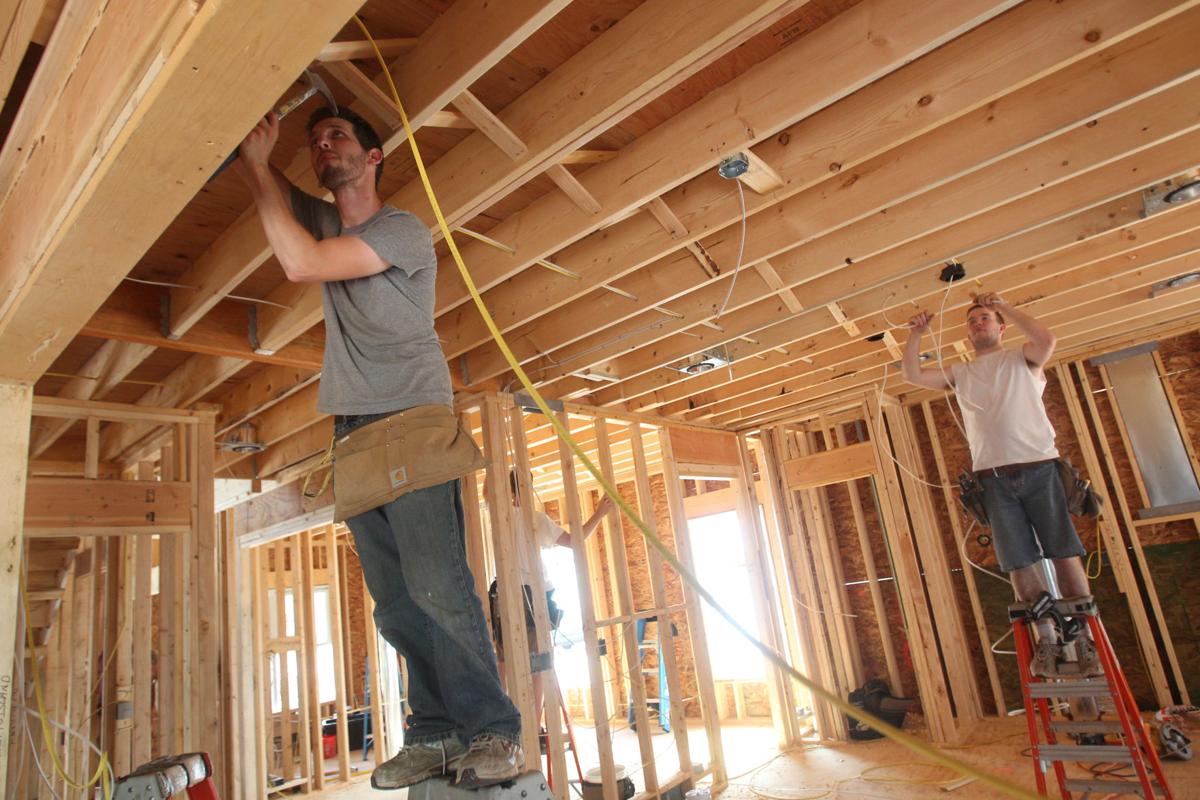 Western New York homebuilders are lobbying state leaders to clarify – and possibly modify – the shutdown restrictions on the industry, freeing them to complete houses they've started or even declaring new home construction as essential.
Local builders say they are frustrated by incomplete directions from Albany and inconsistent interpretations from local officials, which hinder their ability to complete homes already underway.
They say the governor's executive order and subsequent guidance has created more questions than answers.
"We have been trying to get the ear of Empire State Development to try to get them to take a look at these rules," said William W. Tuyn, vice president of development and diversification at Forbes-Capretto Homes, and past president of both the Buffalo Niagara Builders Association and the New York State Builders Association.
They complain the lack of clarity has led to inconsistent interpretations by local code enforcers in every municipality. These officials are the final arbiters of building rules in their jurisdictions.
Not only do they have the power to issue or withhold permits, but they also decide what constitutes a safe work site, and when construction activity must cease on an individual house under the governor's order.
"Everybody is acting like their own little governors," said Phil Nanula, CEO of Essex Homes of Western New York. "They are in some cases acting outside what we feel is their level of responsibility."
Builders also want to be able to finish the homes they've started. They note that they have clients with contracts and bank loans, who already sold their previous homes and must vacate, but have no place to go.
However, their homes were in the midst of construction when the governor's order came out. And now the work has to be suspended, in varying stages of completion, because the municipalities don't agree on how far the builders can go to make the worksites safe.
Nanula even cited one town building inspector who refused to approve a certificate of occupancy for a finished house because "he doesn't know who's been in that house, who may have contaminated it."
"It's more challenging in some towns than in others," said David Capretto, president of Forbes-Capretto Homes. "What one town deems as unsafe and allowing us to continue construction, another town is deeming it as safe and saying you can't work anymore and just wrap it up."
That leaves the buyers in limbo, which trickles down to other transactions. After all, the buyers of new-build houses usually have a previous home that they have to sell.
"It's like dominoes. It all falls down," Nanula said. "All those people will be affected by stopping of construction."
Builders also want permission to start new homes, citing the need for other people to move for new jobs, school and other reasons. They say they're still getting inquiries and signing contracts for new homes – even if they can't start construction yet.
"It's not as swift as it was a month ago. But there's still an air of confidence that the economy will come back," said Angelo Natale, owner of Natale Builders, citing two new contracts and a deposit in the past week. "It surprised the heck out of me."
Finally, builders warn that, if they can't keep laborers employed, construction firms won't have the staff to do emergency work that could arise - even for infrastructure and healthcare. So far, according to trade group Associated General Contractors of America, 27 percent of construction firms responding to a new online survey said they have furloughed or laid off workers.
"The supply chain is being laid off, the roofers are being laid off," Nanula said. "So if we have an event, they're not going to have anybody to bring back."
The plight of the builders – and their clients – marks the latest battle over Gov. Andrew M. Cuomo's executive order that imposed a "pause" on all business activity in the state, as part of the effort to prevent the spread of Covid-19.
Under the most recent directives, construction is no longer considered "essential" – except for critical infrastructure, healthcare and affordable housing. New York is one of only four states – along with Washington, Pennsylvania and Vermont – that have stopped home building.
However, the order did allow limited non-essential "emergency" work to continue, where a project site would be unsafe if left as is. But once the site was rendered secure, work must stop.
The problem is that neither the order nor the subsequent instructions from Empire State Development explained what that meant. So code enforcers have been left to their own devices to interpret it.
"What determines a site to be safe?" Nanula said. "We have very strong opinions of that, and so do our insurance companies."
According to a letter to Essex from its insurer, open projects should be safe enough to "prevent any potential personal injury to a third party as well as reduce your exposure to any theft or mold."
The letter from Vanner Insurance Agency said those steps include finishing the "rough framing of the structure," installing roofs, installing or boarding up windows and doors, and applying the "protective house wrap" to the structure.
Otherwise, builders say, the sites are dangers to both adults and children.
While some code officials will allow them to enclose a house, others say they must stop immediately and just put up orange construction fencing around the site.
"That's only meant to be a visual deterrent," Nanula said. "Kids will be kids. They have noting to do. They're off school. They're all home, and they're not going away for Easter break. How much can they do to keep themselves occupied? It's a concern."
Of particular concern, Nanula says, are several sites where a hole has been dug and the foundation has been poured, but little else. That means the rear wall is not yet stable and fully backfilled with earth to support it, because that can't be done until the house walls are framed above it and the basement floor is poured.
"Kids don't understand that we put an orange fence around it and they need to stay away," Capretto said. "One kid falling into one of those is too many."
There's also the potential for damage to the home – and liability to the builder – because of exposure to the weather.
"If these things sat for two months, you don't want water to be able to get into these houses and create mold," Nanula said.
Nanula cited a windstorm in Clarence that blew 4X8 sheets of plywood from a construction site onto a neighboring house. "It's amazing what Mother Nature can do," he said.
Cuomo's order also had an exception for single workers on a project, where there would be no coronavirus exposure because no one else was there. But that's also unsafe for the worker, builders said. If someone is alone in the house and they get hurt or need a doctor, there's no one to come to their aid.
"It's fairly common for trades to have a sole proprietor but they're rarely in a house alone," Tuyn said. "There's usually another trade working."