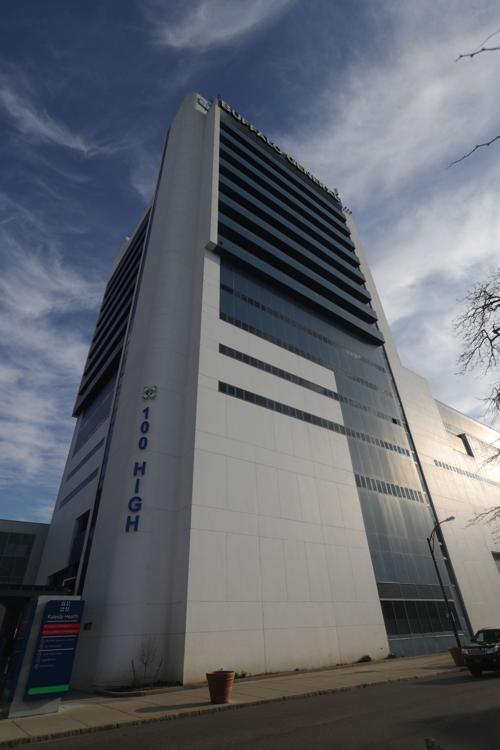 Hospitals and nursing homes are offering hazard pay to employees who work directly with Covid-19 patients to boost morale and to compensate those workers for their greater infection risk.
Kaleida Health, Catholic Health and the McGuire Group are among the institutions providing this temporary boost in pay during the new coronavirus outbreak.
The aides, nurses and other front-line workers are receiving as much as $10 or $15 more an hour.
One nursing home decided to give all of its employees a short-term pay raise.
"For us it was an appreciation for what they've done and their commitment to the residents," said Randy Gerlach, president and CEO of the Schofield Residence in the Town of Tonawanda.
The higher pay from the health care providers comes even as they have imposed pay cuts and furloughs for other employees.
Health care union leaders say they recognize the difficult financial situation facing employers but welcome the higher pay for those workers taking on the greatest burden in this pandemic.
"I heard one nurse describe it as 'traumatizing,' what they're going through," said Debbie Hayes, upstate area director for the Communications Workers of America. "So it's just a pretty basic way, through pay, to acknowledge the work they're doing."
Democrats in Washington have pushed for premium pay for health care workers, including through the Heroes Fund touted by Sen. Charles Schumer, D-N.Y. President Trump has expressed a willingness to do this, calling workers "warriors" in one news briefing, but so far lawmakers haven't approved such hazard payments.
That's left it up to individual health care providers to decide whether to provide hazard pay.
At Kaleida Health, employees in all titles assigned to dedicated Covid-19 spaces at Buffalo General Medical Center, Millard Fillmore Suburban Hospital in Amherst and DeGraff Memorial Hospital in North Tonawanda receive the additional pay, according to an agreement between the hospital system and CWA Local 1186.
Michael Hughes, a Kaleida Health spokesman, said this amounts to an extra $10 per hour for those workers.
Catholic Health similarly offers "extra premium pay" to workers in Covid-19 units at all of its hospitals; at St. Joseph Campus in Cheektowaga, its dedicated Covid-19 hospital; and at its St. Joseph Post-Acute Center in Orchard Park, said spokeswoman JoAnn Cavanaugh.
People working directly with Covid-19 patients can spend 12 hours at a time in layers of uncomfortable safety gear, Hayes said.
"And it's not just the physical wear and tear," she said, noting how sick their patients are and how desperate they are for emotional support because they can't have visitors.
Neither Erie County Medical Center nor Roswell Park Comprehensive Cancer Center is offering hazard pay.
The McGuire Group is offering $5 per hour premium pay for employees at four of its unionized locations who work directly with confirmed Covid-19 patients, said Todd Hobler, a vice president of 1199SEIU.
The McGuire agreement is one of five or six that the union has reached with area operators, including the Absolut Care nursing home chain and two Catholic Health nursing homes, Hobler said.
The Absolut employees will receive $5 per hour extra and the Catholic Health employees will earn $10 per hour extra, as will employees at the former Absolut Center for Nursing and Rehabilitation in Orchard Park that McGuire and Catholic Health reopened for Covid-19 patients.
"Nursing home workers are not high-paid health care workers, and the additional pay gives some appreciation for the importance of the work they're doing," said Hobler, who noted many employees working in these units volunteered to do so.
The agreements also stabilized worker recruiting and retention, he said.
Some homes, particularly those run by out-of-town owners on a for-profit basis, have refused to offer this pay, Hobler said.
But he pointed to Schofield Residence, a rare independently owned, nonprofit nursing home in the area, as going above and beyond.
All union workers are receiving a $1.75-per-hour boost in pay for about six weeks while non-union workers are getting a bonus.
The bump in pay could add up to $400 per month for the full-time union workers, such as people who clean the rooms and cook the food, Hobler said.
"It's much appreciated," he said. "They're doing the right thing."
Schofield has about 100 residents and 200 workers. Early on, two employees tested positive for the virus but Gerlach said he believes the facility was able to prevent further spread and so far there are no confirmed cases among its residents.
Gerlach said the program will cost Schofield about $70,000 but he believes the message this sends is worth the price.
"People are doing a lot more than just their regular job during a period like this," Gerlach said.
The Buffalo News: Good Morning, Buffalo
The smart way to start your day. We sift through all the news to give you a concise, informative look at the top headlines and must-read stories every weekday.