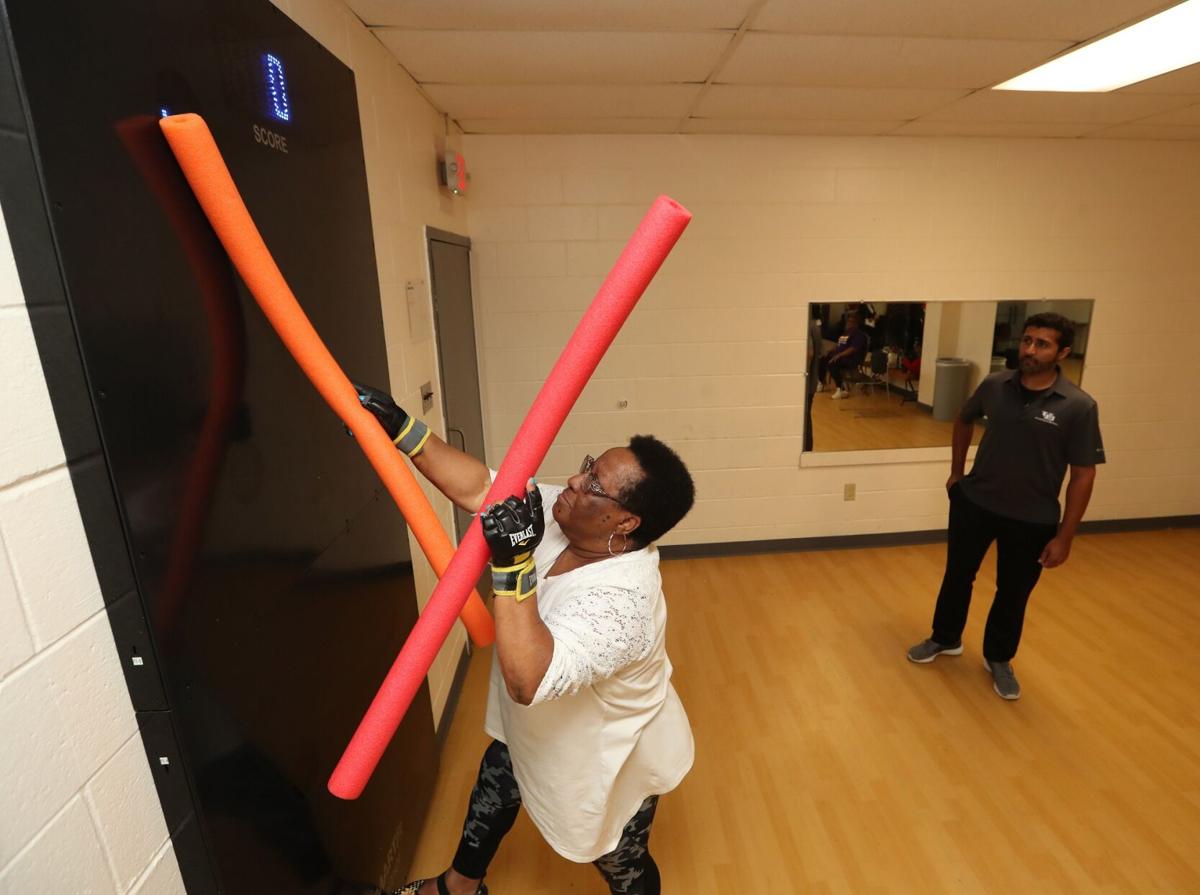 University at Buffalo researchers are looking to learn more about limiting needless and potentially harmful prescription drugs for seniors, find a better way to measure muscle mass in older adults, and ease the loneliness for those struggling with social isolation.
Their work got a boost Wednesday, with the announcement that the UB Center for Successful Aging will receive $1.5 million toward that kind of research, as well as toward ongoing efforts of the center to help those in the region live longer, healthier lives.
"We're looking at an environment that really incentivizes innovation in a way that helps older adults – and when we help older adults, we almost always help the entire community," said Dr. Bruce Troen, center director and chief of the Division of Geriatrics and Palliative Medicine in the UB Jacobs School of Medicine and Biomedical Sciences.
Troen led the effort to secure a $750,000 grant from the National Institutes of Health, which will be matched over five years by the medical school.
UB brought Troen – a Harvard Medical School graduate, internist and molecular biologist – to the university six years ago to help improve geriatric and palliative research and care across the region.
His work started with four full-timers in his division at the UB Clinical Translational Science Institute, which sits above the Gates Vascular Institute on the Buffalo Niagara Medical Campus. It has since grown to include more than 20 interdisciplinary faculty, as well as collaborating researchers in 19 university departments covering fields that include public health, nursing and pharmacy, engineering, architecture, law, business, humanities and the social sciences.
Troen also has become director of geriatrics services at Erie County Medical Center and the UB Center of Excellence in Alzheimer's disease, as well as an investigator with the statewide SUNY Network Aging Partnership.
A new infusion of grant dollars will allow him and others to spend more time bringing UB research from the lab into practical use.
The timing and setting work well, Troen said. The elder population in Buffalo Niagara stands at 18%, a figure that's expected to reach 20% by 2025, five years before the nation hits that milestone.
Grant-fueled research will focus on geroscience, a relatively new subfield of geriatrics that examines biological mechanisms of aging that foster disease and disability.
Examples include a project he started after he arrived at UB. Researchers put older mice through monitored, safe and effective high-intensity interval training three times a week, then measured physical and cognitive abilities over several months. A similar Veterans Affairs-funded pilot study is underway involving participants aged 65 to 85 in the VA Western New York Healthcare System, where Troen is a physician-investigator.
"This is not so much just about the center," he said, "as in being able to drill down in the laboratory setting and to discover not only aspects of underlying mechanisms, but to be able to utilize those to develop strategies that we can bring out to the bedside and into the community."
The new grant also will help fuel three other pilot projects to start.
• The UB departments of Pharmacy and Family Medicine are leading work on a network that seeks to cut the prescribing of unnecessary and sometimes harmful medications in the elderly.
• Hailey Banack, a new research assistant professor in the UB School of Public Health, is leading efforts to find a way to more accurately assess muscle mass, and potentially frailty, through a simple urine test.
• The schools of Nursing and Public Health are exploring better use of voice-command devices to address isolation and depression among those who find themselves spending too much time alone.
"This grant is something that makes our effort more viable," said Dr. Robert Wahler Jr., a clinical associate professor in the UB School of Pharmacy, who is leading the prescription-related research along with Dr. Ranjit Singh, director of the medical school Primary Care Research Institute and a family doctor at ECMC.
The two joined forces three years ago to launch "Team Alice," named for an active 88-year-old woman who died weeks after a preventable prescription error made in a hospital emergency department.
Team Alice now includes members of the UB engineering department, regional primary care providers and health insurers, and HEALTHeLINK, which specializes in electronic medical records. The team looks to develop a comprehensive regional prescription drug system that limits over-prescribing and dangerous drug interactions, and allows doctors in all settings a better glimpse into patient prescription histories.  They would like the work to serve as a model for other regions, as well.
Seed money from the pharmacy school bolstered their work. The new grant will allow the team to work more quickly as it conducts research and expand prospects to get federal grants of its own through NIH, Wahler said.
Troen is fond of saying, "It's not so much the years in our life as the life in our years."
He and others involved with the Center for Successful Aging hope they can help a growing number of Western New Yorkers bring that mantra to life – and interest more medical students, who often shoulder large student loan debt, to consider a specialty that pays less than the most financially lucrative jobs in the health field.
"It's great to see students participating already because this is not about professors in an ivory tower," Troen said. "It's about being able to reach across the spectrum for innovative solutions from people with different perspectives. We want to create an exciting environment, to nurture the development of learners to become trainees, graduates and eventually successful independent investigators."