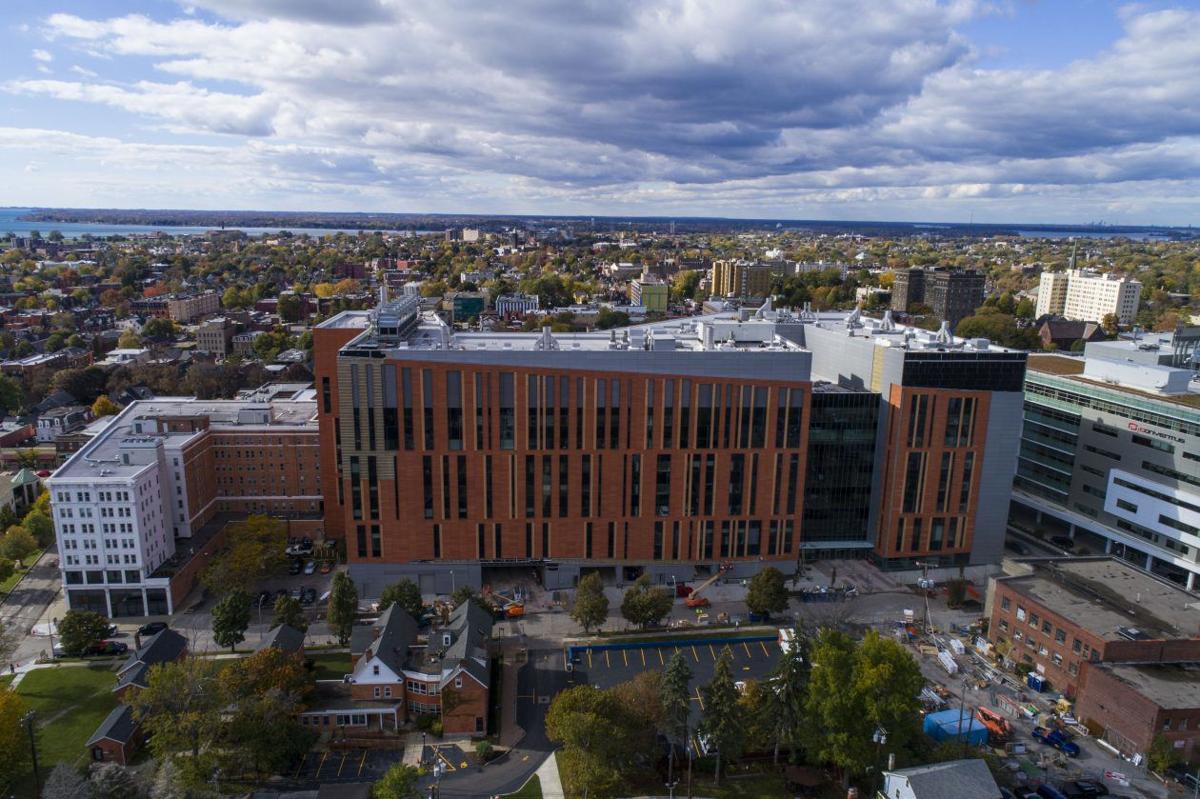 When plans arose in 2001 to create a medical district downtown, they came with large doses of hope and skepticism.
A similar proposal in the 1980s went nowhere. There was good reason to believe the same fate would befall this effort, especially with its over-the-top expectations for attracting jobs and medical tourists to Buffalo.
While there is no magic solution to reviving a city or improving its health care, other regions had benefited from clustering medical, research and educational institutions. It was natural to ask, "Why not us?"
Sixteen years later, the answer to that question sits in plain sight around Main and High streets.
If success is measured by bricks and mortar, the opening in December of the University at Buffalo's new $375 million Jacobs School of Medicine and Biomedical Sciences put an exclamation point on an unprecedented period of downtown construction centered at the Buffalo Niagara Medical Campus.
But the campus is about more than buildings. It's hardly civic cheerleading to say that the right people at the right time coalesced around a vision and, despite hitting some potholes and detours along the way, made significant progress toward something more meaningful.
"We were selling hope at the start," recalled former Mayor Anthony Masiello, who made the campus a key issue of his administration. "The hope became a reality. All the stars aligned."
Of course, nothing would have happened without money – an investment of hundreds of millions of dollars from local foundations, hospitals, private donors, developers and, most significantly, public funding from the federal and, especially, state governments.
At times, hype over the campus seemed starry-eyed. Some people said it would bring thousands of new, skilled jobs to Buffalo. Others said patients would flock here from outside Western New York.
Instead, what we've seen is more like basic blocking and tackling – incremental but important improvements. These progressive steps attempt to build on the region's existing medical and scientific strengths to bolster the quality of care in the region, recruitment of doctors and researchers, and more closely align the university's medical school with key teaching hospitals.
All of which has stimulated demand for housing and – with thousands of new employees, patients and students in the neighborhood – boosted the prospects of nearby businesses.
Walk the Medical Campus and you can see the developments are changing the fabric of downtown.
There will be debate over whether the cost of all the construction was worth it. But think about how things once were: Many patients sought care outside the Buffalo area. There was little collaboration among hospitals, and intense competition that fueled unnecessary duplication of costly services and technology.
Concern grew about shortages of certain specialists, as well as the ability to retain the doctors trained in Buffalo or to recruit others to come here.
Meanwhile, an aging UB medical school was without a dedicated teaching hospital of its own, a key missing component. As a result, it spread training across community hospitals in a disjointed system that failed at creating a cohesive, academic-focused medical network that fosters loyalty among its physician-professors, health care excellence, and a research community that more frequently turns findings into successful commercial ventures.
The original goals of Buffalo Niagara Medical Campus Inc., the nonprofit organization formed to coordinate projects, were fairly modest: engage the leaders of the institutions, and try to find consensus on what they, with help from local foundations, could accomplish together that none of them could do alone.
A team of people visited "meds-and-eds" districts in other cities, building enthusiasm for the possibilities. But nobody was overly optimistic that the initiative would go far. Those involved considered it a major accomplishment at that time to get the players in town to talk to each other.
"It was one thing to get people to the same table. The challenge was keeping them there," recalled Thomas R. Beecher, the Buffalo attorney Masiello asked to serve as the first chairman of the campus organization's board of directors. "What's happened since then has been beyond my wildest imagination."
The move of UB's medical school is a crucial piece of the puzzle in the building of a strong medical district. But it's likely not the end. UB also has plans to move its schools of Nursing, Dental Medicine, Pharmacy and Public Health. Projects by others are underway or planned.
The campus isn't a panacea. It won't on its own solve all of the region's big health care challenges, eliminate poverty in nearby neighborhoods, or suddenly make Buffalo the medical version of Silicon Valley. But it is steering the region's medical culture and downtown life in the right direction.