The Buffalo Common Council member representing the city's North District says he may support a request to demolish the century-old Voelker's Bowling Center at the corner of Elmwood Avenue and Amherst Street, but only if the owners present a redevelopment plan that makes sense and benefits the surrounding area – such as housing and first-floor retail.
Unable to survive the pandemic, Voelker's is ending its historic run as one of Buffalo's oldest bowling alleys and entertainment facilities. But the Voelkers won't spare the 130-year-old building from the wrecking ball, as the family is hoping to redevelop the larger site into something new – and as-yet unspecified.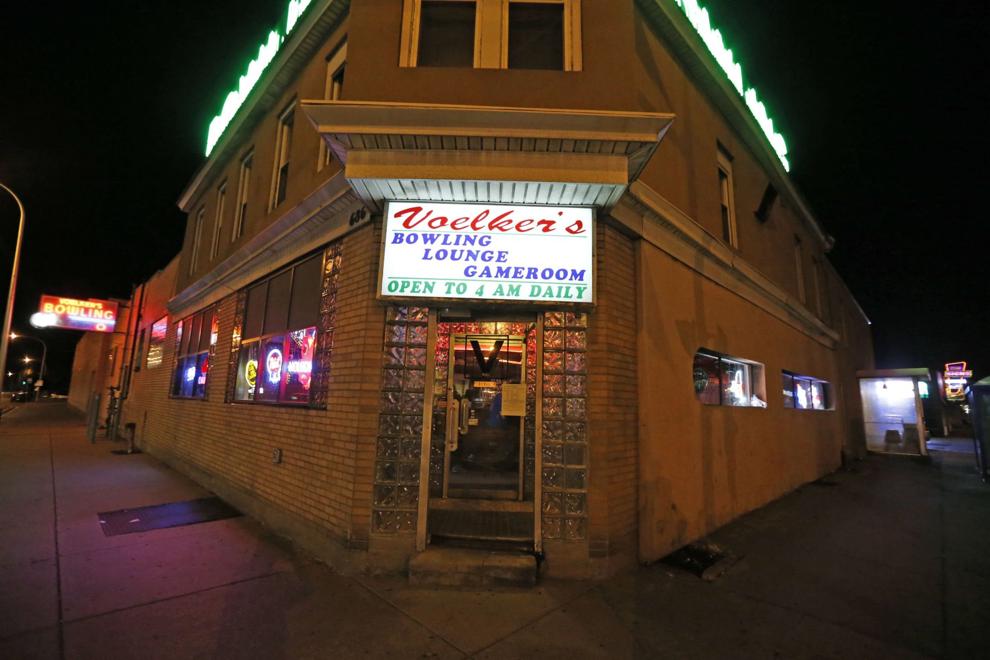 Krista Voelker, who owns both her family's longtime business and Kenmore Lanes further north on Kenmore Avenue, has applied to the city Preservation Board for permission to take down the bowling alley, restaurant and bar, along with three neighboring two-story residential buildings. The board will consider the application Thursday before making a recommendation to the Common Council to either approve or deny the request.
But Council Member Joseph Golombek said he wants to know more about what owner Krista Voelker and her family plan to do with the prominent site before he makes a judgement. He said he hasn't seen or heard any details of a reuse, but would oppose a grocery store, pharmacy or similar venture that doesn't add to the neighborhood or "would need numerous variances" from the Green Code.
"My position right now is wait-and-see," Golombek said. "In theory, I'm not opposed to the demolition there and something being built there, but the devil is in the details."
Though its present-day status doesn't rival its late-50s-to-mid-70s heyday, when all three major local networks aired regional bowling shows, bowling in Buffalo remains a healthy, if slightly diminished, business.
He suggested that the city should require that any demolition request be accompanied by a reuse plan in the future.
The lawmaker noted that the corner is a "gateway" into the Amherst and Grant neighborhoods and the larger Black Rock area, and is just blocks from Chandler Street and Buffalo State College. And he doesn't "want it to look like Niagara Falls Boulevard or Sheridan Drive."
"There is a revitalization that is taking place in that neighborhood," Golombek said. "Depending on what you would put on that corner, it could help or hinder the future advancement of that community."
So, he added, "if they were going to build a five-floor apartment building with retail on the first floor, and it followed the same footprint as Voelker's, that would be an asset to the neighborhood."
According to the Preservation Board application, Hannah Demolition would take down the main yellow brick structure at 686 Amherst, which was erected in 1892, when the predecessor business opened. The firm would also demolish two wood-framed residential and commercial buildings at 666 and 668 Amherst – dating to 1910 and 1900, respectively – and a brick-and-white-siding house around the corner at 1634 Elmwood, dating from 1935.
According to the application, the buildings are considered an "innovative" design, but are not a "visual landmark in the neighborhood or city."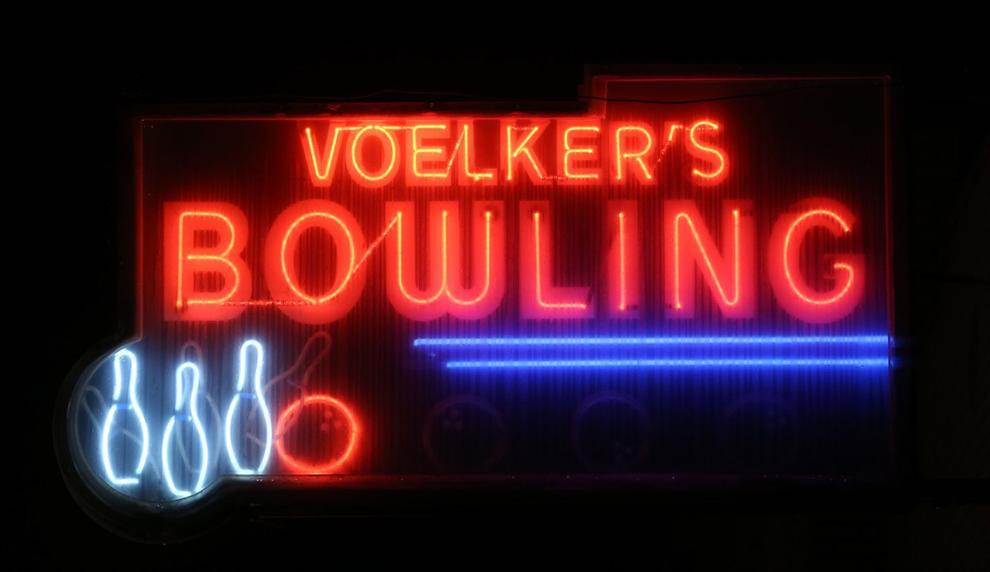 Chronicles continues a weekly look back at an illustrated map of Buffalo from 1880 and examines how the features on that map have — or haven't — changed over 138 years. Click here to explore the map. On the 1880 map, it's a bit difficult to distinguish Amherst Street between Elmwood and Delaware avenues because in 1880, two out of
Voelker's has been a fixture of the area for more than 80 years, with its two colorful, flashing neon signs perched atop the roof along both Amherst and Elmwood. With its 50s-style diner, full wraparound bar, game room, pool room and the lanes themselves, it was also a frequent destination for players, leagues and parties.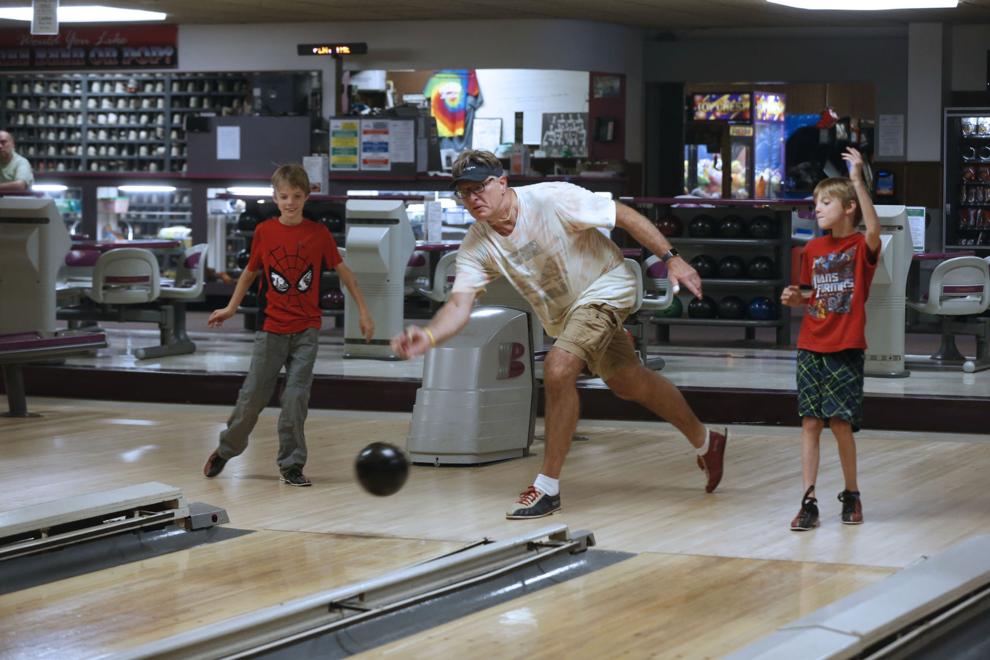 It's the oldest bowling alley in the city, and was featured in the recent movie "Clover."
Krista Voelker has owned and operated the alley for the past dozen years, after her father, Glenn D. Voelker, retired in 2008, two years after her uncle Mark died. Glenn and Mark had taken over the alley from their parents, Edward and Frances Voelker, who had installed the first set of lanes in 1941, in what had been a former hotel and tavern that Krista Voelker's great-grandfather, Karl, had built and run at Elmwood and Amherst after immigrating from Germany.
Feb. 21, 1949 – July 7, 2018 Glenn D. Voelker, longtime owner of Voelker's Bowling Center, a beloved classic venue for the sport in Buffalo, died unexpectedly Saturday while vacationing in Baltimore. He was 69. Born in Buffalo, the youngest of four children, he worked in the bowling center as a boy and attended Riverside High School and East
Despite that history, though, Golombek said he doesn't feel it should automatically be protected.
"In one regard, it's historic, because it was so old and it was a hotel during the Pan Am (Exhibition)," he said. "At the same time, I don't know if it's necessarily historic just because it's old."