An effort by a small church in the Fruit Belt to tear down two adjacent but dilapidated houses was rejected by the Buffalo Preservation Board, which urged the Common Council to deny the demolition applications and allow time for residents to get the neighborhood designated as a national historic district.
Gethsemane Missionary Baptist Church, which owns residential houses at 50 and 52 Grape St. in Buffalo's Fruit Belt neighborhood, wants to demolish the two deteriorating structures, which date to 1890 and 1869, respectively, according to documents filed with the Preservation Board.
Gethsemane, which dates to 1874 and is located at 55 Grape, is part of nearby St. John Baptist Church at 184 Goodell St.
Neither the church nor contractor Hannah Demolition indicated in their application why the houses need to come down or what would take their place, nor did representatives attend the online meeting of the panel on Thursday.
"No one told us that we were supposed to come before them to make a case or anything," Rev. Michael Chapman of St. John said, adding that the church would try to reapply.
Chapman said the church's development arm wants to put up an affordable housing complex on the site, with about 10 to 12 two-bedroom units aimed at seniors and the general community. He noted that any new building can't be over four stories under the Green Code, but the church wanted to tear down the homes before submitting its redevelopment plans to the city.
Chapman said the two houses have suffered structural damage, have been cited by the city for code violations and need to come down for safety.
One of them, at 52 Grape, has been vacant for four to five years, while the other has a tenant that is moving out by the end of May, Chapman said. The church – which was recently approved for historic preservation itself – isn't even charging rent "because of the condition of the house," he added.
"They are in disrepair. There's no use for them," Chapman said. "They're a health hazard for the community. They're not under historical preservation."
Chapman argued that the city "has demolished plenty of houses in the Fruit Belt because of dilapidation."
"Why would the city continue to try to cite us to restore the buildings when they're completely in disrepair?" he asked.
However, both are considered contributing structures for a potential historic district. According to Preservation Board documents, both are two- or 2.5-story wood-frame "worker's cottages" covered in aluminum siding, with front-gable roofs, full-facade porches under one-story hipped roofs, arched windows, wood-paneling, wrought-iron columns and balustrades, as well as side-hall entryways.
The house at 52 Grape, according to a city preservation inventory document, is a "good example of a frame house with Italianate styling that was built in Buffalo." It was owned by cigar-maker Christian F. Barth in 1869.
Christiana Limniatis, director of preservation services for Preservation Buffalo Niagara, said a group of community members are mobilizing to designate the Fruit Belt as historic.
"Further demolition of this historic neighborhood creates more work and trouble and difficulty to get a historic district here," Limniatis said.
She urged the Preservation Board to ask the Common Council for a moratorium on demolition in the Fruit Belt. She also noted that the church has owned at least one of the houses since 1998.
"The condition that the property is in is because of these owners, so to reward them now with a demolition permit is not appropriate," she said.
Board members agreed. "I hate to see more demolitions in this incredibly important neighborhood while the community is working," Chairwoman Gwen A. Howard said.
"The Fruit Belt is ripe for designation as a historic district, and to continue to lose any buildings from this historic district is not a good thing," said board member Anthony James. "These houses seem to be in decent shape ... It seems like there are options other than demolition."
In other action, the Preservation Board also: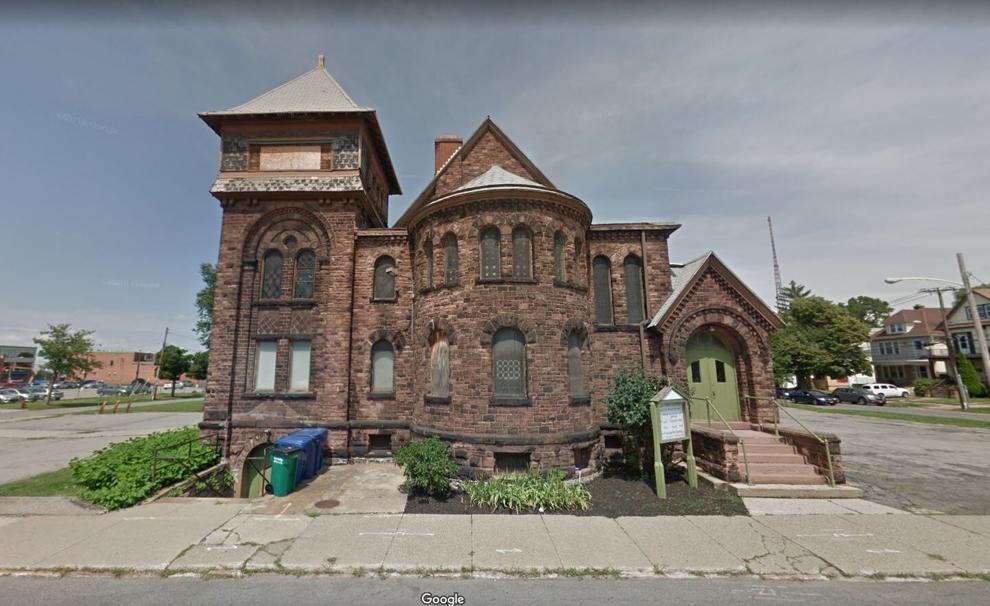 Recommended local landmark status for the West Avenue Presbyterian Church at 926 West Ave. The building was acquired by Rich Products Corp., which supports the designation application, but does not currently have any plans for the building other than "maintaining the structural integrity," said Jonathan Dandes, corporate vice president of government relations and special projects for Rich.
Approved the plan by Ellicott Development Co. and Avalon Development for the two-story former Holloway Stables building at 138 Allen St. The $5.5 million rehabilitation and renovation project would convert the 130-year-old building into 22 market-rate apartments – 11 on the first floor and another 11 on the second – and 4,300 square feet of ground-floor commercial space. Work includes reopening blocked windows, restoring original wood windows, replacing glass block with storefront glass, installing a new gate and decorative aluminum fence and providing a landscape buffer.
Allowed DLC Management Corp., owner of Delaware Consumer Square shopping center, to demolish a 9,600-square-foot retail building at 50 Hinman Ave., on the north end of the plaza. Built in 2000, the brick building houses Rainbow Apparel, GameStop and Moe's Southwest Grill, but one lease has expired while the other two will be relocated. The developer plans to replace the structure with a single 5,000-square-foot building with a drive-thru for Chick-fil-A, but that project still requires approval from the Zoning Board of Appeals and Planning Board.