Billionaire businessman and former Starbucks CEO Howard Schultz spoke to the coffee chain's Western New York employees at a "partner event" Saturday evening in a downtown Buffalo hotel, just days before workers at three area Starbucks locations will begin voting in a union election that has drawn nationwide attention.
For the event, Starbucks closed its 20 corporate-owned stores in the Buffalo market at 3 p.m. and paid workers who attended the event from 5 to 7 p.m. at the Hyatt Regency Buffalo. By 5 p.m., employees steadily trickled in the front entrance, greeted by other workers with their green Starbucks aprons on. 
The event was closed to the media. At about 7:45 p.m., after the event had concluded, a Starbucks spokesperson sent The Buffalo News a letter from Schultz, which "encapsulates what took place today."
In the letter to employees, in which Schultz said he was writing from Buffalo, he dives into how he built Starbucks around the idea of a "for-profit company imbued with love, social conscience and shared success based on shared responsibility." He wrote that the company's rituals have for many years included forums such as the one held Saturday in Buffalo.
"What the leadership team has done in Buffalo is what we have always done," Schultz wrote. "We listen. We learn. We get better together. No partner has ever needed to have a representative seek to obtain things we all have as partners at Starbucks. And I am saddened and concerned to hear anyone thinks that is needed now."
Schultz's visit came just days before workers at three Buffalo-area stores – Elmwood Avenue in Buffalo, Genesee Street in Cheektowaga, and Camp Road in Hamburg – will be mailed ballots to begin voting in a union election that has significant implications for one of the nation's largest food chains. If the employees unionize with Workers United, the three Buffalo stores would become the first corporate-owned Starbucks locations in the U.S. to do so.
"We have the ability to do this; We've already proven it," said Gianna Reeve, a shift supervisor at the Hamburg store and a member of Starbucks Workers United's organizing committee. "We've proven it by the fact that we're standing outside a Hyatt right now, waiting to speak with Howard Schultz. It's crazy."
Reeve and James Skretta, also an organizing committee member and a barista at the Starbucks on Sheridan Drive in Amherst, spoke with reporters outside the hotel, then planted lawn signs reading "Starbucks Customers For A Starbucks Union" in front of the hotel and across the street before they headed in for the event.
And while a 5:21 a.m. Saturday email from a Starbucks executive, which revealed Schultz as the event's guest, called such a gathering "an honored long-standing Starbucks tradition," Reeve and Skretta viewed the event as the company's reaction to their union drive.
Schultz, who was chairman and CEO of Starbucks from 1986 to 2000 and later from 2008 to 2017, has spoken out against unions before.
In his 1999 memoir, according to several published reports that quote the book, Schultz wrote, "I was convinced that under my leadership, employees would come to realize that I would listen to their concerns. If they had faith in me and my motives, they wouldn't need a union."
Reeve expected to hear a similar message Saturday evening.
" 'You have to trust in Starbucks' is probably what the main messaging is going to be today," Reeve said before the event started.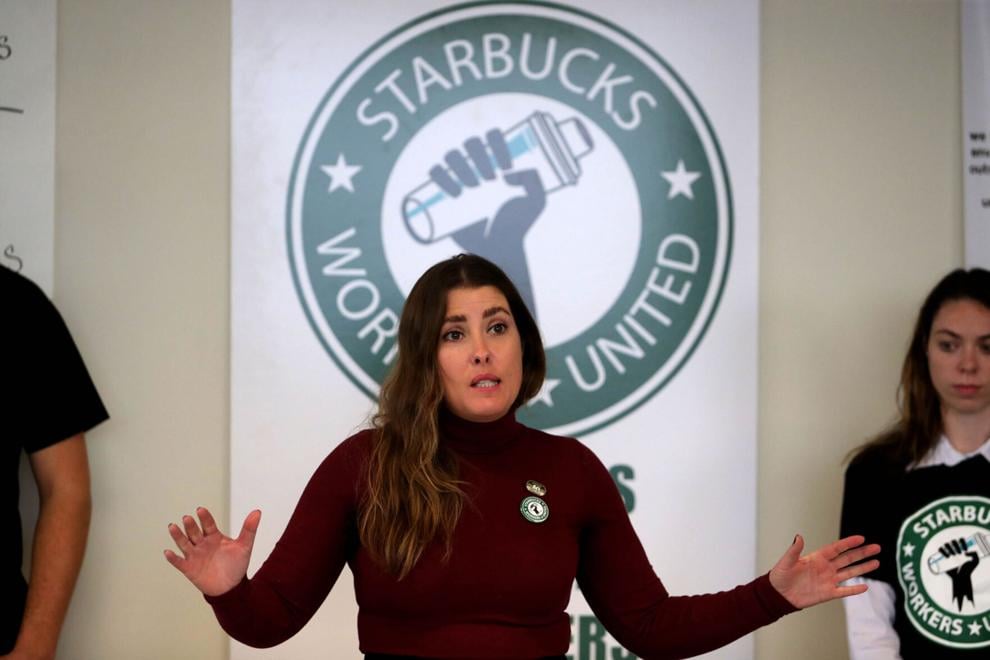 Saturday was actually Schultz's second trip to Buffalo in recent months. In September, he met with store managers in the area and heard "deeply personal stories about our Buffalo partners' own journeys," he wrote in his letter.
And Schultz hasn't been the only one deployed by Starbucks to Buffalo.
When the Starbucks Workers United campaign became public at the end of August, high-ranking Starbucks executives, including its executive vice president of U.S. retail and Canada, Rossann Williams, flew to Buffalo and began spending significant time in stores.
Starbucks' top brass has held what they called "listening sessions" with workers.
If the effort is successful, Buffalo would be home to the very first corporate-owned Starbucks in the U.S. to unionize.
Starbucks has denied any intimidation tactics and said the listening sessions have been in place at the company for decades. The company held roughly 2,000 of them across the country last year – 175 of which Williams attended herself, Starbucks said.
"Leaders must learn from what is happening in Buffalo, and I know they are," Schultz wrote in his letter Saturday. "I see the changes, commitments and engagement happening. And the leadership team and I will continue these forums around the country, creating more opportunities to learn from one another and improve."
In the union push in Buffalo, the workers got a win Oct. 28, when the National Labor Relations Board ruled employees at the three Buffalo-area stores could hold store-by-store votes to unionize. Starbucks had argued that a multifacility unit of 20 Buffalo-area stores was the smallest appropriate unit.
In the union election, ballots will be mailed to workers' homes on Wednesday and must be returned by Dec. 8. The National Labor Relations Board will count the ballots on Dec. 9. Bargaining could begin as early as the next day.