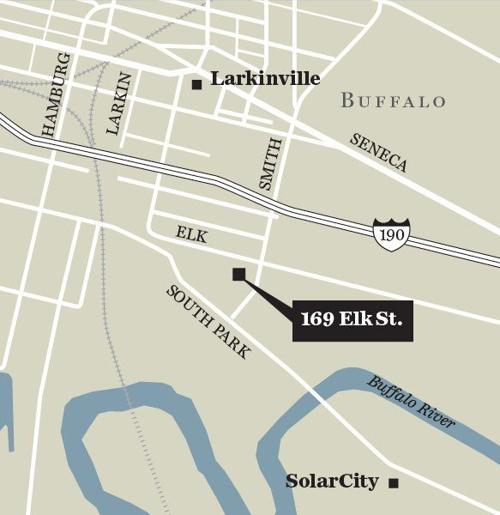 For those who believe their home is their castle, Samuel Savarino may have just the place.
The Buffalo developer is hoping to convert the former St. Clare Roman Catholic Church school into 11 new apartments and some commercial space, adding to the residential options near Larkinville and the new SolarCity plant at Riverbend.
But this might be more unique than others. The four-story stone edifice in the city's Valley neighborhood is a rare example of an existing school that was built before 1900. Its mostly stone facade – with narrow-slit windows and a cylindrical tower topped by a conical dome – evokes medieval castle more than education, although one side of the building is finished with red brick instead.
"They either ran out of money or ran out of stone, but it's a very nice building," Savarino said.
Savarino Companies has the historic property at 169 Elk St. under contract to be acquired from the Catholic Diocese of Buffalo for $200,000. The 15,376-square-foot school building is part of the larger St. Clare Parish, which includes a church with a rectory, and is located at the intersection with Euclid Place, near the Niagara Thruway interchange with Smith Street. Formerly called St. Stephens, the parish has downsized and is now discussing a merger with St. Teresa's in South Buffalo.
That could result in the rest of the church and rectory also eventually going up for sale. Savarino's purchase, which also includes some property to the rear of the school and an easement allowing for separate access to the site from Elk, is expected to close within the next four months, pending due diligence, the developer said.
"It's a beautiful building. You don't find many school buildings built before 1900," he said. "When we looked at it, we paid the asking price, because it was love at first sight."
Plans for the $1.2 million renovation project call for a mix of mostly one- and two-bedroom apartments, plus one three-bedroom unit, with sizes ranging from 800 square feet to 2,000 square feet. Rents have not yet been determined, but Savarino said they will be market-rate prices. He's targeting the apartments to professionals, particularly those who work in or want to be near Larkinville.
The first floor will be equally divided between residential and commercial use, with some office or community space taking up part of that level facing Euclid. The project includes 12 parking spaces.
Savarino doesn't plan any changes to the exterior of the building, except for restoring the windows. "They're very nice window openings. Some have been blocked in entirely," he said. "We want to open it up like the building originally looked."
Savarino said he isn't seeking tax breaks or other incentives for the project, but hasn't decided whether to seek state and federal historic tax credits, which can offset up to 40 percent of eligible costs. He said the building likely qualifies, and the planned work would comply with government requirements, but the entire church property would first have to be named a historic landmark, which the church has to seek.
"Would we like to? Yes. Are we changing anything on the outside of the building? No," he said. "We're doing what we would normally have to do to comply."
The developer expects to bring the as-yet unnamed project to the Buffalo Planning Board as soon as Feb. 8 and the Zoning Board of Appeals on Feb. 17, because of a change of use of the property. If approved, work would begin as soon as May, and finish by November.
The business news you need
With a weekly newsletter looking back at local history.