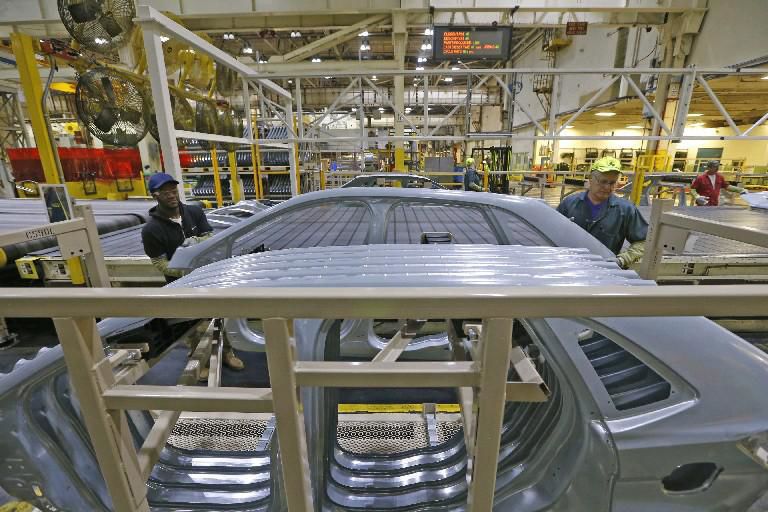 Ford Motor Co., one of the largest employers in the Town of Hamburg, expects to spend more than $7 million a year over the next five years to update its Buffalo Stamping Plant.
The updates are mostly routine in nature – including office machinery, furniture, computers, electrical infrastructure and other non-manufacturing equipment.
Ford's hourly workers in 2019 received profit-sharing checks of up to $6,600, and as much as $7,600 in 2018. 
But Ford officials said the updates will help the plant remain competitive with other production facilities.
Ford is asking the Hamburg Industrial Development Agency to back those efforts with nearly $3.1 million in sales tax breaks.
Ford expects to spend $35 million on purchases of material and equipment, under a long-term program of regular investment. Capital investments and manufacturing equipment are not included.
Ford Motor Co. will invest $60 million in its Woodlawn stamping plant, according to a United Auto Workers summary of a newly ratified
The automaker called the sales tax exemption "very important to the continued viability of the plant." As many as 979 jobs would be retained.
"Being cost competitive is one of the key variables allowing us to successfully retain current work and compete for new work," the company said. "Ford has several other stamping plants in North America, and the work presently done at the Buffalo Stamping Plant could be re‐sourced to any one of them if the conditions in New York become uncompetitive."
Ford said the Buffalo plant vies with seven other similar facilities, but "it is at a competitive disadvantage" compared with those that are more integrated directly with an assembly plant, because the stampings produced in Buffalo have to be shipped, adding freight costs.
"There is extreme competition within the company, specifically among stamping plants, to address new product development and secure new business," the company wrote. "Ford's investment in the (plant) has been significant in recent years, and we would like to see more investment going forward; securing the HIDA tax exemption goes a long way in staying competitive within the Ford system."
If approved, it would be the third such tax incentive granted to the company by the Hamburg IDA in the last decade – once every five years – but would also be the largest to date. The previous round from 2016, which just expired, authorized $24 million in tax-free purchases, or $4.8 million a year.
The plant along Route 5 is in the midst of an extensive upgrade, thanks to $150 million in new investment. Among the other vehicles the plant supports is the aluminum-bodied F-150 truck, a showroom
"We did notify them that this is up, to see if they have any capital improvement projects or any retooling for electric vehicles," Hamburg IDA Executive Director Sean Doyle said. "It's more so an installment sale agreement to help the plant remain competitive in New York, to maintain employment and viability here in Western New York."
The 71-year-old Buffalo Stamping Plant produces metal stampings and welded sub-assemblies for the Ford Edge, Nautilus, F-150, Super Duty and Econoline cars and trucks, which are manufactured at car and truck assembly plants in North America, Great Britain and Mexico. In particular, it works with the plant in Mississauga, Ont.
Originally 1.24 million square feet, it's been expanded six times, and now totals 2.45 million square feet – or 53.3 acres of floor space.
"Plant management wants to continue the partnership we have with HIDA as it is a great help to us, and we believe we have a significant impact on the Western New York economy," Ford officials wrote in the application.
The plant "is vital to the state and local economy, and continued availability of affordable purchases is a key factor in Ford Motor Company's long-term commitment to the Western New York area," the company said.