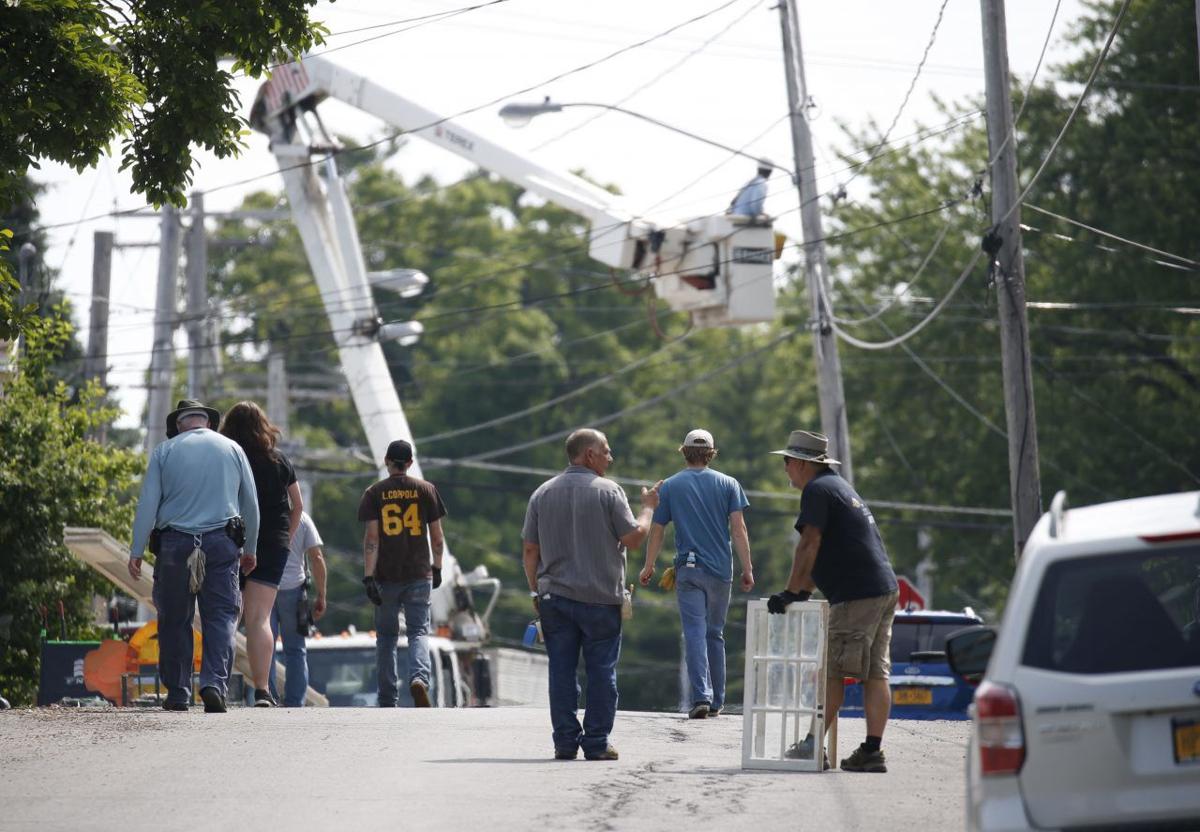 When Paramount Pictures approached the Village of Orchard Park for a film permit ahead of shoots at its railroad depot, all Mayor Jo Ann Litwin Clinton had to offer was the application she gives charities when they want to hold a 5K run or a chicken barbecue. So, the village crafted a new law to address "significant filming" in the area.
It also set permit fees of up to $4,000 per day. That's more than five times the rate charged in Hollywood, and dwarfs Rochester's $70 fee.
Under the new rules, the shooting schedule for Paramount's "A Quiet Place 2" looks like it will fall under the second tier of the permit fee structure, and cost Paramount about $2,000 per day.
The Village of Orchard Park said the new law is the best way to protect taxpayers' interests — especially since Paramount failed to revise an incomplete contract that exposed the village to too much risk. But local film professionals have blasted the move, calling it a cash grab designed to gouge Paramount Pictures. And they also say it sets a dangerous precedent that will stifle the growth of the fledgling local film industry, hamper smaller filmmakers and send ripple effects through the Buffalo-Niagara economy.
"It's an insult," said Ken Cosentino, CEO of White Lion Studios in Niagara Falls. "From an outside perspective it looks like the village board saw dollar signs and said, 'This is Paramount, they've got money,' and they squeezed them."
Usually when crafting permit laws or other legislation involving the film industry, a municipality will consult a local film commission. The Village of Orchard Park did not. It did its own research, looked at what other towns and villages have in place, and had a public hearing, at which no members of the public spoke, the mayor said.
Not consulting the Buffalo Niagara Film Commission led folks in the industry to believe the village was motivated by financial gain.
If that's the case, filmmakers said, it's shortsighted. If it's money the village wants, there's a better way to get it, said Bill Kennedy, president of White Lion Studios and a Niagara Falls city councilman.
When film crews come to Niagara Falls, local government rolls out the red carpet, not the red tape. The city knows crews will shop in the city's stores, eat in its restaurants, stay in its hotels, employ carpenters and electricians and pump money into the local economy in countless and unexpected ways, he said. For example, reps from "A Quiet Place 2" recently pulled up to one of its salvage yards, Myles and Myles, and bought $5,000 worth of scrap metal.
"That's where you get your revenue from: the bed tax, the hotel and restaurant fees that come back to the city," Kennedy said. "You create jobs. Your businesses benefit."
Setting high upfront fees only serves to deter that bigger business, filmmakers said, adding that it makes the village — and possibly the surrounding areas — seem unwelcoming. It's a trend they hope doesn't catch on.
Filming in Western New York has become attractive to production companies big and small since a state program put incentives in place to give some film projects tax breaks. Charging high upfront fees would discourage return business, Kennedy said. It would also make it impossible for small filmmakers who work on tiny budgets to film in the region.
It's already making the Village of Orchard Park less attractive, according to Tim Clark, Buffalo Niagara Film Commissioner. Scouts have told him they don't even want to see its locations once he brings up the new fees.
Instead of trying to recoup costs via the permit fee, the village should've billed for the associated costs, he said.
"As much as we want filming here, we want communities to be made whole. We don't want anybody to lose out," Clark said.
Litwin Clinton said the village encourages filming, and the new rules should not adversely affect small or student film crews.
She said it's not about making money, it's about breaking even.
The new code wasn't pushed through in order to gouge Paramount, she said. It was passed quickly because Paramount had not provided important information regarding when and where it wanted to film. Without knowing what fees to charge, and knowing it probably wouldn't be the last time the village dealt with film crews, village leaders got the law on the books in order to cover the costs the village was incurring.
"They're already costing us money, and they're not even here yet," Litwin Clinton said. "I want to make sure that when I'm paying my employees to do something for the motion picture it's not with the taxpayers' money."
To accommodate filming, the village had to move several events that were already planned for the shooting location and had to pull permits that had already been authorized through the State Liquor Authority and health board. It will also have to close streets, put up "no parking" signs, leave portions of the town's grass unmowed and restrict access to the library.
Police presence and some other concerns are being handled and paid for separately, on top of the permit fee.
The biggest issue, according to village attorney Philip Marshall, is that Paramount wanted the town to sign a contract that, among other things, made unreasonable demands on the village's liability and options for recourse if something should go wrong.
"We've tried to be reasonable and what they gave us to sign, nobody in their right mind would sign," Marshall said. "And they came back with a revised agreement that was incomplete and did not deal with all the issues we brought to their attention."
When asked why the village decided to create a code that would affect all future filmmakers in the village rather than finish negotiating with Paramount, or revoke Paramount's filming privileges altogether, village officials said it was important to get something on the books. And they say they tried to follow examples set by other municipalities.
In the meantime, the village leaders say they welcome input.
"Things can always change. There's always room for revision, new ideas," Litwin Clinton said. "If people want to give me examples of what other places do or how they handle it, we're more than willing to listen."
What do film permits cost elsewhere?
Atlanta: $300 per month, lower for students.
Los Angeles: Starting at $699 for up to 10 locations over two weeks, $25 for student projects.
New York City: $300 per film project.
Rochester: $70 application fee.
Village of Orchard Park: $500 per day, $2,000 per day or $4,000 per day; depending on public impact