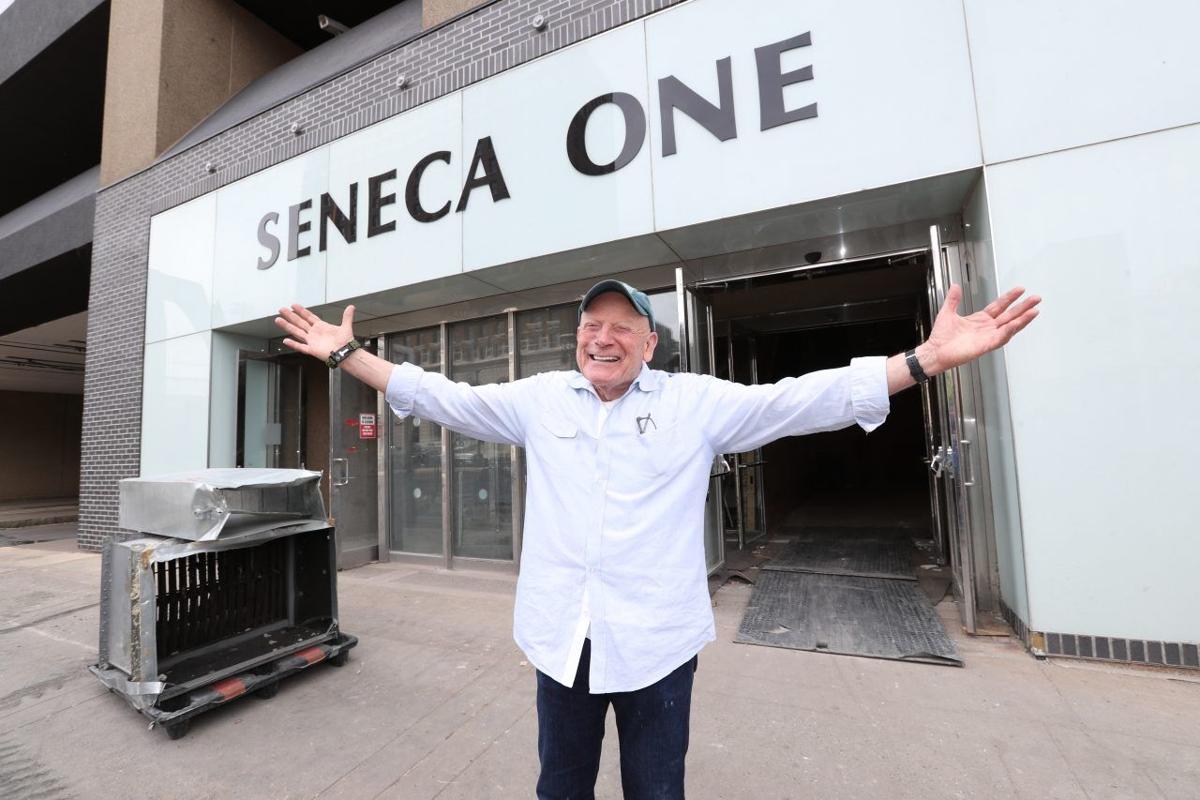 Developer Douglas Jemal had a vision for transforming Seneca One tower into a vibrant place where people worked, people lived and people had a reason to visit.
M&T Bank needed to bulk up its technology business and CEO Rene Jones knew that, to do it, the bank needed to do it the millennial way, with a collaborative workspace in a downtown setting that's got bars, restaurants and plenty of other things to do nearby.
In other words, the kind of place that Jemal was hoping to create at the hulking 38-story skyscraper that sat vacant at the foot of Main Street.
"This generation of workers wants to go where they can make a difference," Jones said.
"They want to move to a destination, as opposed to a company," he said. "You need to create the environment that's conducive to them wanting to be here – period, which is a much bigger investment than them coming to work for one company."
For now, though, M&T is that company. It hopes to create 1,000 new technology jobs within three to five years at the hub it will open on 11 floors (floors 13 to 23) in the Seneca One tower and two other spaces in the complex's pedestal. Jones hopes other technology companies working with M&T will set up shop in Buffalo, where the Seneca One complex would be a convenient fit.
By the middle of next year, 1,500 people could be working out of the technology hub, many of them existing M&T employees who are working with the bank's technology specialists.
That's more than initially expected. And it's just what Jemal was looking for.
"It was a dream come true," the Washington, D.C.-based developer said.
"People bring people," he said. "We wanted to create a sense of place."
The M&T deal gives Jemal the chance to do just that.
Buffalo Mayor Byron Brown said Jemal already has pumped $60 million into the complex that he purchased in 2016 for $12 million.
"Doug Jemal is a visionary. He saw opportunities here that virtually no one else saw," Brown said. "He began to invest on faith that this was a great building and that Buffalo was a special place and that Buffalo was a community that should be invested in."
He's adding 115 apartments, targeting millennials, not so much families. They'll open sometime this fall, just before the first M&T employees move into the hub early next year. About 70 potential tenants already are on a waiting list.
He's added space for stores along the tower's once-foreboding plaza. He's planning a clubhouse on the plaza, with a stone fireplace and big TVs – the kind of place that he hopes people will stop at on their way to a Buffalo Bisons game or a Sabres game or a stop at Canalside.
He even conducted studies to learn why the wind hits the tower, turns straight downward and whips along the plaza in a way that blasts pedestrians on bitterly cold winter days. With that information in hand, Jemal had the plaza's new buildings designed in a way that he hopes will divert the wind higher, over the heads of pedestrians.
"I really believe in a living downtown," Jemal said. "You really want to make it a seven-day-a-week, 24-hour-a-day downtown."
Still, Jemal has work to do. While M&T will occupy about 330,000-square-feet of space, that still leaves about two-thirds of the complex vacant. Jemal expects to lease out the rest of the tower as office space, most likely targeting technology firms.
"I think once this announcement hits, we're going to have a lot of opportunities," he said.
Brown says the M&T deal will have a big impact beyond the jobs. Instead of a vacant skyscraper towering over downtown, as it has for nearly six years, reminding Buffalonians that its economy remains fragile, it will be a source of new activity in a part of downtown that already has seen a resurgence as visitors flock to Canalside, Harborcenter and KeyBank Arena.
"This is psychologically a game-changer," he said.
Jemal said he never lost confidence in the potential of what he now calls Seneca One tower – a building he was introduced to almost as an aside. He was in Rochester in March 2016 on a potential deal, and the broker he was with suggested that he look at another building he was marketing – the old HSBC tower in downtown Buffalo.
It turned out that Jemal was heading to Buffalo anyway – for a Blake Shelton concert – so he agreed to take a look. He walked through the building, and he saw potential, where others saw a hulking, obsolete skyscraper.
"I fell in love with the challenge, and needless to say, it was a challenge," he said. "I fell in love with this place."
But unlike so many other developers of years past who came into town with a grand plan but without the financial wherewithal to put it into place, Jemal dove right in, adding new buildings on the 3.5 acre plaza – an investment that showed he was truly serious. Earlier this month, he bought the old Buffalo police headquarters building at Franklin and Court streets, which he plans to convert into 175 apartments. Jemal even bought a house on Nottingham Terrace.
"I always felt, to do this job right, you have to be part of the community," he said. "If I'm in, I'm in all the way."