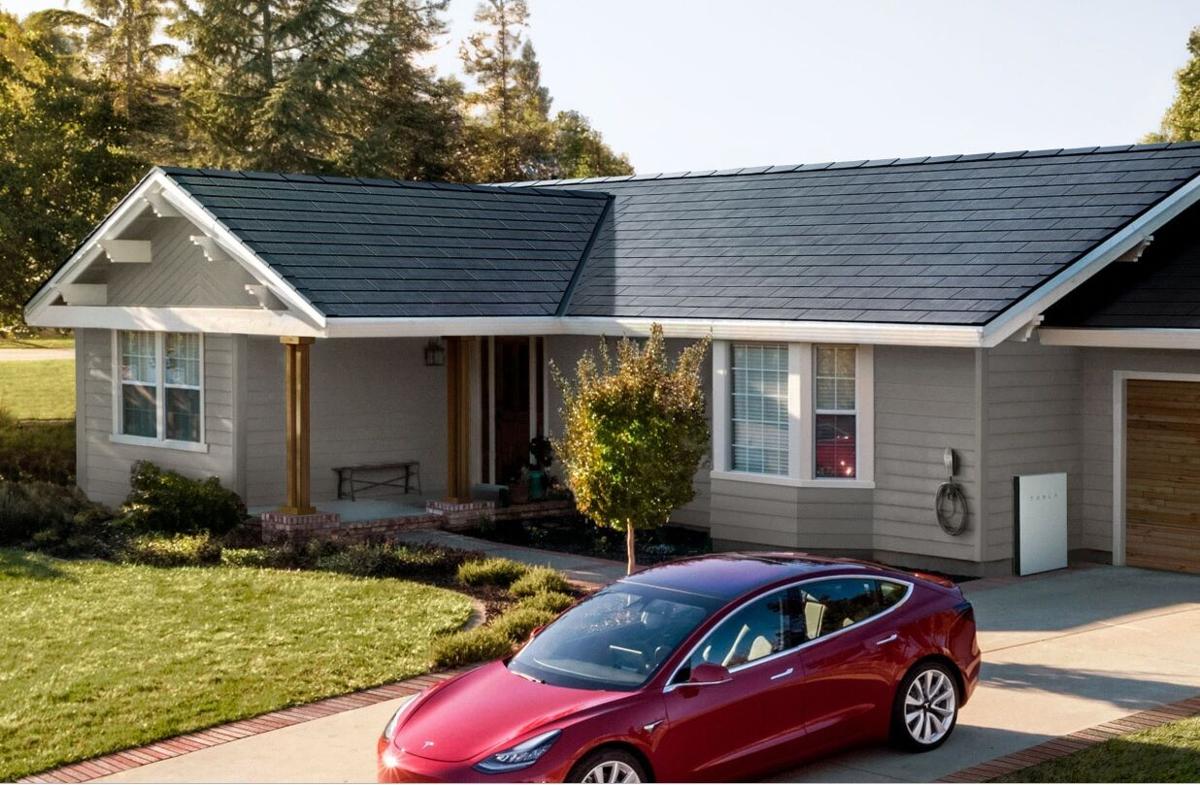 Elon Musk was positively buoyant introducing Tesla Inc.'s third iteration of its solar roof on Friday.
"It's a really cool product," he said. "If you're re-roofing or building new, I'm pretty confident this is a smart move."
Musk predicted that, within a few months, the Buffalo factory could be churning out 1,000 of its Solarglass roofs each week. He thinks demand will be strong, despite the $34,000 price for an average-sized solar roof, after tax credits. And he vowed that Tesla "would definitely make New York proud" for spending $750 million in taxpayer money to build and partially equip the Buffalo factory that will make the solar roof.
But despite the Tesla CEO's optimism – and the importance of the solar roof's success to the company's Buffalo solar panel factory – there are good reasons to be wary.
Here are five challenges Tesla will have to overcome.
Even Tesla has struggled with solar
Musk has built a cult following by promising big and eventually delivering, despite his maddening reputation for taking far longer to do it than he said he would. Tesla was the first to make electric vehicles cool. His SpaceX rocket business can land returning rockets on a platform at sea.
So why couldn't Tesla make a solar roof?
Maybe it can – and Musk was confident Friday that the latest version of the Solarglass roof was the first one that was ready for the broad consumer market.
But there also is no doubt that even Tesla has struggled to get this far.
It was three years ago when the company rolled out its solar roof at a splashy event on a Hollywood backlot. The solar roofing tiles that were on display then weren't hooked up – the company was upfront about that – but what wasn't known then was just how much work Tesla needed to do before the solar roof would be ready for market.
Musk said the first two versions of the solar roof really were about learning how to make them. They were installed on a smattering of roofs – some customers and some Tesla executives – but the product wasn't ready for prime time.
All the while, Musk kept promising that solar roof production would be ramping up at the Buffalo factory, first in 2018 and then in 2019.
It's only now that the company says it has a version of the solar roof that it thinks can be commercially viable and is ready for mass production.
"It's been quite hard to get to this point," Musk said.
Will consumers buy a roof online?
Since Tesla bought SolarCity in November 2016, the company's conventional solar energy business has shriveled.
Its solar installations during each of the last two quarters were the two lowest in at least five years, and the company has gone from being the undisputed market leader to the No. 3 installer. While deployments in the third quarter were stronger than the second-quarter's five-year low, the company has a long way to go to rebuild its presence in the solar energy market.
Musk said part of that decline was intentional. Tesla's solar energy business was losing money and draining cash from the company at a time when it needed every penny it could muster to launch its Model 3 electric vehicle – a less expensive sedan that Musk views as the key to Tesla's survival. So Tesla diverted resources from the solar business and channeled them into the Model 3.
At the same time, Tesla took a unique approach to cutting costs by pushing its solar energy sales online and streamlining its offerings into a small number of standardized products. That made a big dent in how much Tesla is spending to acquire solar energy customers – the biggest expense solar firms face.
But it still is unclear how comfortable consumers will be going online to make a purchase as big and as important as a solar roof, although online sales also are a big part of Tesla's electric vehicle business.
Solar roofs are expensive
Replacing a plain old roof is costly enough. Putting on a roof that has solar cells inside is even more expensive. Tesla estimates that a 2,000-square-foot Solarglass roof will cost nearly $34,000, and that's after an $8,550 tax credit. Musk says that's about the same as a homeowner would pay to install a new roof and put conventional rooftop solar on it. And a solar roof looks a lot better.
"I really don't think we're going to have much of a demand problem," Musk said.
"In the future, it will be odd for roofs to be dormant, or dead, or not gather energy," Musk said. "You have to ask, what is the future that you want? I think the answer to that, for most of us, is you look around the neighborhood and the roofs are doing something, they're gathering energy, and they're very beautiful."
But a solar roof also is a big upfront cost for homeowners. Maybe they'd be willing to make that kind of investment when the economy is good.
But if a recession comes, will they be willing to pay three or four times the cost of a conventional roof? If times are tight, a solar roof could be a luxury that's too expensive for a tight budget.
Installation isn't easy
Nobody wants a leaky roof. The consequences from water damage can be really expensive.
So Tesla needs to convince homeowners that its Solarglass roof, which hasn't shown outside of a laboratory that it can withstand the test of time, is just as reliable as a regular roof. This at a time when Tesla is facing lawsuits from customers whose conventional rooftop solar arrays have caught fire.
With the solar roof and all the complexities that come with having solar modules built in, Tesla has decided to take on the responsibility for installing its solar roofs, at least initially.
That's an entirely new line of work for the company, and it means Tesla will have to hire and train an entire corps of solar roof installers. That's getting away from Tesla's expertise in making cars and batteries.
A long list of failures
The history of solar roofs does not offer cause for optimism.
For starters, no company has been able to make a solar roof work on a commercial scale – and plenty of companies have tried.
Dow Chemical had its Powerhouse solar roof. It scrapped the product in 2016. CertainTeed and roofing manufacturer GAF make solar offerings that aren't quite solar roofs, but are flush with a customer's roof. There are a handful of others with offerings of their own. None are being installed in large volume.
GTM Media's Eric Wesoff has compiled a list of a dozen companies that have tried – and failed – to develop a solar roof, along with almost an equally long list of companies that still are trying but haven't found commercial success.
But this is Elon Musk, and his success with rockets and building cool-looking electric vehicles can't be brushed aside. Maybe he can do it again with the solar roof.