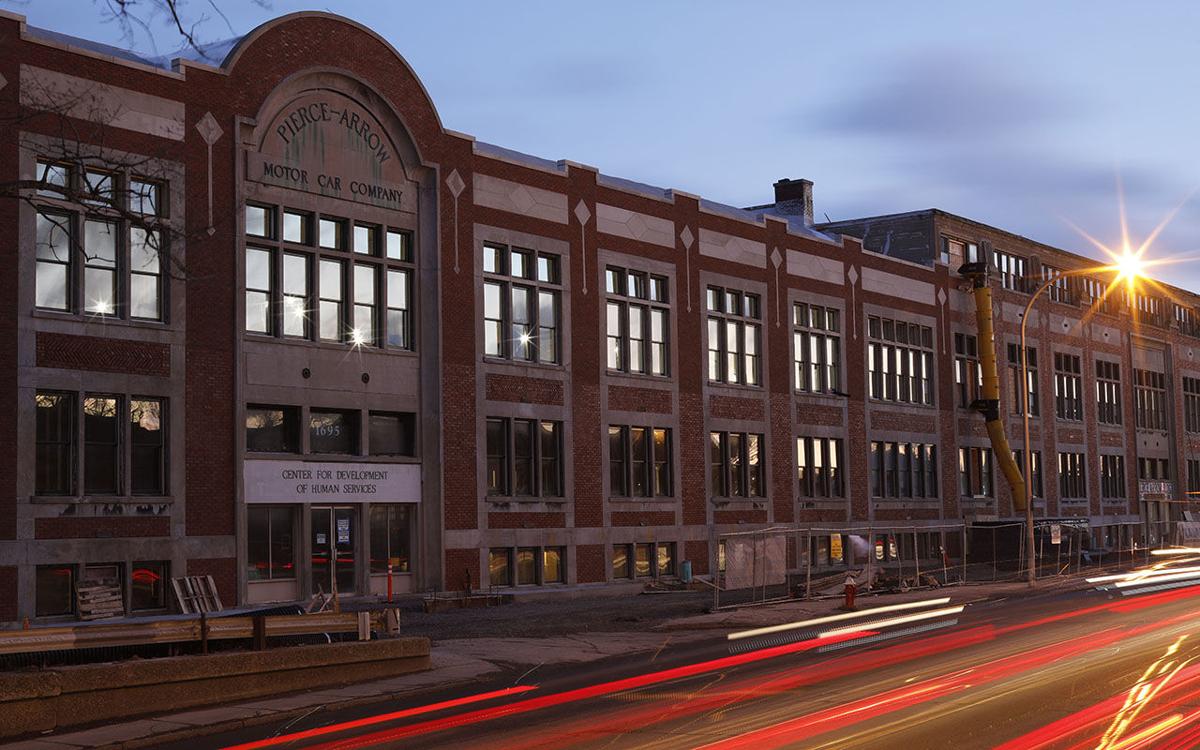 After decades of vacancy or neglect, the historic Pierce-Arrow Administration Building on Elmwood Avenue once again has people occupying the three floors of the sprawling brick-and-stone edifice.
The first apartment residents have moved into the new Pierce-Arrow Lofts, bringing life back to the century-old building after more than three years of renovation by Dr. Greg Daniel, owner of Kanaka Partners and Nidus Development.
The building where executives once oversaw the development and production of Pierce-Arrow cars now boasts 117 high-end apartments, with a mix of one-, two- and three-bedroom units – many with two-level lofts. Half are completed, while the rest will be done by June. And the building is already 30% leased, with 11 units already occupied, and another 10 tenants moving in by May 1.
Take at look at the Pierce-Arrow Lofts, where one-, two- and three-bedroom units are being rented at the renovated former Pierce-Arrow Adminis…
"These have been going pretty quickly," Daniel said. "We're filling these up without even advertising. Once we can advertise them, we'll get even more traffic."
The 123,099-square-foot building at 1695 Elmwood also has two fitness rooms in the basement and the second floor, and shared lounges with Wi-Fi on all three floors. It will include 110 to 122 parking spaces in the renovated one-story garage in the rear, plus additional surface spaces on the 1.52-acre site.
Dr. Greg Daniel, owner of Nidus Development and Kanaka Partners, which is leading the $34.5 million project, said crews are "moving rapidly" to get the job completed.
However, what had been a $34.53 million project ballooned to more than $43 million as construction costs soared, changes were made on-the-fly as dictated by the building, and the project dragged on because of delays caused by the pandemic. Daniel also invested several million dollars in energy-efficient technology and appliances, particularly a geothermal HVAC system and solar panels that significantly lower tenant energy costs.
And his original plan to transform the onetime employee cafeteria in the middle of the building into a 5,000-square-foot, 100-seat restaurant – with both dining and banquet space – fell victim to the disruption that the hospitality industry endured as a result of the Covid-19 pandemic.
Instead, he's converting that domed second-floor auditorium space into a public events center for now, for weddings or other parties.
"We'll gradually go from an event space to a full restaurant over time," Daniel said.
The redevelopment marks the culmination of a process that began in 2005, when Buffalo investor Joseph Hecht bought the long and slender administration building and adjacent garage, with hopes for conversion. He was unable to get the project off the ground, however, so he sold control to a Brooklyn-based firm, Read Property Group, in May 2016.
The former owner and head of the ImmediateCare network of urgent-care clinics has acquired the Pierce Arrow Administration Building and a related warehouse on Elmwood Avenue from a downstate developer who had planned to turn it into a new apartment complex. The purchase by Dr. Gregory F. Daniel's Nidus Development marks the third owner in less than three years
Read unveiled its own project, but that also never came to fruition, so Daniel – a developer who was the former owner of the ImmediateCare urgent-care network – stepped in and took over, also in partnership with Hecht.
The building – which was constructed in 1906 and added to the National Register of Historic places in 1974 – now has 55 one-bedroom, 45 two-bedroom and seven three-bedroom apartments. Five are handicapped adaptable. About 50 of the units, on the south side of the building, are already complete and available for rent, while work continues on the north side units for a few more weeks. All but one of the largest units have been leased.
There are more than 57 different layout plans because Kanaka and its architects had to work within the shape of the existing structure and its irregularities. That led to bump-ups along some walls, high windows, small alcoves and even second-floor bedrooms with large wood-covered ledges for seating or holding a mattress. Most units also integrated one or more of the building's mushroom support columns, and some have exposed ductwork.
"We tried to go pretty high-end with these lofts, and sort of maintain some presence of the past," Daniel said. "We tried to make use of every ounce of space available. You'll find they're all very different. We left nothing to chance."
Apartments range in size from 760 to more than 1,500 square feet, while rents vary from $1,155 per month to as much as $3,500 for the largest three-bedroom unit, a penthouse apartment. Thirty-nine apartments are garden-style, constructed in the basement with a saw-toothed copper-colored roof and multiple skylights in most units.
Units all feature stainless steel Whirlpool appliances, granite countertops, elongated kitchen faucets with telescoping arms, soft-close drawers, barn doors for some bedrooms, white-and-gray mosaic tile backsplash, white or brown cabinets, and large closets with wire shelving units. Some have a series of tall mirrors covering mail chutes. The apartments also include digital video intercom units to admit guests, and bathroom mirrors with backlight rim lights and magnifying glass insets built in.
First-floor units have hardwood laminate floors, in keeping with the original wood underneath, while the upper floor units have stone-tile floors to cover the concrete. Loft apartments have either all-wood staircases, floating metal-and-wood steps, or a combination. Ceilings range from 12 to 19 feet in height. And many inside rooms have transom windows to allow natural light in.
Crews restored staircases, replacing older metal or other materials with stone tile in some cases, while new staircases and banisters were installed, along with three elevators. Lobbies and foyers were also restored, with black mullions cleaned and repainted, and new chandeliers were installed.
"This entranceway was a royal mess," Daniel said, gesturing to a foyer staircase whose metal criss-cross steps were replaced with stone tile. "We upgraded everything."
The project was designed by Flynn Battaglia Architects, Silvestri Architects and Studio T3 Engineering, with the work overseen by Kanaka's construction company. It was financed with state and federal historic tax credits, brownfield tax credits and tax breaks from the Erie County Industrial Development Agency.