They've been putting out fires in the city for more than eight years. Now, three Buffalo firefighters hope to ignite the Seneca Street corridor by redeveloping some of its aging storefronts and closed churches.
The three members of Engine 21 – Peter Scarcello Jr., John Otto and Gino Gatti – are spending several million dollars to buy and renovate dozens of properties in the neighborhood where two of them grew up.
They started in the landlord business more than three years ago by buying and sprucing up singles and doubles. Today, they own more than 30 properties in South Buffalo, including several storefronts and apartments on Seneca Street. And they have plans to turn two former churches into residential and commercial space.
"This is an opportunity for everyone to really dig in and bring this corridor back to life," said Scarcello, 33, one of the owners of the firefighters' Hook & Ladder Development. "People are really excited. All the key components are here."
The firefighters hope their efforts will jumpstart activity in a once-thriving neighborhood that hasn't seen as much real estate investment as downtown Buffalo and other commercial strips, including Niagara Street, Hertel Avenue and Jefferson Avenue.
"They're committed to investing in their neighborhood, their community," said Jake Schneider, an architect and developer who has eight historic reuse projects under his belt.
Schneider, like the firefighters, also sees promise in the Seneca Street corridor. In November, he bought part of the former Shea's Seneca Theatre and plans a mix of apartments, a theatre and performance art space in the 88-year-old Seneca Street building.
It's all taking place in a neighborhood the firefighters think has been largely overlooked by the city's big developers.
The firefighters hope that Seneca Street's tradition as a commercial district, the neighborhood's strong community identity and the Olmsted-designed Cazenovia Park will all work in the neighborhood's favor.
"Not many commercial strips have that in the City of Buffalo, where a main intersection touches the entrance of the park," said Otto, 33.
Other real estate investors have taken notice. Schneider is spending $9 million on his project at 2178 Seneca St. Karl Frizlen converted two former Catholic parish schools in South Buffalo – St. Thomas Aquinas on Tamarack Street and St. Teresa's at 17 Mineral Springs Road – into The School Lofts @ Abbott and The School Lofts at Mineral Springs.
"It's nice to see that people are jumping in, which is what we need to stimulate development," said Scarcello, whose father is a broker and executive with Hunt Real Estate Corp. "We have the same vision for the street, the same focus. It's got to be all-inclusive, a team effort, for this to really take form."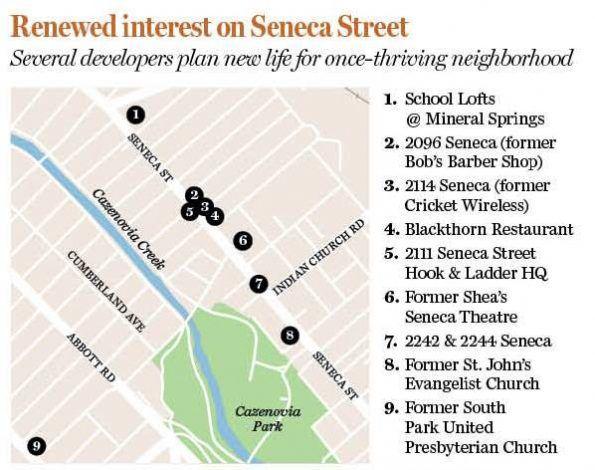 The Hook and Ladder partners said they know of others who are looking for opportunities.
"Any effort that has the health and well-being of the community in mind is a welcomed addition and will contribute to the resurgence of Seneca Street and its surrounding neighborhood," Frizlen said. "There are so many cultural, historical and recreational assets already in place, that there is no reason why Seneca Street cannot be as commercially vibrant as the Elmwood Village community."
Not just 'passing through'
What makes the three firefighters stand out is their homegrown nature and their hyper-local focus on a small stretch of Seneca from Mineral Springs to the park entrance.
Friends since childhood in South Buffalo, Otto and Scarcello joined the Buffalo Fire Department and met Gatti seven years ago, when all three worked on the same shift and crew at the firehouse at Jefferson Avenue and Kingsley Street on the East Side.
They became friends and discovered they shared an interest in real estate. Otto and Scarcello owned rental property, while Gatti enjoyed working on home projects. Instead of competing, they opted to team up and pool their resources, forming Hook & Ladder in 2012 to buy up two-family homes.
"We spend more time together than we do with our wives," Scarcello joked. "We can't get away from each other."
After three years, the company owned 25 multifamily apartment houses, with a total of about 50 units – all in South Buffalo. Last year, they decided to scale up, paying $130,000 to buy a two-story mixed-use building at 2111 Seneca – formerly Rocklyn Printing – as their new headquarters.
The firefighters have already invested another $100,000 to redo the interior, putting in a new fireplace, a new floor and a new bar area and community meeting room on the lower level for their office, while renovating four upstairs apartments. They plan $175,000 of exterior work as well, including new siding, new windows, a new roof and foundation repairs.
"We're confident in what we do," Otto said. "We have a lot of pride in it. We didn't build this place to move out in a year. We built this place to be a flagship in the Seneca corridor."
Spurred by what Schneider and Frizlen were doing, they identified a handful of other desirable buildings and went on a buying spree. Across the street from its new office, Hook & Ladder bought 2096 Seneca, the former home of
Bob's Barber Shop, with five vacant apartments upstairs. Built in 1922, the tan-and-white building will undergo a complete renovation, with commercial space on the first floor, remodeled one-bedroom apartments on the second floor and a new facade.
"We're committed to staying in the community and we're going to set up shop for many years," Scarcello said. "We wanted to do it in a way that would work for us."
Next to that, the firm bought 2114 Seneca, a mixed-use building that formerly housed a Cricket Wireless store and three upstairs apartments. The firefighters also signed contracts for 2242 and 2244 Seneca near the entrance to Cazenovia Park.
"They do things with a high quality. They're not just somebody that's passing through trying to make a quick buck," Schneider said. "They've given me confidence and hope to know they're interested in the same kind of transformational experience that we've seen in other places, and they believe it can happen there. They're just the kind of developer that that area needs."
It's the church purchases that have garnered the most attention. First, in July, the group placed the winning bid at a public auction for the former South Park United Presbyterian Church and school building at 519 McKinley Parkway. The 17,486-square-foot brick church features stained-glass windows and ornate wood detailing, with classrooms, meeting rooms and offices in the rest of the building.
That purchase has not yet closed, slowed down by title issues on the property. But the trio has already planned a residential-focused conversion, similar to what's been done with other churches around the city.
"It's an exciting project for us," Scarcello said. "That building is just a beautiful brick building on an Olmsted parkway. We're going to execute a game plan there and it's going to be something we can hang our hat on."
The expense of the project has not deterred them.
"We're not going to skimp," Scarcello said. "We're going to do it the way it should be done, and in order to do that, it's going to cost more. That's what we do with all our projects."
Reaction in the neighborhood to the purchase was almost immediate, with neighbors and community leaders calling to congratulate them within days after the auction. "It's exciting," Otto said. "Word spread fast."
Last month, Hook and Ladder bought the former St. John's Evangelist Church at 2315 Seneca, right at the Cazenovia Park entrance, for $175,000. Plans call for spending $1.5 million to $2 million to convert the building into four commercial units on the first floor and 12 loft-style residential apartments on the second floor, creating a new level in the sanctuary space and capitalizing on the large church windows and steeple.
Otto said the trio wants to create walkable traffic and may add a patio for a deli, coffee shop or similar business, followed by office or other retail space in back.
"It'll be a flagship down there," Scarcello said.
Both church projects will be designed by architect Akos Seres, with Michael Macaluso as project manager. Otto said the current work should be completed by the end of 2018. They're still looking for other projects.
"It's more than a business for us," said Gatti, 34. "We're very passionate about the city. We're very passionate about the properties. We put a lot of our own pride into every project."
In all, the team expects to spend between $3 million and $4 million on its various projects, using funds from personal friends as well as local lenders to finance the work. State grants for facade improvements are also a possibility.
Their work isn't the only investment in the neighborhood. The Blackthorn Restaurant at 2134 Seneca just completed renovations down the street from Hook & Ladder's headquarters, while the former Manny's Place at 2113 Seneca is being remodeled into the new Schupper House.
Other properties have seen investment, as well, including Parkside Liquor near the park entrance and a nearby pizza and sub restaurant.
The firefighters hope to capitalize on the buzz on Seneca Street.