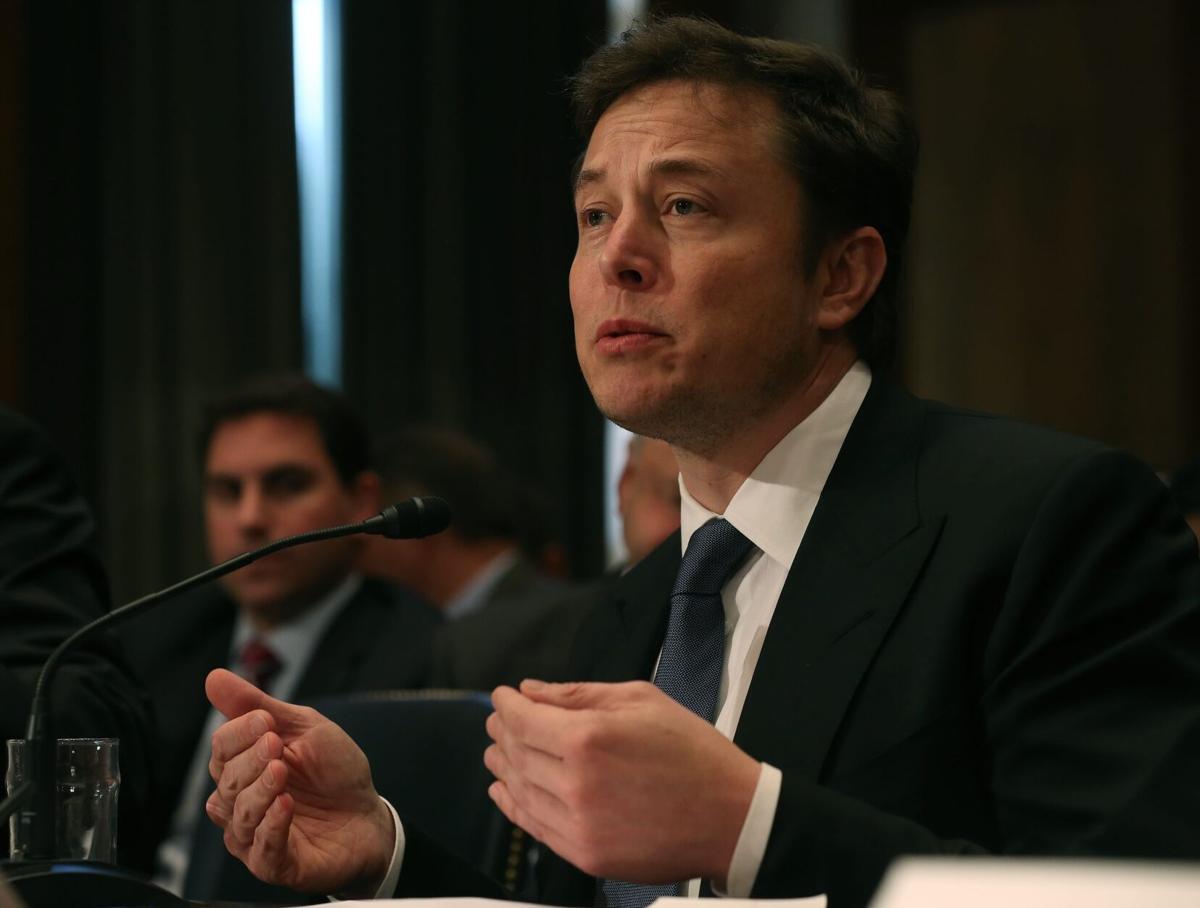 Elon Musk reigns over an entrepreneurial landscape of epic proportions: With Tesla Motors, the cherub-faced CEO wants to wean us off fossil fuels with electric cars for the masses. With SolarCity, he envisions panels blooming on a million rooftops. And while those companies soared, Musk was laying the groundwork for the world's biggest battery factory.
Yet this 42-year-old planet-saving, big-dreaming engineer has his sights on a celestial prize: Mars.
With SpaceX, the rocket company he founded in 2002, Musk hopes to employ recyclable rockets to save humanity, blasting earthlings into space to one day build settlements on the Red Planet.
"Mars is what drives him," says Louis Friedman, an astronautics engineer who has known Musk for a decade. "From a psychological point of view, if you're stuck on Earth, humankind has limits – and Elon isn't the kind of guy who likes to live with limits."
Don't bet against him. Silicon Valley's most intrepid CEO has already employed his potent combination of vision, determination and attention to detail to accomplish two tasks widely thought impossible: Creating a viable new American car company with Palo Alto-based Tesla, and a successful private space venture with Hawthorne-based SpaceX. His vision springs from a childhood in South Africa, where he devoured comics and science fiction and flew with his swashbuckling dad in a small plane over the African bush. Now, thanks to the fortune he amassed co-founding PayPal and the risk he took on rockets, Musk has a shot at opening up the universe.
"The moment he was out of PayPal and could do something else, it was 'Let's see if we can launch a rocket,' " said Errol Musk, Elon's 68-year-old father, in a rare interview. "The cars and solar power are side issues really – though big ones! I have no doubt that he will get man to Mars in his lifetime."
While he declined to comment for this story, Musk has described Mars as a "fixer-upper" planet that over time could sustain human life. Mercury is too close to the sun; Venus is too hot.
But even to Friedman, Musk's initial proposal to launch his own rocket seemed ludicrous. "I said 'Are you crazy? Everybody who tries to get into the rocket business quickly learns that it costs a lot more money than they thought.' He said to me, 'I know, but I can do it.' "
Now Musk has proved that he can. Next month, the National Space Society, a nonprofit dedicated to creating a spacefaring civilization, will present Musk with its prestigious Robert A. Heinlein Memorial Award. It is honoring Musk for "doing the very hard task which no one else in the world has been willing and able to tackle: working to create a family of commercially successful and reusable rocket boosters and reusable spacecraft."
Musk was born in Pretoria, South Africa, to Maye and Errol Musk in June 1971, the oldest of three children. Maye's father, Joshua Haldeman, was born in Minnesota, grew up in Canada and emigrated to South Africa with his young family around 1950. A chiropractor and amateur archaeologist, he took his family on extended trips to search for the lost city of Kalahari in what is now Botswana.
Errol was born in South Africa to a British mother and a South African father. An avid pilot and sailor as well as an electrical and mechanical engineer, he made his money consulting and developing properties and retired early.
After Maye and Errol divorced in 1980, Elon mostly lived with his father, who says he owned thoroughbred horses, a yacht, several houses and a Cessna. One of their homes was in Waterkloof, a leafy suburb of Pretoria that was popular with foreign diplomats.
Wanderlust ran on both sides of the family. On holidays, Errol and his kids would travel, he said: to Europe, Hong Kong, throughout the United States. Or they'd take the plane to Lake Tanganyika, where Errol had a stake in an emerald mine. Elon would later get his own pilot's license but no longer has time to fly.
While wealthy South Africans typically hired maids and gardeners, Errol decided that his kids would do chores and cook their own food, taking shifts.
"I guess I was a bit of an autocratic father – do this, do that," said Errol, who says he has been estranged from his oldest son for several years. "I was a single parent, and they simply had to help out."
Elon showed an early interest in computers, owning in sequence a Commodore Vic 20, a Spectravideo and an IBM. At the prestigious Pretoria Boys High School, where teachers wore black gowns, he played chess on the high school team but stopped when he concluded that humans were no match for the computers that had begun playing the game.
"I would see him frequently in or around the library," recalled Ewyn van den Aardweg, a former geography teacher at the school. "Elon had an above average interest in matters outside the normal curriculum, and the library – these were pre-Internet years – was the place to gain further knowledge."
The former teacher noticed something else – the boys wore school uniforms and Musk's was always neat. To van den Aardweg, this suggested that "despite his superior intellect, entrepreneurial mindset and obvious 'out-the-box thinking,' he respected the benefits of discipline and hard work."
Musk studied finance and entrepreneurial management at the University of Pennsylvania Wharton School as well as physics before heading to Silicon Valley in 1995. He had a summer internship at Pinnacle Research, a Los Gatos energy storage startup. He planned to pursue graduate work in applied physics at Stanford University but instead joined the Internet boom.
Entrepreneurial successes soon followed. Musk co-founded Zip2, which was sold to Compaq in 1999, then launched financial-services startup X.com, which morphed into PayPal.
The pay dirt from selling PayPal to eBay for $1.5 billion in 2002 enabled a now wealthy Musk to embrace his true love – space travel. He left Silicon Valley for Los Angeles, long an epicenter of the aerospace industry, and started SpaceX, where he is both CEO and chief technology officer. He now shuttles back and forth between SpaceX and Tesla.