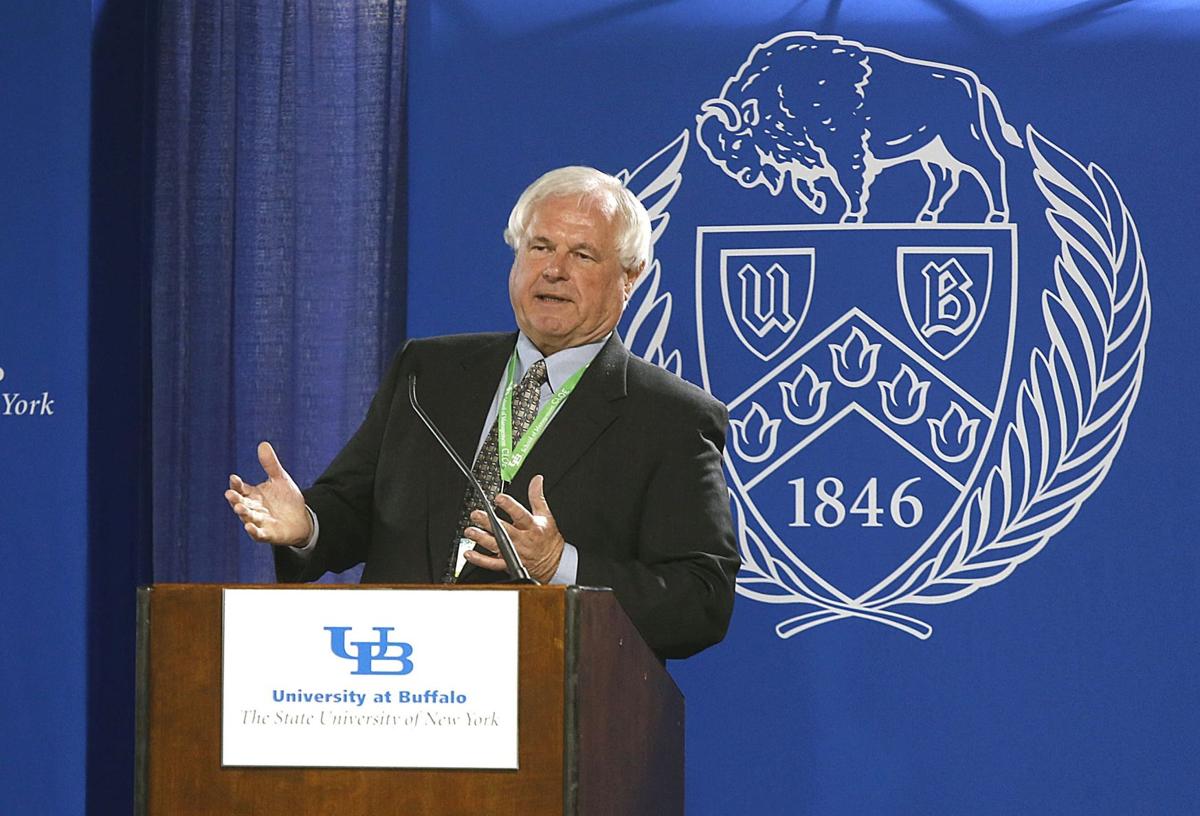 James F. Parker had been CEO of Southwest Airlines for only a few months in 2001 when he was thrown into the greatest crisis the U.S. airline industry had ever faced.
As the nation reeled from the Sept. 11 terrorist attacks with hijacked passenger planes, the airlines were grounded. People were afraid to fly, and Parker wondered whether if domestic airline industry would even survive.
Amid the uncertainty, Southwest had to make pressing business decisions, such as what to tell customers who wanted to cancel their reservations and get refunds. "We didn't have time to do an economic analysis to figure out what the effects would be," Parker said at a leadership conference in Buffalo on Monday. "We just had to make a gut decision based on what we thought was important."
That decision was to give customers refunds if they wanted them, no strings attached. It was a risky policy: If customers flooded Southwest with demands for refunds, the airline might exhaust the money it needed to stay afloat. "We didn't know at this point when would be able to resume flying, or if we would be able to resume flying," he said.
As it turned out, Southwest wasn't swamped with refund requests. Some ticket holders accepted credit toward a future flight. And some devoted customers even sent the airline money, wanting to help Southwest endure. "It's hard to describe the emotion of opening an envelope and a $20 bill comes flittering out," Parker said.
The donors were repaying kindness and generosity that Southwest employees had shown to them over the years. In one such case, an elderly woman's son was supposed to drive from Tucson, Ariz., to meet her Southwest flight in Phoenix. Instead, he was seriously hurt in a car crash. When the woman landed in Phoenix, a Southwest employee tried to book her on a different airline to Tucson – Southwest doesn't fly there – but he couldn't find her a seat.
"He didn't call headquarters and ask what to do," Parker said. "He just went to the employee parking lot, got his car, and drove her to Tucson," about 100 miles away.
In the wake of 9/11, Southwest, unlike many other airlines, did not to lay off employees or cut their pay. Southwest also faced a deadline to decide whether to make a planned $179 million contribution to an employee profit-sharing plan. Southwest made the payment.
The airline still managed to make money in the fourth quarter of 2001, and the airline has reported an annual net profit for 41 consecutive years – about $805 million in 2013.
Parker was general counsel at Southwest for 16 years before becoming CEO in 2001. He resigned as CEO in 2004; after running an airline in the immediate post-9/11 years, he says he was ready for a break.
But in speeches such as Monday's, Parker draws on his experiences at the airline to make points about leadership. He believes a company like Southwest succeeds partly because its employees work together toward a big-picture goal of serving customers, instead of focusing strictly on doing their own jobs.
Effective leaders, he said, create an atmosphere where employees are proud of their jobs, understand the employer's mission and want to do the right thing. "You can't make people do the right thing, because if they don't want to do it, there's always going to be a way around it. But what you can do is make people want to do the right thing."
Dallas-based Southwest has grown into the leading carrier at Buffalo Niagara International Airport since adding service there in October 2000. In March, Southwest accounted for 37 percent of all passengers boarding planes and 24 percent of the flights at the airport, according to Niagara Frontier Transportation Authority data.
Parker is no longer involved in Southwest's decision-making, but he said Buffalo faces a geographical obstacle to more extensive air service. "It's kind of at the end of our U.S. route system, so you don't have the opportunity for a lot of through traffic as you do in many other mid-size markets. You can create a service pattern in an Oklahoma City or a Little Rock where you've got flights coming in and going out, and that's not the case in Buffalo."
Southwest's rapid growth in Buffalo is a familiar experience for the airline, which draws customers with its low-fare model, Parker said. "We would grow the market. We didn't really take passengers away from our competitors; we just grew the market."
Parker, who lives in Texas, is 10 years removed from being CEO, and the airline industry has changed a lot since he left. The Great Recession struck. Fuel prices have soared. And he thinks the industry has gone through "most of the consolidation we will see for the near future, at least."
Parker spoke at the Leadership 2.0 conference, organized by the Center for Leadership and Organizational Effectiveness in the University at Buffalo's School of Management. About 170 people attended the daylong conference at the Buffalo Transportation Pierce-Arrow Museum.