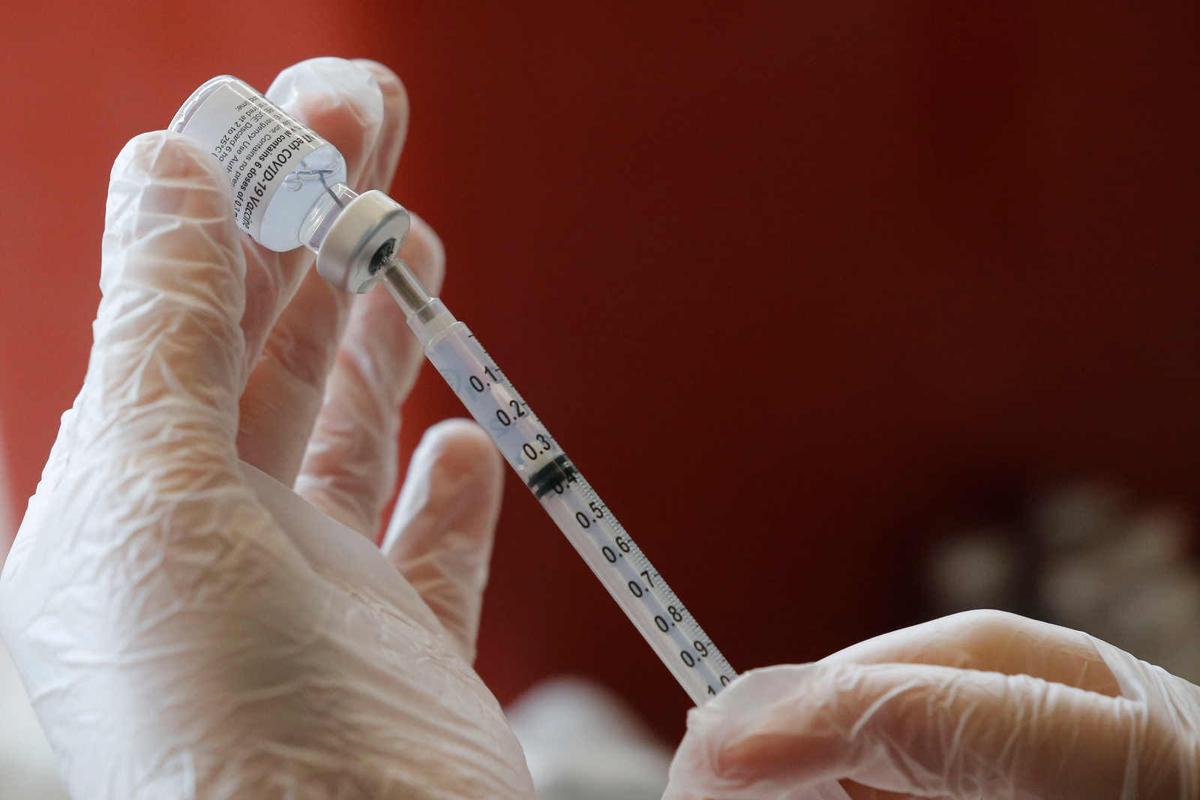 Bob Confer, president of Confer Plastics in North Tonawanda, won't wait for further guidance on President Biden's plan to require large employers to mandate worker vaccinations or weekly testing.
Confer said his company will opt into weekly testing of the roughly 60 workers who have declined the vaccine for religious and other reasons – a move Confer calculates would add as much as $30,000 in overtime costs alone.
Most local employers, outside of the health care industry, are holding back on mandating vaccines, even though the law generally allows them to.
"We look at this as just another cost of doing business in the Covid era," he said.
Amid a surge in Covid-19 deaths driven by the Delta variant, and fed up with vaccine hesitation, President Biden on Thursday unveiled a plan to impose federal vaccine requirements that would cover as many as 100 million private-sector employees, health care workers and federal contractors.
Local executives said Friday they are still digesting what the expansive new federal mandate on Covid-19 vaccinations will mean for their employees and how much they will need to adjust. But, they said, companies will comply if directed.
Just as the slow-but-steady uptick in hiring inches the Buffalo Niagara region closer to recovering from the Covid-19 recession, the increase in new cases threatens to undo some of that progress.
"It's so new. We don't know exactly what the rules are," said Jeffrey F. Glajch, chief financial officer at Graham Corp., a Batavia-based company that makes pumps, condensers, vacuum systems and heat exchangers for the energy industry. "If there is a requirement to change our rules, than we would obviously change our rules accordingly."
The added costs of testing will be passed on to consumers, just as other Covid-19-related expenses have been, Confer said, such as the cost of personal protection equipment, Covid-19-related leave and additional labor.
"It's not cheap to do business in a pandemic, but it's better than the alternative of sick workers and families or a closed business," Confer said.
Confer said he has heard from workers who have cultural or religious objections to the vaccination, or are afraid it might not be safe, and said he will not require them to get the shot against their will. Instead, the company will opt for weekly testing of the roughly 60 workers who have declined the vaccine.
He hopes he will be allowed to provide workers with standard, FDA-approved at-home tests to minimize disruption at the factory. If not, he will hold weekly on-site testing clinics and pay each worker 15 to 30 minutes of overtime to cover the time they spend getting tested.
Confer Plastics is already understaffed, and he expects to lose as many as a dozen more unvaccinated workers who might not want to submit to weekly testing. On the other hand, he thinks his planned policy to test workers rather than require the vaccine may attract new workers who do not want to get the shot.
Across the Buffalo Niagara region, restaurants are struggling to find workers, and it's holding them back as they try to recover from the severe constraints that pushed them to the brink during the pandemic last year.
"I think that creates a welcoming environment for some, while at the same time the fact that we have stringent protocols here, and we also have a full time Covid-19 administrator, that gives the people on the other side of the issue faith in what we do," he said. "So I think both sides are protected and well covered here." 
Biden directed the Occupational Safety and Health Administration to issue the new rules and guidelines, and said businesses that fail to comply can face as much as $14,000 in penalties for every violation.
It is the private-sector rule that is perhaps the most unprecedented and widespread. And, without additional details, many companies and executives are scratching their heads, trying to figure out exactly what they have to do.
Tops Markets has 15,000 employees across three states. It hasn't yet moved to implement changes to its Covid-19 policies, but is "diligently checking in" with government and OSHA contacts for more information.
"At this time, Biden's ideas remain a proposal," said Kathleen Sautter, a spokesperson for the grocery chain. "Until it becomes an official governmental mandate, we will continue to monitor the guidance and comply accordingly."
Hospitals and long-term care facilities in New York State must require all employees to be vaccinated, according to a mandate from Gov. Andrew M. Cuomo announced Monday.
Graham Corp. in Batavia employs 310 people locally, plus 155 in Colorado and another 20 scattered in China, India and Houston. It also has government contracts with the U.S. Navy, so the Biden administration's new requirements would apply on two fronts.
The company doesn't currently mandate vaccination, but does require all workers who are unvaccinated to wear masks at their workstations unless they are alone.
Glajch said the company doesn't know exactly how many workers are vaccinated and has not required proof, but estimated about 60% to 70% are protected.
"It's more of an honor-based system," Glajch said.
Rich Products is based in Buffalo and has more than 7,000 employees across the country, including 1,150 in Western New York. The company is taking time to gather more information "and is committed to a thoughtful approach and implementation strategy," said Richard Ferranti, the president and CEO.
In the meantime, the company continues to urge all of its employees who are able to get the Covid-19 vaccine.
"As we've said from the beginning of this pandemic, associate safety is our top priority," Ferranti said.
KeyBank, which is based in Cleveland but has its Northeast regional headquarters in Larkinville, is also awaiting specifics on the president's policy for private-sector employers.
"KeyBank is closely monitoring any potential new federal requirements on vaccines and testing," the bank said. "In the meantime, we will continue to work with our teammates to encourage them to receive a vaccination if they have not already done so."
The sweeping rules have left many questioning the legality of Biden's plan. But the Equal Employment Opportunity Commission and the Department of Justice have both said he has the authority to put the mandates in place, and federal courts have upheld other workforce mandates, according to Washington, D.C.-based fact checker Verify. Still, litigation is expected.
Individual workers also may have little recourse to fight the mandates, according to Erin Killian, an employment lawyer with Tully Rinckey PLLC, an Albany law firm with offices in Buffalo.
"We get calls almost every day from employees who don't want to be mandated to take the vaccine," she said. "Unfortunately, in most cases, there's not much we can do."
While lawyers wait for the law to settle, they are working to find ways that workers may be able to get out of mandatory vaccination or testing, either as a reasonable accommodation for a disability or health condition, or on religious grounds.
"But even then, we can't guarantee any outcomes," she said.