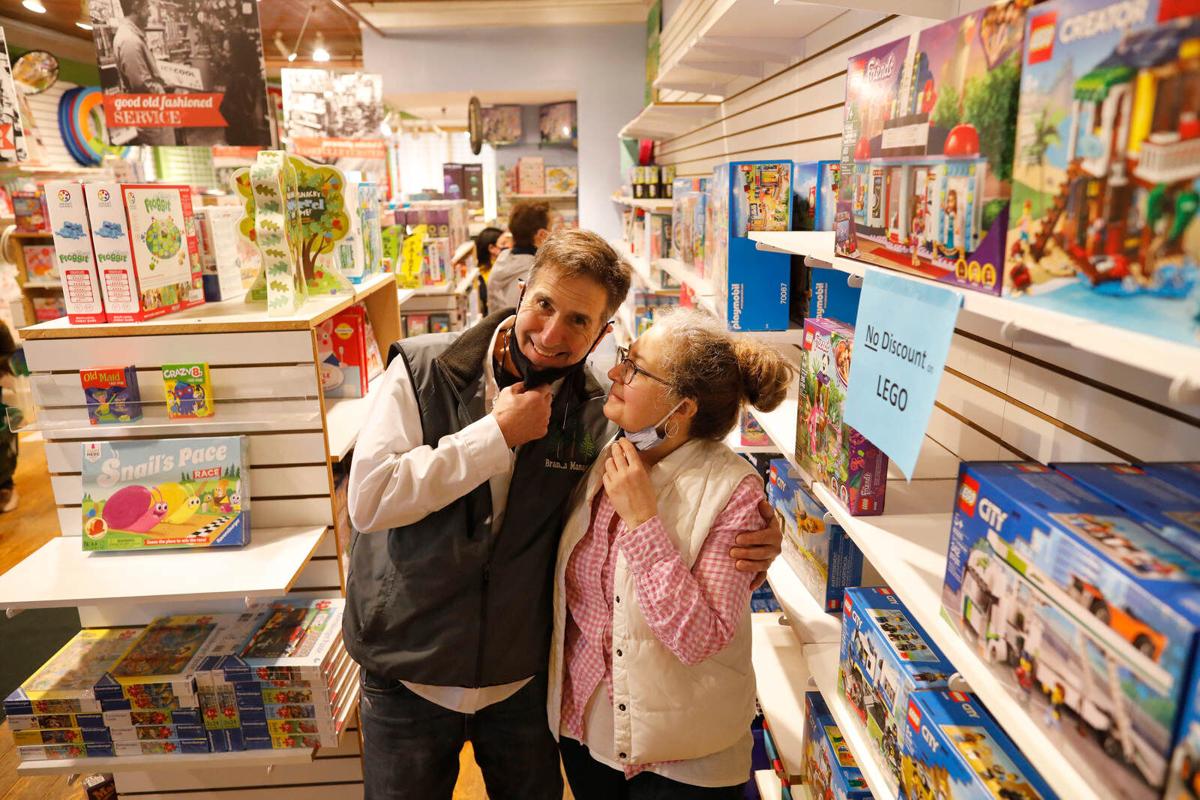 When the Treehouse Toy Store announced earlier this month that it would close after 25 years, it hit a lot of Buffalonians right in the heart.
The day after the announcement went out, there was a line of customers out the door waiting to get in. The store was flooded with people saying teary goodbyes (and taking advantage of the 15% going-out-of-business discounts).
While co-owner Gaetana Schueckler said it wasn't the case for her store, she said the phenomenon of "it's-too-late-now" support that stores receive once they announce they're closing is akin to how people react when they find out a loved one is dying. 
"It's, 'If I only I would've known they were sick, I would've reached out more. I would've checked in on them,'" she said. "You have to assume the past year has taken a toll on a lot of people individually and business-wise, and you just gotta check in."
Look at Laux Sporting Goods. They're down to just one store from six and its shelves at Walden Galleria are looking bare. How many customers jumped ship when Dick's Sporting Goods entered Laux's turf at Boulevard Mall? Laux was forced to close its Boulevard store – despite having been there since the mall opened in 1962.
How many shoppers turned to Amazon and eBay for unlicensed or possibly counterfeit Bills and Sabres merchandise? Why, so you could save three bucks – if that? 
State-mandated mall shutdowns closed Laux for months. The suspension of school sports devastated its crucial teamwear and equipment sales. Laux is a 100-year-old Buffalo institution, but it's on shaky ground as vaccines finally seem to be putting a dent in the pandemic.
"It looks like the world is coming back online so we'll see where it all goes and how it improves," said David Laux, the company's president.
It's Easter time. Aren't you due for a trip to the Broadway Market? And write yourself a reminder: it's open year-round. Need a cake made? There's White Eagle bakery. Looking for lunch? Eat at one of its five restaurants (there is so much free parking!). And who needs a trip to the supermarket when you can get sausage, horseradish, butter lambs, pierogi, spices, wine, fresh fish – you name it.
You've been doing more reading lately. Have you been ordering your books with one click on Amazon? It's not too late to break the habit.
Close your eyes and think of your favorite mom and pop shop, your favorite restaurant or your favorite movie theater. Do you want it to be around for years to come?
If you're going to spend money somewhere, shouldn't it be at one of those places? If you don't support your favorite stores, who will? And who needs two-day shipping when you can pick something up locally and have instant gratification?
If you've got stimulus money to spend, hit a local shopping district and make a day of it.
Indulge. It has been a long year.
You can't say you didn't know your favorite retailer was sick. It's time to check in.