The team that just won approval for a multi-building apartment project in Buffalo's Old First Ward is also pursuing a much larger mixed-use apartment project in the City of Tonawanda's First Ward, potentially bringing nearly 130 new units along Ellicott Creek just below the Erie Canal, and eventually more than 200.
Joseph Carubba's Carubba & Co. and Justin Earl's J.B. Earl Co. of Springville, Utah, are initially seeking to construct a new six-story building near Prescott Provisions Restaurant, using three properties Carubba already purchased at 20, 30 and 40 Fillmore Ave.
That would bring a large and dense residential structure to an industrial site in the city's downtown waterfront area, in a neighborhood that mostly has single-family homes and low-rise buildings. Two existing structures will be removed – a metal building that housed a car repair shop that will be relocated and a dilapidated and abandoned industrial building used for metal plating that will be demolished.
Plans by Michael Conroe of Elev8 Architecture in Orchard Park call for a five-story wood-frame building on top of a steel podium. The ground floor will include some parking, plus 8,000 square feet of commercial or retail space, such as for a restaurant, that will "engage the public," Conroe said.
Tentatively, the upper five floors would consist of a mixture of apartment sizes, with 10 studio apartments of 700 square feet, 55 one-bedroom units of 850 square feet, 38 two-bedroom units of 1,100 square feet and 25 larger two-bedroom apartments at 1,400 square feet. Part of the top floor would be carved out as a tenant lounge that extends into an outdoor rooftop patio, overlooking Prescott's, the water and downtown Tonawanda.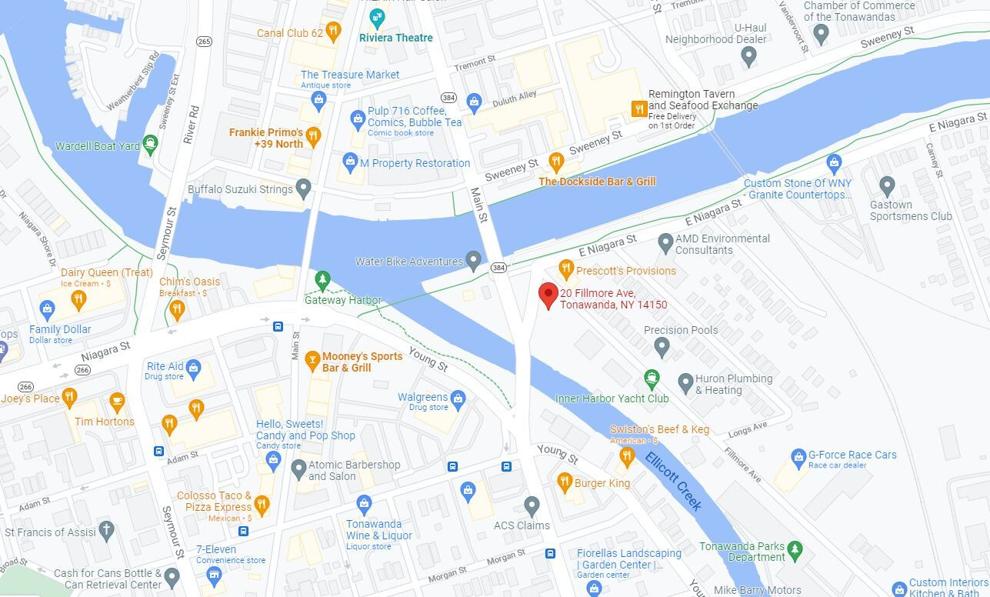 "Once complete, this project will catapult the city forward and create an immediate downtown core similar to what North Tonawanda has done," Conroe said. "We truly believe the success of one will feed off of the other."
Conroe stressed that the number and size of the units is still in flux, and will depend on the results of a market study to determine the demand in the city. He said the units are "a little larger" than traditionally found in Tonawanda, because initial marketing efforts found a desire for that.
More community meetings will also be held to flesh out details. However, the architect conceded that neighbors are already upset about the scale of the proposal. "The first time we talked to them, they were a little shocked at the number of units, so I don't doubt we'll bring that down," he said.
In all, the 116,468-square-foot elongated L-shaped building – dubbed The Elli – would cost about $30 million. A total of 141 parking spaces – both indoor and surface – are included on the two-acre site, which would be consolidated into a single property. Tenant amenities, including the rooftop, would total about 2,000 square feet.
Additionally, the developers plan to construct new boardwalks along the water, which could also be linked underneath the Delaware Bridge into the new boardwalks and other infrastructure improvements that the city is undertaking along Ellicott Creek on the other side of Delaware Street, near the historical society.
"We want people to stroll along the water's edge and then come into our building," Conroe said. "It'll be a really nice strolling district along Ellicott Creek once the project is done."
However, some neighbors are still upset, citing the scale of the project as excessive for such a small community, and warning of the traffic and parking problems that will result. Michael McClure, who lives on Fillmore and plans to launch a petition opposing the project, also complained that the new building will "cast a shadow" on his house, and suggested any new building should not be taller than any house.
"They don't want to hear that. They just want to put this thing in here," he said. "We know something has to go over there, but we don't want it to be detrimental to our neighborhood. There's a lot of elderly people who live there."
The properties were already rezoned last month from light industrial manufacturing to mixed-use. The developers submitted their site plans to the city for feedback, and expect to go to the Zoning Board of Appeals in late February, followed by the Planning Board. Conroe said they hope to have a shovel in the ground in the fall, with completion in 18 months. 
A second phase of the project – which would depend on the success of the first – would involve improvements on the west side of the creek, on the former south section of Young Street that the city abandoned and sold to the developers. The city has already begun turning the north side into a pedestrian mall and plaza, leading toward Gateway Harbor. "It's a really great site," Conroe said.
Initial plans call for an even larger and taller mixed-use building along Young and the new parkland, potentially with a three-level parking ramp and a rooftop bar, but specifics are still vague, Conroe said. The entire ground floor will again be shops and restaurants, with another boardwalk, but "we have a lot of work to do to determine what style of housing will be the most desirable in this location," he said.
"We want to get Phase One leased up, see what's popular and successful, and then develop the project based on the information we know," Conroe said. "In the city of Buffalo, you can figure out what you want to do. There hasn't been a whole lot of new apartments introduced in this area, so we want to make sure we figure out what we want to do and do it right."