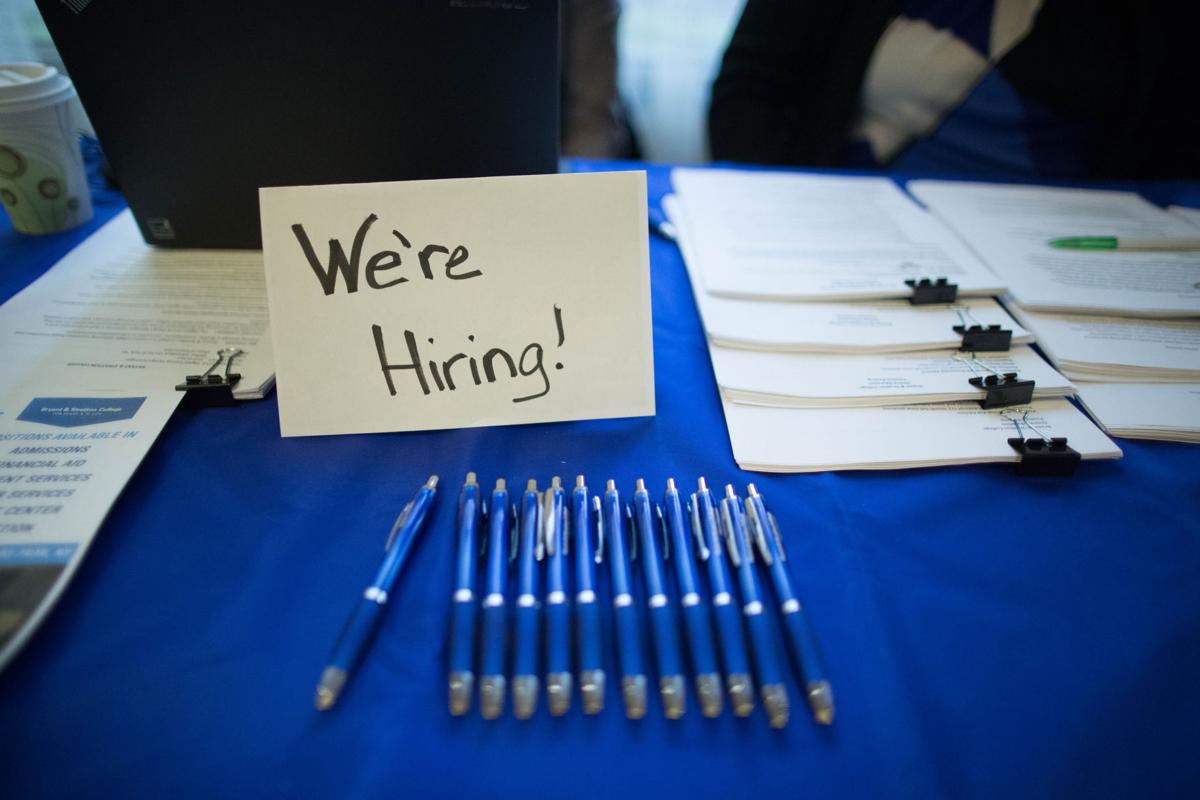 Ron Szewczyk has owned a small machine shop in Lackawanna for 25 years. He's never seen a time when it was so hard to hire qualified workers.
"We're all battling for people," said Szewczyk, who owns RJS Machine Works. "We've been struggling with trying to find people for a long time."
It's not that Szewczyk is looking for dozens of workers. His eight-employee tool-and-die shop needs another two or three people.
But even with starting wages that are around $20 an hour and the potential to earn $25 to $30 an hour after completing a four-year apprenticeship, Szewczyk says the pickings are slim in a job market where unemployment fell to a modern-era low of 3.8 percent in September and generations of workers have been steered away from careers in manufacturing as factory jobs steadily vanished over the past four decades.
"It's stunting the growth of the company," Szewczyk said. "We have to turn down work at certain times of the year."
Szewczyk has plenty of company. With the unemployment rate dropping below 4 percent for just the second time in at least 28 years (it also hit 3.8 percent in October 2000), "help wanted" signs are an increasingly common sight across Buffalo Niagara. And the tight job market is forcing employers to scramble to fill openings.
"It is about as good as it gets," said John Slenker, the state Labor Department's regional economist in Buffalo. "If you are willing to work hard, you will find a job – there is no doubt in my mind."
In response, many companies have started to offer sign-on bonuses to new hires. Others are offering referral bonuses to employees who help recruit new hires. Still others are backing away from drug testing because of the shrinking labor pool.
First Student, facing a shortage of school bus drivers, is offering a $3,000 sign-on bonus. Dunbar Armored is offering a $1,000 sign-on bonus for driver-guard jobs paying $13.50 an hour. Zenner & Ritter will pay up to $1,500 for HVAC maintenance technicians with three to five years of experience. The sign-on bonus is $2,000 at Jim Murphy Buick GMC for auto technicians with three years of experience. Brothers of Mercy is offering a $1,500 referral bonus and a $4,000 sign-on bonus for licensed practical nurse jobs that pay up to $21.50 an hour.
"We have a really tight labor market, and there are a lot of jobs that are open that take a lot longer for companies to fill than they expected," said Dottie Gallagher, president of the Buffalo Niagara Partnership.
There also are signs the tight labor market is starting to impact wages, which have been stubbornly stable, here and nationwide, even as the jobless rate has dropped.
For three years, from 2015 to 2017, the average weekly wage was almost unchanged at around $930 if you adjust for inflation. In other words, the tightening labor market wasn't pressuring employers to increase pay, even as workers were becoming harder to find.
But that may have started to change this year. The latest local wage data – from the first quarter – shows the average weekly wage here grew at an annualized pace of 5.2 percent. That's equal to the growth in real wages from 2014 to 2017.
One caveat: That increase is based on only one quarter of data, and the first quarter tends to be subject to bigger swings in wages than other quarters. For instance, the average weekly wage jumped by 7.4 percent in the first quarter of last year, only to grow much more slowly during the remaining nine months of 2017 to finish with a 2.7 percent increase for the entire year – only 0.6 percent if you adjust for inflation.
The region's demographics are making it harder to find workers, too. Erie County's population, after decades of decline, has stabilized, rising by about 6,400 people, or less than 1 percent, from 2010 to 2017, according to the latest U.S. Census Bureau estimates.
"Look at the population," said George Palumbo, a Canisius College economist. "At best, we can say we've stopped declining, but the rest of the country is growing."
All of the increase came from an influx of people from outside the United States. Within the U.S. borders, Erie County still loses about 3,000 people a year because they move away.
"We're still not an inbound destination," Gallagher said.
And our population is older, according to census data. The median age of people living in Erie County is 40.4. Nationwide, it's 37.7 years. While 17.5 percent of the people living in Erie County are age 65 or older, the percentage of retirement-age workers nationwide is just 15.6 percent.
"One of the big challenges is aging workers," Gallagher said.
The sluggish wage growth here hasn't been helping. Neither is the fact that wages here are about 14 percent lower than the national average, cost of living notwithstanding. That wage gap is about the same size as it was a decade ago.
"People move because of better opportunities," Palumbo said.
"That's why I'm upset about the average wage. It does not reflect better opportunities," he said. "There's been tepid growth in employment, but the earnings growth has been disappointing."
To Szewczyk, the machine shop owner, it's just frustrating – and puzzling.
"These jobs should be desirable," he said. "We've had so many people in the industry retire, but there's no one to replace them."
The business news you need
With a weekly newsletter looking back at local history.