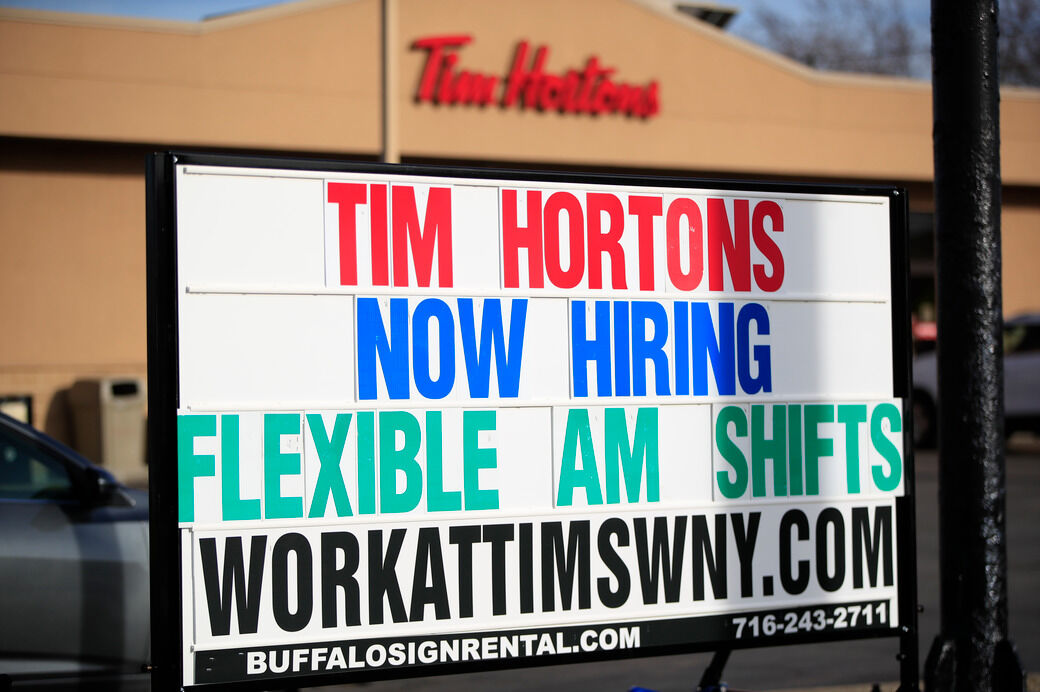 The Covid-19 recession started off like a recurring nightmare for the Buffalo Niagara region.
But 14 months later, there are growing signs that the region's job market is steadily moving toward a much happier place.
We are catching up with the pack. Our job losses, once far worse than the rest of the country, have moved within spitting distance of the U.S. shortfall. Unemployment is only modestly worse here than it is nationwide.
"Overall, this is sort of really good news," said Fred Floss, a SUNY Buffalo State economist.
That's because much of the lingering pain that the region is feeling from the Covid recession is tied to bars, restaurants and hotels that were hamstrung the most by the pandemic's safety restrictions that limited capacity and made people uneasy about venturing out.
Now that those restrictions are lifting and people are more comfortable about resuming normal activities, those jobs have started to come back quickly, and economists expect that to continue into the summer.
"With our recovery, I think it could come back a little quicker," Floss said.  "Leisure and hospitality still hasn't come back yet."
For most of the post-war era, Buffalo Niagara has had the dubious tradition of falling into recessions before most of the rest of the country, falling harder and taking longer to recover.
We all fell at the same time when Covid hit, but the Buffalo Niagara region, with its heavy reliance on tourism, took one of the hardest hits in the country.
Only 22 of the nation's 389 biggest metro areas had job losses that exceeded 20% during the first month of the pandemic. Buffalo Niagara, with its 20.2% plunge, was one of them.
Unemployment locally more than quadrupled to nearly 21% – much worse than it did nationally, where the jobless rate tripled to 14.8%.
And now our recovery is lagging behind, too. Just like it usually does.
But there is hope that, just because it has happened before, it won't be happening again.
In the past, the region's heavy dependence on manufacturing – and its strong cyclical tendencies – was the main culprit for the overly painful recessions.
Manufacturing still is a big deal here. The Buffalo Niagara region has 16% more factory jobs than the national average. But manufacturing held up well in the Covid recession as demand for goods remained strong overall.
Unlike the Great Recession, when financial services were hit hard, that sector also avoided big hits this time around. That's important, because the region has 19% more jobs tied to financial activities than the national average.
This time, the culprit is in a lower-paying part of the economy – the leisure and hospitality sector that includes bars, restaurants and hotels.
Jobs at food and drinking places across the region in April still were down by almost 14% – nearly 7,000 jobs – compared with their prepandemic levels, according to the State Labor Department. That drop is almost three times steeper than the region's 5.2% job shortfall.
That hurts more here because we had about 3% more jobs at food and drinking places than the national average heading into the pandemic. By the end of 2020, we had 20% less than the U.S. average, according to federal job data.
The continued closing of the Canadian border is another lingering drag on the Buffalo Niagara economy that likely will be lifted in the coming months. That affects not only tourism, but manufacturers and other businesses that rely on moving goods across the border.
"We rely a lot more on trade with Canada and tourism," said Timothy Glass, a State Labor Department economist in Buffalo.
By April, the Buffalo Niagara region still was down almost 30,000 jobs from what it had before the pandemic began. But the rebound has picked up momentum this spring. After the job recovery stagnated during the fall and winter, the region added 5,500 jobs in March and 9,000 in April.
Even so, our recovery is lagging behind roughly 3 of every 4 metro areas across the country. If you look only at upstate New York, Buffalo Niagara's job losses over the past two years are right on par. Among the six major upstate metro areas, Albany and Rochester are doing slightly better, and Buffalo Niagara is ahead of Syracuse, Utica and Binghamton.
But take heart: It's been a long slog for most of the nation. Just 26 metro areas – not quite 7% – have managed to recover all of their lost jobs, according to data released this week by the U.S. Bureau of Labor Statistics. Roughly half of all metro areas still are looking at lingering job losses of 4% or more. Across the country, the shortfall is 4.3%.
Cities, which typically have more hotels and restaurants, tended to be hurt more than rural areas. Parts of the South, where the weather is warmer and restrictions on gatherings were relaxed sooner, have rebounded earlier. Now areas that held on longer to their Covid-fighting measures are opening up more fully, too.
When Canada gets to that point, it will be even better for Buffalo Niagara.
"We may be drawn down because Canada's not back yet, but that may be a two- to three-month lag" as vaccination rates increase across the border, Floss said. About 53% of Canadians have received at least one vaccination shot, and Prime Minister Justin Trudeau has said the border won't reopen until 75% are vaccinated.
When the border reopens, "I suspect we'll see this huge pent-up demand with people coming to the malls," Floss predicts.
So Buffalo Niagara isn't lagging terribly behind. And the pace of hiring has picked up in the last couple of months as the hardest-hit sectors, which rely on travel and people feeling comfortable enough to go out among others, have gained traction now that almost 64% of adults in Buffalo Niagara have been at least partially vaccinated, according to state Department of Health data.
"I think you're going to start to see increases," Floss said. "We're at that point where we would expect us to start kicking back in."