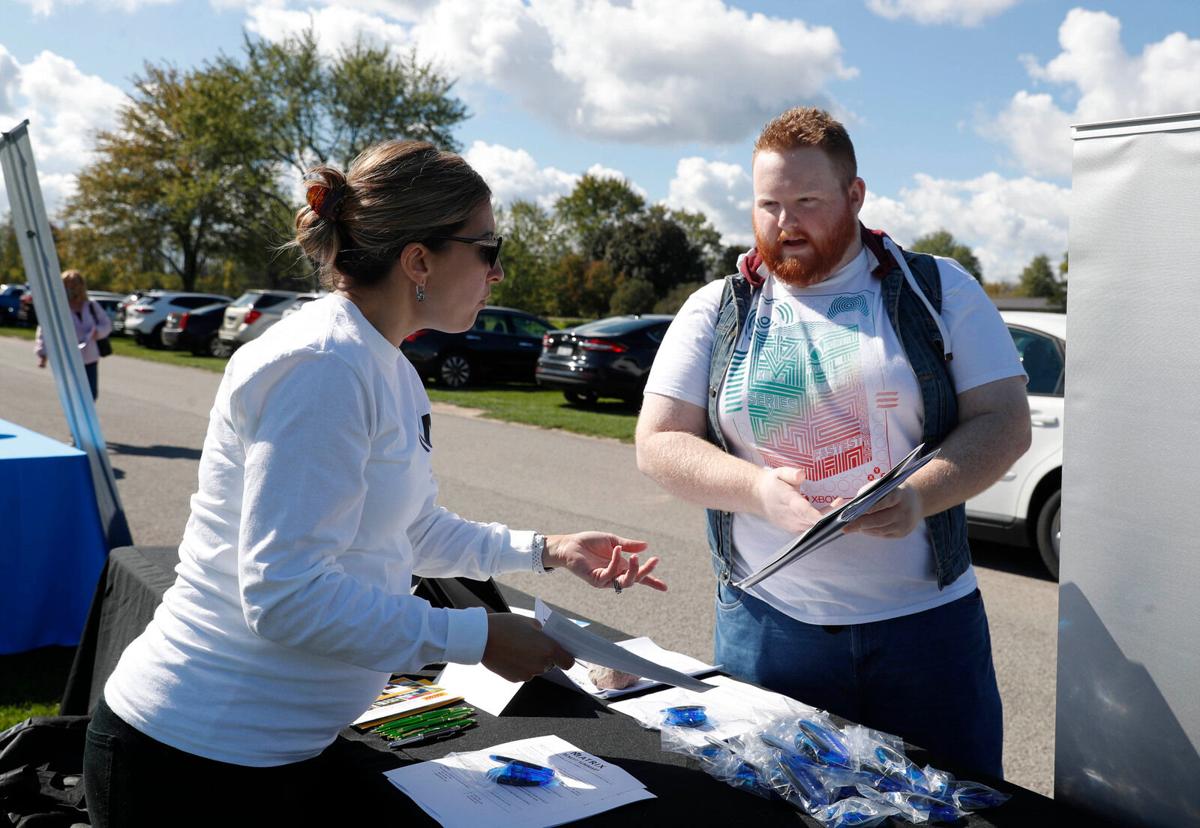 The unemployment rate across the Buffalo Niagara region dropped to 4.7% in September – its lowest level since the pandemic began – but it is mostly for the wrong reasons.
Instead of a spurt of job creation, our jobless rate is dropping because more workers have simply stopped looking for jobs.
To be sure, there were gains in hiring – and the number of unemployed people fell to its lowest level since the pandemic began.
But the unemployment report from the State Labor Department on Tuesday highlights the ongoing tensions within the local job market, where people aren't working or looking for jobs in the same volume they once did, while employers are struggling to hire everyone they need.
Ideally, you want the unemployment rate to drop because more people are finding jobs. And that's part of the reason that the jobless rate fell during September. The number of people who are actively looking for a job but can't find one dropped by more than 5,000 from August to September – which is about a third more than you normally would see during that time.
The bad news is that we still have a ways to go to get back to where we were before Covid. The number of people holding a job across the region still is down about 2% from pre-pandemic levels. That's 11,500 people who were working before the pandemic but aren't now.
"We have a problem, in terms of bodies, to take the jobs that were lost during the last year-and-a-half," said Julie Anna Golebiewski, a Canisius College economist.
Put it all together, and it means that the pool of workers that local employers have to choose from – both with jobs and without – is about 1% smaller than it was before the pandemic.
That's about 6,000 people – and the decision by those former workers to stay home is a big reason why hiring is so hard. A separate Labor Department report last week showed that the region essentially hasn't added any jobs over the past three months, even though we have about 6% fewer jobs than we did before the pandemic.
"What we did not anticipate was the pandemic taking so many people out of the workforce," said Dottie Gallagher,  president of the Buffalo Niagara Partnership.
Even harder to explain is why it's happening.
The elimination of the extra $300 in unemployment benefits in early September didn't push more people into the labor force, as some expected. That much is clear.
Retailers and restaurants are still opening later and closing early. Manufacturers are running shorthanded. And help wanted signs are everywhere.
So we're left with a handful of other reasons why workers are staying on the sidelines.
Some workers still are wary of Covid and are waiting it out before going back to work.
Others can't find affordable child care – partly because child care providers can't find all the workers they need to care for all the children who need watching while their parents work.
Many older workers decided to retire early as the pandemic played out and companies started calling employees back to the office.
There's still a skills gap that makes it hard to fill some types of jobs, especially in skilled trades.
Some economists believe workers are living off the extra savings they accumulated during the pandemic from all of the federal government's stimulus programs. But there also is data showing that those savings, especially for low-income workers, were never that great and are being quickly eroded.
With competition for workers more intense than it has been in years, still others are looking for better pay from employers accustomed to the 1% annual increase in real wages that largely prevailed before the pandemic. Employers are trying to hold the line, instead dangling signing bonuses that don't disrupt the existing wage scale.
The competition for entry-level workers is pushing up wages on the low end of the scale – and that's narrowing the gap between those jobs and the middle-tier jobs above them.
The minimum wage, now $12.50 an hour and headed to $13.20 an hour at the end of the year, has steadily pushed up entry-level wages. Competition – and the higher fast food minimum of $15 an hour – has further narrowed the gap between those positions and jobs in other sectors that paid $18-$20 an hour before the pandemic and were viewed as solidly attractive.
"They've realized that, with the needed skills for employment in those areas, that they should be getting a premium over what is being offered by restaurants," Golebiewski said.
And workers are rethinking their priorities after the pandemic. They want more flexibility. They want better hours. With wages rising for entry level positions, they may feel comfortable getting by with one part-time job instead of two.
"Priorities have changed, where we realized the value of being available after dinner and not running to a second job," Golebiewski said.
Put it all together, and it means the labor shortage isn't going to be easy to solve. It's normal for the labor pool to shrink from August to September, as students head back to school. But this year, the local labor force shrunk by 8.400 people from August to September – roughly three times more than you normally see during that time.
"With people having multiple reasons for leaving, if you clear up one, that doesn't mean you still don't have another," said Timothy Glass, the Labor Department's regional economist in Buffalo.
"We need to go over the hump of the pandemic, not just in terms of the pandemic, but all the factors revolving around it, too."