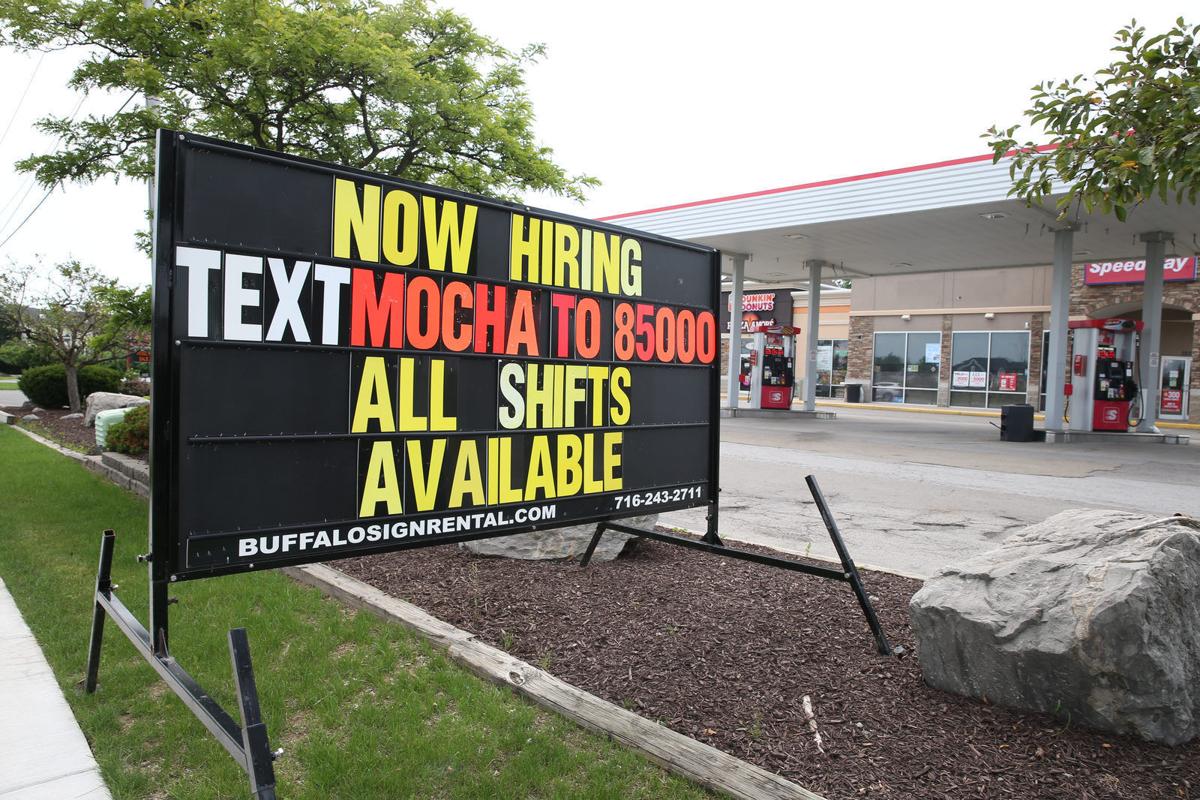 The extra $300 in federal unemployment benefits stops on Sunday, but it won't end the worker shortage.
The expiration ends a politically charged policy that has bolstered the incomes of tens of thousands of Buffalo Niagara workers who lost jobs during the pandemic.
But it also ends a program that critics – and many employers – say has prolonged a severe labor shortage by giving workers a financial incentive to put off looking for a job.
Economists, however, say it's much more complicated than that. And they don't expect a gush of workers to re-enter the job market once the payments stop on Sept. 5.
"To try to say there's one reason why we're not getting all the workers back – like the extra $300 – you can't simplify it like that. It's impossible," said Timothy Glass, the State Labor Department's regional economist in Buffalo.
In fact, economists say the same factors that have been making it hard for businesses to hire before and during the pandemic will remain in place long after the supplemental payments end.
"Retirements even accelerated. You still have a pandemic. You still have child-care issues. Then you have the extra $300. Then you have – at least according to employers – the skills gap," Glass said.
"All these are basically about equal when it comes to how much they're affecting things. I don't think there's any, any one item that's really overwhelming," he said.
The pandemic has made workers everywhere rethink their jobs. Some learned how to work remotely and have come to value flexibility. The pandemic spurred many older workers to retire earlier than they otherwise might have.
Others, after being at home during the lockdown, have struggled to find affordable child care and are taking a new look at the balance between its costs and the value of their wages, especially among lower-paid workers.
"People have different ways of looking at things and this pandemic has absolutely made people think in different ways they never thought before," Glass said. "They're calling this the Great Resignation, where people are quitting at an all-time high because they're rethinking things they've never actually thought about before."
Fred Floss, a SUNY-Buffalo State economist, thinks there is a cultural shift among younger workers that started years before the pandemic with the national fight for a $15 minimum wage.
"The people who were out on the street were these high school and college students who, for the first time, started to think that they should be getting to $15 an hour, and that they're not going to take less than that," he said. "People aren't willing to take lower-paid jobs from that younger group."
There are signs that employers are adapting, offering signing bonuses and higher starting pay. Just from the signs you see all around the Buffalo Niagara region, it's clear that entry-level wages of $15 or more have become much more common.
"I think that the employers in that area are recognizing a need for higher wages in order to attract new employees, and to the extent that they make those changes, some of those jobs will return," said Julie Anna Golebiewski, a Canisius College economist.
But it isn't always about the wages. Flexible hours, remote work and health care benefits also are becoming a bigger magnet for workers during the pandemic, Golebiewski said.
"They have other ways of compensating workers," she said. "Fast food jobs may have high hourly wages, but they very rarely have other benefits associated with them. There's no remote option. Or retirement contribution."
With competition for workers still intense, the average weekly wage across the Buffalo Niagara region keeps rising briskly – although less rapidly than it did last year, when many front-line workers earned bonuses and temporary raises for staying on the job as the pandemic raged.
The average weekly wage in Erie County rose 4.6% in the first quarter, roughly keeping pace with inflation, but less than half as much as the big spike during the final nine months of last year, according to new wage data. Average weekly wages are affected not only by hourly pay rates, but also hours worked.
As entry-level wages have increased and staff-strapped employers offer more hours to many of their workers, one part-time job may provide enough income today as two pre-pandemic positions, Golebiewski said.
So some of those workers may have decided they don't need that second job.
"There are a lot of potential explanations," Golebiewski said.
"Maybe it's because they're getting a higher wage as a first job," she said. "Maybe they're realizing that they don't need that extra income anymore or not spend the money on their child care and instead spend time at home.
"It could be that they've got a full-time position now where they don't need the two part-time positions anymore," she said.
Early end had limited impact
The $300 supplemental benefit has been a political issue, with 26 states, mostly controlled by Republicans, eliminating the payments early. But the impact in those states has not been clear-cut.
Of the 26 states that ended supplemental jobless benefits early, eight had a statistically significant drop in unemployment from June to July, according to federal data released in late August.
Likewise, nine states and the District of Columbia that kept the supplemental unemployment benefits in place had statistically significant drops in unemployment during the same period, indicating that other factors are likely influencing the labor market, economists said.
Another study released last month used data from Earnin, a wage tracking app, that found that only one of every eight workers who had lost their jobless benefits had found a new position by August. The study also found that the workers losing jobless benefits replaced only 7% of that income through job-related earnings. The shift led to a 20% drop in spending.
The immigrant pool is drying up
A big reason why Buffalo's population grew over the past decade is because of the influx of immigrants – creating a pool of workers that companies tapped into to fill their open positions. The city added a little more than 17,000 residents from 2010 to 2020, and all of that came from the nearly 21,000 people of Asian and Hispanic heritage who moved to Buffalo, according to new Census data.
But Trump-era restrictions on immigration during the final four years of the decade slowed the flow of new workers, compounding the squeeze employers already were feeling, especially for entry-level jobs.
"We forget about immigration," Floss said. "We went for three or four years, where a lot of what would have been new immigrants that never showed up. And particularly in Western New York, where we have one of the larger refugee population, they would be taking these kinds of jobs."