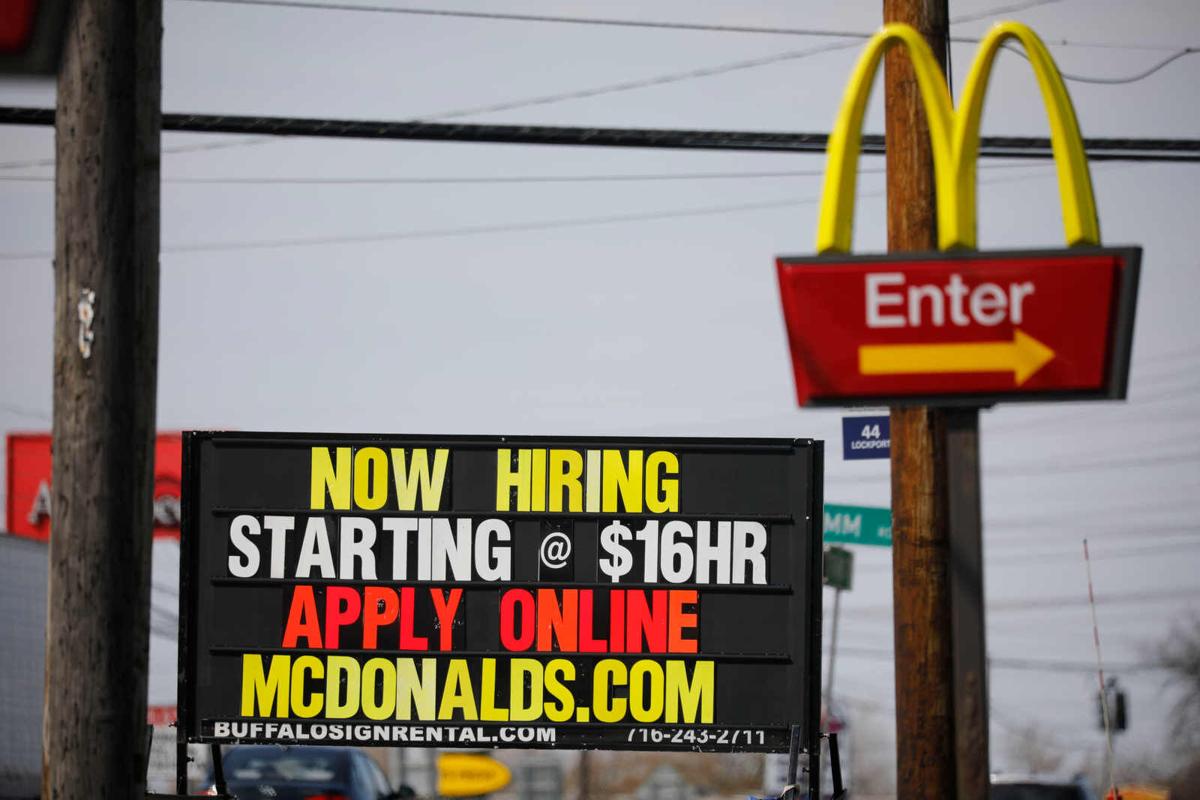 The Buffalo Niagara region's recovery is picking up steam.
Unemployment is at its lowest level since the pandemic began, dropping to 6.2% in April, according to the state Labor Department. People are inching their way back into the workforce as vaccination rates rise and more employers are looking to hire.
As a result, the region is steadily regaining some of the jobs that vanished during the start of the pandemic, and the number of people holding jobs is at 13-month high – an indication that it is getting easier for people who are looking to find work.
But we still aren't close to getting back to where we were.
While unemployment – which peaked at 20.9% a year ago – has dropped back to an elevated but no longer outrageous level, it is a bit deceiving.
The region still has almost 30,000 fewer jobs than it did at the start of the pandemic last March. In essence, 1 of every 20 jobs that existed before the Covid-19 lockdown still hasn't come back, according to a separate set of Labor Department data.
Timothy Glass, the Labor Department's regional economist in Buffalo, says the recovery is a lot like what happens when a car breaks down and you push it to the side of the road. It takes a while to get it moving, but once it starts, it tends to pick up momentum.
That is what's happening now. The region's recovery largely stagnated throughout the fall and the first half of winter. It started to pick up in March and the momentum continued into April. Economists expect further gains this month as more of the Covid-related restrictions on capacity and businesses were lifted.
"It tells me that we're on the right track," Glass said. "We're getting back, but we still got a ways to go."
Most of the lingering losses remain centered in low-paying parts of the economy.
Roughly 1 of every 8 jobs at bars, hotels and restaurants before the pandemic still hadn't come back by mid-April. There was similar weakness in education and health services, where 1 of every 10 jobs have yet to return. Another low-paying field, health care and social assistance was down 1 of every 13 jobs that existed before Covid-19 hit hard last spring.
The good news is that those weak spots are rebounding rapidly as more people are vaccinated and feel safer about traveling and venturing out.
Across the Buffalo Niagara region, more than 45% of the population had been fully vaccinated by Tuesday, while 53% had received at least one dose of the vaccine, according to state data. That's slightly better than the statewide average.
There are other bright spots, too. Construction employment is back to its pre-pandemic levels. Jobs in financial services during April were off by just 2% from their levels two years ago. There's a similarly small shortfall with manufacturing jobs.
State and local government jobs still were off by about 4,000 positions in mid-April from their pre-pandemic level, but the flow of federal stimulus money will avert the steep job cuts that some economists feared would be coming and now could lead to the restoration of other positions.
That's especially good news for the region, because those are among the highest-paying sectors of the Buffalo Niagara economy, and keeping those jobs helps keep consumer spending up across the region.
Consumer confidence – based partly on how secure your paycheck is and whether you're comfortable going out – will play a big role in determining how fast the recovery goes from here, especially with tourism playing an outsized role in the local job market, economists said.
Even so, part of the challenge will be convincing workers that it is time to ramp up their job search.
There are plenty of reasons why some workers are hesitating. Some are wary of returning to work. Others have child care issues with schools only now returning to in-person classes. Some can get by comfortably on unemployment, especially with the extra $300 in weekly benefits that was part of the stimulus package. And after a decade of wage growth that essentially kept up with inflation, some are looking for better pay to nudge them back to the labor force.
There are signs that's starting to happen. Average weekly wages in Erie County have jumped by 14% over the past year, according to data from the fourth quarter of 2020 that was released earlier this month, by the federal Bureau of Labor Statistics.
That pushed the average weekly wage, which reflects hourly pay rates and hours worked, up to $1,188 a week. While weekly wages in Erie County are $151 less than the national average of $1,338, the 14% increase during 2020 ranked in the top quarter nationwide.
In response to the strengthening job market, many states are backing away from some of the pandemic unemployment relief measures. Pennsylvania on Monday said it will again start requiring unemployment benefit recipients to look for work.
At least a dozen Republican-led states are turning away from the $300 weekly supplemental unemployment benefits. Several others, including North Carolina, are either offering or considering cash incentives to entice people to return to the workforce.
That's not happening in Democrat-led New York, but with unemployment dropping and hiring on the upswing, displaced workers have more opportunities than they've had in months.
And that's an encouraging sign.