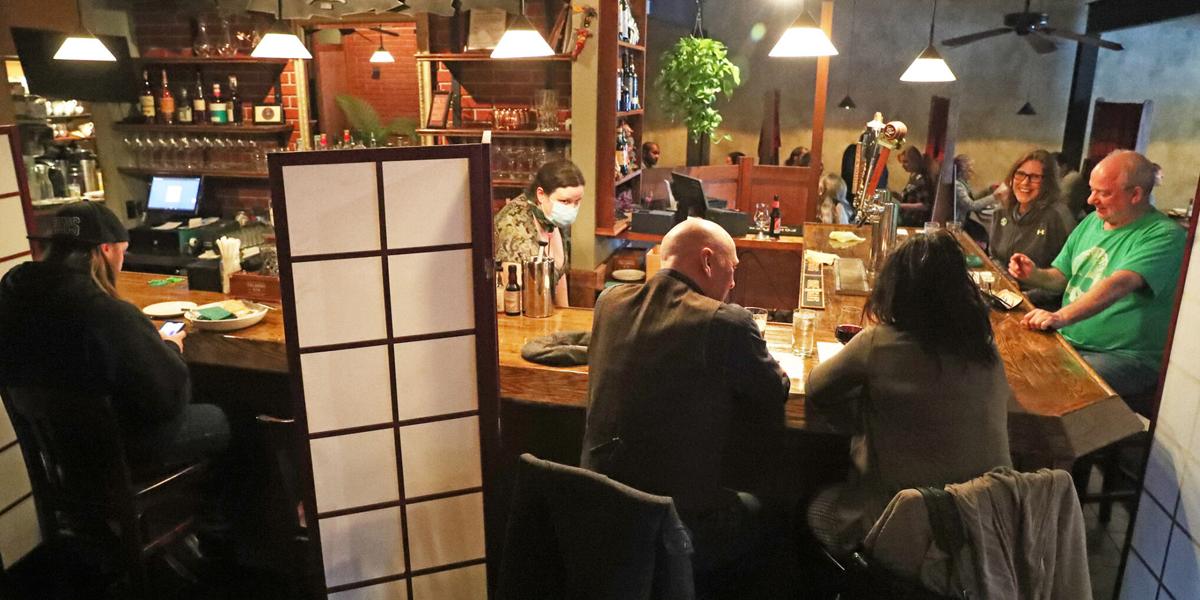 How the Covid-19 recession has hit you depends a lot on what kind of work you do.
If you work at a bar or a restaurant or a hotel, it's been devastating.
If you work at a factory, you've probably fared better than most.
And if you work in banking or insurance, the pandemic probably hasn't hit your wallet too hard. 
It's been an uneven recession, hitting the lowest-paid workers with a sledgehammer, while white-collar workers who have the flexibility to work from home have escaped the brunt of the economic carnage.
We're now a year into the Covid-19 pandemic – and about 11 months since the early spring lockdown began to slowly ease. Yet the lingering damage continues to be severe.
We can see it in jobs, where we have 38,500 fewer than we did a year ago.
We can see it in unemployment, where the jobless rate stood at 7.2% in March, up from 5.2% a year ago.
And we can feel it in our wallets. The total wages earned by workers across the Buffalo Niagara region from April to September of 2020 were $760 million less than a year earlier – a 5% drop, according to federal employment data.
But not everyone felt the same pain. Workers at hotels, bars and restaurants have suffered the most in the job cuts, and it's not surprising that they also have borne the brunt of the drop in earnings.
A big hit for leisure and hospitality
By the end of September, a little more than 1 of every 4 leisure and hospitality jobs had disappeared – a huge improvement from the 60% drop in April. But with so many fewer jobs, earnings from bar, hotel and restaurant workers dropped by 9%, or $34 million. That's more than four times the region's 2% drop in total wages during the summer quarter last year.
Pay is a factor, too. Because leisure and hospitality jobs pay much less than the average Buffalo Niagara job, their impact on the drop in total earnings has been much less severe than the steep losses in employment.
Because the remaining leisure and hospitality workers often received extra pay raises to stay on the job and likely worked longer hours, their average weekly wage, which reflects the hourly wage and the hours worked, shot up by $140 during the summer to almost $600 – a 31% increase.
For some of those frontline workers, that bonus pay has since disappeared, even as more jobs have returned. By the end of March, the employment shortfall had narrowed to 1 of every 5 leisure and hospitality jobs, which means the wage gap also has narrowed, though we don't have the data to say by how much.
Average wages are rising fast
Another odd thing has happened during this recession. Overall wages are plunging as jobs disappear, but workers who have kept their jobs have been taking home much bigger paychecks – partly because they're working more, and partly because many got raises to reward them for staying on the job while lockdowns were in effect.
The average weekly wage across the Buffalo Niagara region – which takes into account hourly pay rates and how many hours are worked – jumped by almost 10% by the third quarter of last year to $1,026 a week – an increase of $92 a week from a year earlier.
But the increases weren't spread evenly.
Nowhere is this felt more strongly than in the battered leisure and hospitality sector, where the average weekly wage – which is measured by hours worked and the hourly pay rate – jumped by 31% – or $140 a week – during the third quarter. 
But because hourly pay is low and most of those jobs are part time, the average weekly wage in leisure and hospitality still is just under $600 a week, or about 40% less than the region's average job, according to federal wage data.
It was the same with retail jobs, another low-paying sector where average weekly wages jumped by 12% in the third quarter. So even though the number of retail jobs were down by almost 7%, total wages from retail jobs were up by more than 3% to an average of $652 a week.
Less pain at factories, but still a big wage gap
At the other end of the scale are factory jobs. The average weekly wage at manufacturers rose only 2% during the third quarter, but the average paycheck still topped $1,200, double the average pay at restaurants and hotels.
Factory employment held up a little better than the region's average during the recession, but because of the higher pay, those job losses also hurt more.
Factory jobs fell by just 6% through September – a fraction of the decline at hotels and restaurants. But because factory jobs pay, on average, twice as much, the job losses at manufacturers resulted in a bigger loss in overall wages, to the tune of $37 million.
A fast recovery for financial services
Other sectors have been almost untouched by the recession.
Earnings in financial services dipped by just 1% during the spring and were up by 1% during the summer quarter as the sector avoided the job losses other parts of the economy endured.
One reason: Many financial services jobs could easily shift to working from home, which meant that job cuts at banks, insurers and real estate firms were limited during the April lockdown a year ago and have since recovered solidly.
By March, the number of financial services jobs across the region was down by just 2.5% over the past year, far better than the 7.5% drop in all private sector jobs during the same period, according to state Labor Department data.
"If you were based in financial activities or manufacturing, you haven't lost that many jobs, so you're probably not going to gain that many back," said Fred Floss, a SUNY Buffalo State economist.
Federal stimulus helped close the gap
Overall, though, the recession has blasted a huge hole in the local economy, and its why policymakers in Washington, D.C., pumped round after round of stimulus payments into worker bank accounts to help make up the shortfall.
That's helped consumers keep spending and helped struggling workers to keep paying the rent and putting food on the table. And the supplemental unemployment benefits, which have ranged from an extra $600 a week early on to $300 a week now, have allowed low-wage workers to replace most of their lost wages.
The earnings gap also narrowed quickly from the dark days of the lockdown last spring that shut stores, kept workers home and brought the world as we once knew it pretty much to a halt for two months.
As a result, total wages across the region plummeted by $620 million last spring, but they also rebounded strongly during the summer as more people got back to work. Earnings during the summer were down by $142 million, according to federal government data.
The gap has likely narrowed further
That's a big improvement, but we don't know for sure what has happened since then, because earnings data for the fall and winter hasn't been released yet.
But we can guess. And since employment across the Buffalo Niagara region really hasn't budged too much since September, it's reasonable to assume that wages have improved a little since then, but not by leaps and bounds.
"Think of this as, over the last six or eight months, as sort of putting everything on hold and then coming out of this at the other end" as vaccines roll out this spring, Floss said.
So the reality is that as long as job losses remain elevated, the earnings hole likely remained in the ballpark of the third-quarter levels through last month, when economists predict that hiring picked up as vaccinations became more widespread and warmer weather allowed more outdoor activity.
Economists expect robust hiring in parts of the economy that have been hit hardest by pandemic-related restrictions, like restaurants and hotels and entertainment venues. The rebound is likely to take longer in sectors like manufacturing, where the job losses are due to longer-term weakness that was exacerbated by the pandemic.
"If vaccination rates pick up, regardless of the underlying causes, they're going to recover more quickly," said Julie Anna Golebiewski, a Canisius College economist.